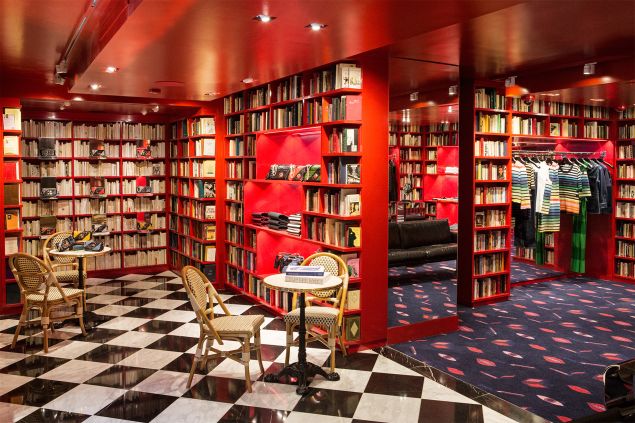 The Francophile based in New York has countless ways to fulfill their cravings for Paris. They can pick up macarons at Ladurée's pastel Soho café, pirouette in authentic ballet flats from Repetto and nibble on croissants at Buvette. But there's no substitute for the Left Bank cafés frequented by literary greats, such as Café de Flore. That is, until Sonia Rykiel arrived on New York's Upper East Side this past February.
With 15,000 books lining its walls, the only  stateside outpost of the very French clothing label is refreshingly disparate from the rest of the haute boutiques that run up and down Madison Avenue. "The design and concept is a visual representation of the brand, from the literature lining the walls, which is all vintage, to the erotic literature tucked away in the dressing rooms," the brand's artistic director, Julie de Libran, told the Observer.
The former studio director at Louis Vuitton arrived at Sonia Rykiel in 2014 and automatically built a fresh, edgy platform on top of the brand's storied DNA, which is strongly rooted in female empowerment and striped knits. Creating a store concept was one of the ways that she made her modern mark on the Sonia Rykiel label.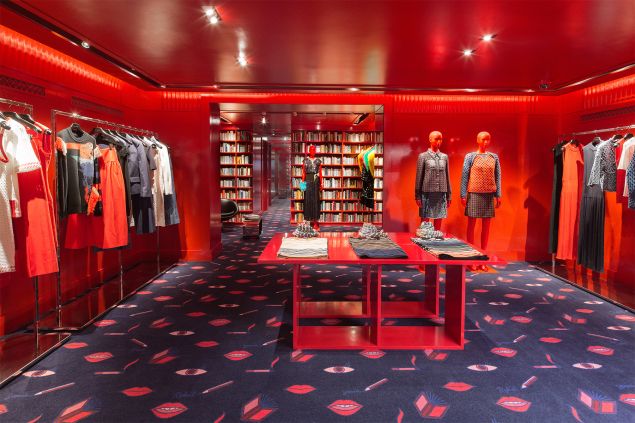 She partnered with Thomas Lenthal, art director of System and publisher of Paradis, and graffiti artist and nightlife savant André Saraiva to solidify the concept that embodies "the essence of the bohemian intellectual." The result left the Sonia Rykiel flagship in Paris' Saint-Germain-de-Prés neighborhood lined with books—50,000 of them to be exact.
"I remember Sonia Rykiel herself was very well-versed in literature and each time she'd give an interview, it was always about books and writers. She was someone from the fashion world that would always show a great enthusiasm for literary things," explained Mr. Lenthal. The trio built off that reputation and started gathering French literature that dated before 1980, because afterward, Mr. Lenthal joked, it "took a dive and never really recovered."
That same bookish concept was adapted for the New York location, where bistro chairs and tables carve out a makeshift café on a black-and-white tiled floor, alongside a purse-strewn bookshelf. The surfaces that aren't covered with tomes are lacquered in red. Paired with dim lighting and racks of candy-colored furs and silk separates, this intermingling of clothing and décor suggests that the average shopper here is no wallflower.
The carpet, featuring icons of red lips, cigarettes, books and pencils, weaves its way between racks of candy-colored furs and the brand's iconic striped sweater. It will appeal in particular to millennials, or really anyone who finds emojis to be charming.
Every facet of the boutique is French, through and through. Take, for example, the low-slung couches in soft black leather with slick silver hardware. They were found in a major flea market, Porte de Clignancourt, located on the outskirts of Paris. "They come from a dealer called Christian Fapet," revealed Mr. Lenthal. "Christian is a great guy and we've known him forever. He has very cool furniture."
All these visual details aside, one must actually visit the shop to experience Ms. de Libran's favorite feature. "I worked with perfumer Daniela Andrier on a custom scent for the store, which is very special. It is an infusion of rosewater, mandarin, vetiver and jasmine. Its essence stays on the clothes and is released when you open your bag…I've heard our clients really enjoy that."