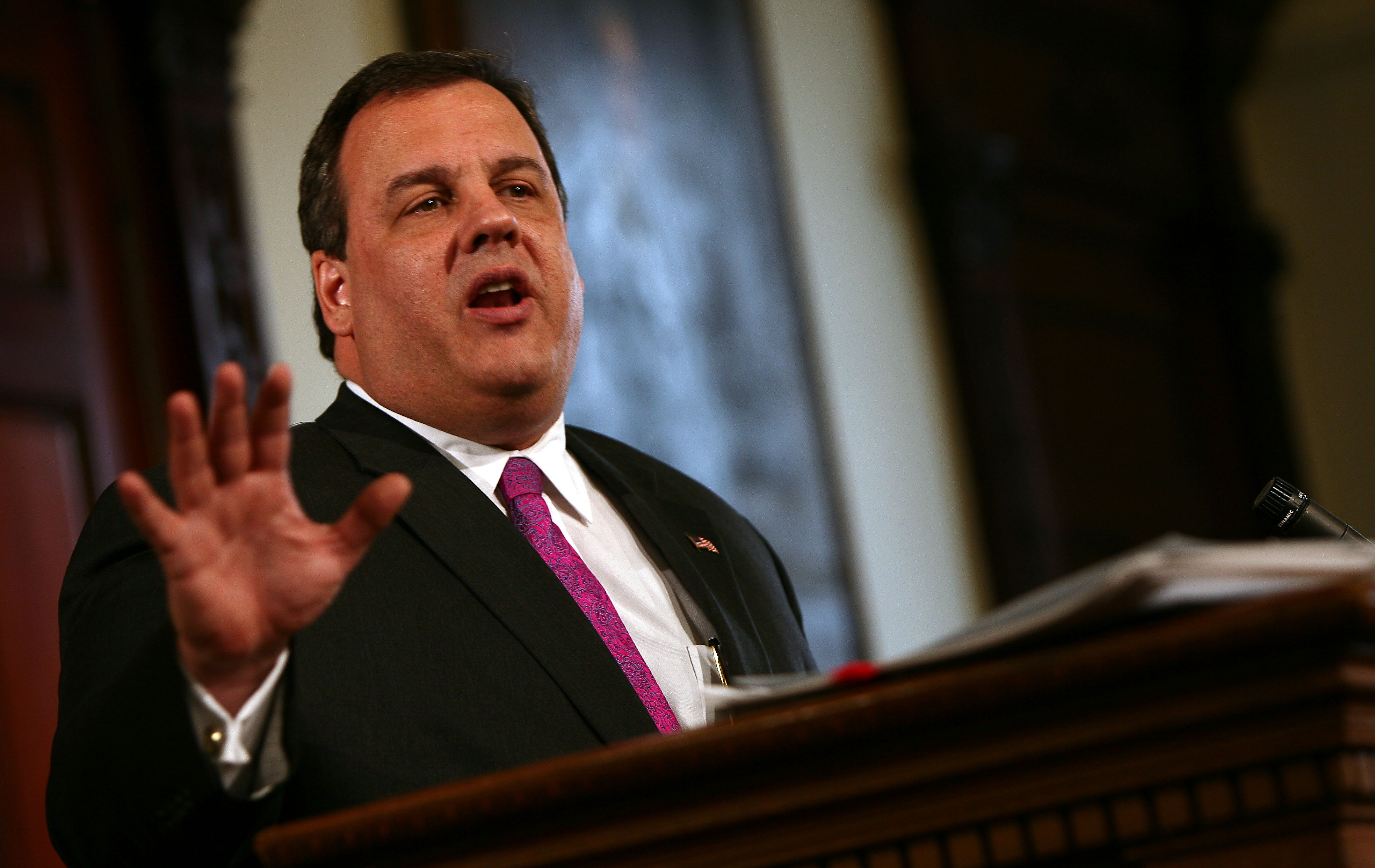 Since his return home from New Hampshire after a barely there showing during the February first in the nation primary, Governor Chris Christie's time in New Jersey has not been without controversy.
PolitickerNJ decided to revisit some of the biggest blunders and blow-ups that have impacted the governor's tenure in the State House.
1. Bridgegate. When you think of "Christie" and "controversy", the first thing that comes to mind for most is the Fort Lee lane closure scandal, better known by it's short-hand moniker "Bridgegate."
In 2013, George Washington Bridge access lanes in Fort Lee were ordered closed by Christie's staff members and political appointees causing massive delays in the area around the GWB in New Jersey. Fort Lee Mayor Mark Sokolich said that he believed the act was "political retribution" enacted by the Christie administration for the mayor's failure to endorse Christie for reelection. While Christie denies any wrongdoing on his part, the scandal, at the very minimum, demonstrated an inability to manage even his most senior staffers. It also demonstrated a mismanagement of political appointees and demonstrated the governor's penchant for finger-pointing (which, this time, impacted Port Authority appointee David Wildstein).
The incident significantly shook public faith in the governor for the first time since his election. The governor and his administration were investigated by the U.S. Attorney for New Jersey, the NJ Legislature and the Port Authority.
2. The Trump endorsement. While his endorsement of Donald Trump for President is the most recent example of controversy in Christie's tenure, it is a potent one. His decision to back the billionaire candidate has led to an onslaught of backlash from Democrats and Republicans alike, with many arguing that he should resign if he will continue to stay out of state campaigning for Trump (Christie denies that will be the case).
The governor's endorsement also drew national attention for the thousand-yard stare he had while standing beside Trump's podium on Super Tuesday, calls from former political allies that the endorsement was the result of "political opportunism" and for former Republican NJ Governor Christie Whitman claiming that she would rather vote for former Secretary of state Hillary Clinton than Trump.
The endorsement also shows Christie's willingness to buck the Republican establishment and side with the man who other establishment figures like Mitt Romney are calling a "phony" and a "bigot."
3. His own presidential run. Since returning to New Jersey after his presidential campaign ended, Governor Christie has regularly thanked the people of New Jersey for allowing him the opportunity to run. The problem: he never asked.
When Christie first started campaigning heavily out of state, New Jersey residents started to become less and less comfortable with the governor of New Jersey not actually being in New Jersey. His approval rating started to plummet to all time lows and now, his ratings sit at just 27 percent in his home state.
There is also speculation that Governor Christie used his post as New Jersey governor to curry favor with voters in other states and nationally. Two oft-cited examples are his failure to ban gestational pig crates in New Jersey (an important issue in the first-in-the-nation caucus state of Iowa) and his decision to not pass a bill unanimously voted on in the NJ Senate and Assembly to make it more difficult for those with mental health records to get guns (gun control is a hot topic for Republican voters nationwide.)
4. The Obama hug. After Hurricane Sandy devastated New Jersey in 2012, the governor welcomed president Barack Obama with open arms… literally. When Obama stepped off the plane, a mere six days before his reelection, he and Christie shook hands and the president placed his hand on the Governor's shoulder, a seemingly innocuous gesture that would go on to haunt Christie for the rest of his time in office. Some say the hug even helped Obama clinch the victory.
Though the hug was years ago, Christie's opponents brought it up on the Republican Presidential debate stage showing that while the GOP might have forgiven the governor for his work with Obama in NJ following the storm, they certainly haven't forgotten.
5. The Sandy Aftermath. The hug wasn't the only Hurricane Sandy drama that has followed Governor Chris Christie. Though he was initially praised for his work in the state following the flooding, some contracts and spending have led to questions about his use of Sandy relief funds in the state.
Christie's decision to use AshBritt, a politically connected contractor, raised some eyebrows and was even federally investigated. Some residents are saying that federal money has been left on the table even to this day, leaving them out of their homes. There was also an investigation as to whether some of the funds from Sandy went to tourism ads staring the Christies and criticism because of it.
6. "Sit down and shut up!" Christie has often been called a "bully" for comments like the one he made to Jim Keady during a 2014 press conference where he told the man to "Sit down and shut up!" Keady had been heckling Christie due to disapproval with the pace of Sandy recovery. The remark caught the eye of the national media.
A similar incident happened in 2012 when Christie called a reporter "stupid" and an "idiot" for asking an off-topic question during a press conference. Earlier in the year, he had called a former Navy SEAL an "idiot" during a town hall event.
7. The Mop comment. The man once heralded for his post-Sandy work in New Jersey was also recently the source of ire in the state after his quick return to the campaign trail in New Hampshire following a record-setting January blizzard. When a woman asked him why the governor had chosen to return the NH despite flooding after the storm, Christie responded with the snarky, "You want me to go down there with a mop?"
That comment—which had lawmakers and NJ residents sending the governor mops—earned him criticism for being insensitive to an area that had been crippled by flooding in the past. People also said he was ignoring his home state to put his focus elsewhere.
8. Helicopter use and general spending. In 2011, Governor Christie took a State Police helicopter to watch his son play a high school baseball game. The ride was credited at $2,500 an hour and many found it inappropriate that such a high cost would be deemed acceptable by the governor for a personal matter. Christie has long promised fiscal responsibility and, for many, the cost of a helicopter did not fit in with that mold.
Christie has also faced criticism for the cost of campaign travel for his presidential run (which will cost taxpayers over $1 million). Additionally, he has often gotten flak for his spending in general. According to a May 2015 investigation from NJ Watchdog, Christie had spent $360,000 on an expense account for "food, alcohol and desserts" to that point in office.
9. "Take the bat out" on Loretta Weinberg. In 2011, Christie asked the media why they couldn't "take the bat out" on then-76-year-old state Senator Loretta Weinberg "for once." The comment came during a press conference and was rooted in Weinberg's calls for pension reform. Christie said she was a hypocrite because she was both collecting a pension and receiving a $49,000 salary for being a legislator. Weinberg said the governor was out of line.
10. The ARC Tunnel. North Bergen was slated to become home to a brand new trans-Hudson River tunnel. But, in 2010, Christie abruptly ended the project, leaving state taxpayers having spent $1.9 billion on a tunnel project that would never come to fruition. It was Christie's first year in office and when he saw cost overrun estimates that calculated the tunnel's final cost between $11 billion and $14 billion versus the budgeted $9 billion. He ended the project despite the significant inroads that had already been made on construction.
The decision was a shocking one and left commuters furious that they would continue to slog in and out of New York City in 100-year old, over-crowded tunnels that were near capacity every day. Also, a report by the Government Accountability office later found that Christie's estimates were off. The tunnel likely would have come in over budget but at $10 billion, rather than $11 to $14 billion.
11. Decision to not reappoint Justice Wallace. In 2010, when Christie was still new to the State House, he made the decision to not reappoint Justice John Wallace to the state Supreme Court. Wallace had served on the Supreme Court since 2003 and was the only African American justice. The governor's decision has created a vacancy on the court that has yet to filled even six years later. At the time, Senate President Steve Sweeney called the decision an example of Christie "bowing to pressure from the far-right."
12. Christie visits the Middle East. In 2012, Governor Christie visited the country of Jordan. That visit was partially paid for by Jordanian King Abdullah and included an expensive hotel stay of $30,000 for Christie and his family, according to the New York Times. Needless to say, the visit raised some eyebrows despite a state statute that allows the governor to accept gifts from relatives and friends that are paid for with personal funds.
13. Christie and the Cowboys. Another time Christie cited that state statute in the face of spending on his behalf by others was when he came under criticism for accepting travel by private jet to Dallas Cowboys games gifted to him by owner Jerry Jones.
For many New Jersey residents, the anger here comes not from the fact that Christie is accepting these private trips but, rather, the team he is choosing to support. Both the New York Giants and the New York Jets play at MetLife Stadium in the Meadowlands. In South Jersey, where the Philadelphia Eagles have a significant fandom, Christie's support of the team cuts especially deep due to the longstanding rivalry between their team and the Cowboys.
Another wrinkle in the issue came when Jones was awarded a lucrative hospitality contract with the Port Authority of New York and New Jersey. There were questions if Christie violated ethics laws.
14. Cory Booker's Special Senate Election. In 2013, the late U.S. Senator Frank R. Lautenberg passed away, leaving an open seat in New Jersey's delegation. Social media darling and wildly popular Newark Mayor Cory Booker put his name in for the position. Rather than put Booker on the same November ballot where Christie's name would also appear, the governor approved a special election less than one month before the November ballots would be cast. That special election cost about $12 million to taxpayers.
Following the decision to hold a special election, many said that Christie's motivation was self-serving. Because he was poised to win a landslide victory over Democratic opponent Barbara Buono in November, many speculated that Christie chose not to put Booker on the ballot in order to discourage those who would vote for the popular mayor into office from voting along their party line and casting a ballot for Buono. Christie, it was said, wanted to keep his margins as wide as possible.
15. NEA deserves "a punch in the face;" NJ Police union prez a "pension pig." While Christie's August 2015 comment about the NEA deserving "a punch in the face" may have been overblown (the interview asked him "At the national level, who deserves a punch in the face?"), it still demonstrates Christie's union woes. Another example that demonstrates his union woes was when he called Pat Colligan, president of the New Jersey State PBA, a "pension pig" late last year.
Christie has made it a priority to blast union employees for not putting enough into their pensions. In 2011, he started having them pay more. Now, he is pushing that even further, something that has made many union workers unhappy with him. They say he is attacking the public sector.
Colligan called him out for his lack of support for the police in the face of the pension cuts. When New Hampshire lawn enforcement endorsed Christie for president, the leader said they needed to look at his record.
16. The Ebola nurse. When nurse Kaci Hickox landed in Newark after a Doctors Without Borders Trip to Sierra Leone during the height of the Ebola epidemic in Africa, Christie ordered for her to be quarantined. She was not allowed to continue her trip to her home state of Maine. The plan was criticized by the White House for being stricter than federal standards and Hickox is now suing. She says she was not given due process and was held against her will.
17. His 2013 reelection. When Christie ran for reelection in 2013, he won by a huge margin. But, according to some of his fellow Republicans, that win was secured by Christie building his own national brand rather than keeping the interests of the New Jersey Republican Party in mind. During that election, Christie was criticized for his lack of campaign effort in South Jersey for Republican contenders and his message of bipartisanship up north where he was regularly seen with Democratic Essex County Executive Joe DiVincenzo. Republican Assemblyman Chris Brown also claimed that Christie had cut a deal with powerful Democratic South Jersey boss George Norcross to not help South Jersey Republicans.
18. Heated exchange on the boardwalk. One of the earlier examples of Christie's volatile nature came in 2012 when cell phone video surfaced of him arguing with a critic in Seaside Heights while clutching an ice cream cone in one hand. The video was released by TMZ and featured Christie calling the critic a "big shot." Supposedly a curse word set the governor off initially but the remark was not caught on video.."
19. The Atlantic City takeover. Earlier this year, New Jersey announced a state takeover of Atlantic City's finances. The move initially drew some very strong criticism from lawmakers and Atlantic City Mayor Don Guardian. Eventually, a compromised was reached between Christie, Sweeney and Guardian but Assembly Speaker Vincent Prieto still has some concerns with the deal.
Since the takeover was only recently announced, time will tell what happens as negotiations move forward and how Christie's move will impact the once-thriving gambling town.
20. Charter Schools. Christie has been a long-time proponent of charter schools. The desire to push that kind of learning environment came to a head in Newark when Christie's pick for superintendent, Cami Anderson, was booted. Anderson faced public backlash and was at the center of a feud with Ras Baraka who ran for mayor of Newark on the platform of getting control of the city's schools out of state hands.
Despite Baraka's victory (he was a public school principal) and distrust of Newark residents of the charter school model following Anderson, Christie has pushed onward, regularly hailing charter schools as a model for New Jersey.