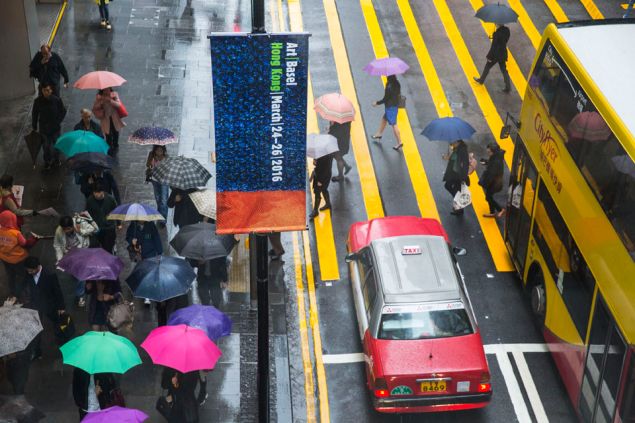 Art Basel in Hong Kong wrapped its fourth edition boasting more than 70,000 visitors—the brand's newest edition is starting to rival its sister fairs in Miami Beach and Basel, Switzerland, as a top global destination to see and be seen.
While Academy Award-winning actor Leonardo DiCaprio and his gallerist pal Helly Nahmad raced through the aisles with Art Basel Global Director Marc Spiegler at the VIP Preview, New Yorkers like Guggenheim Museum Director Richard Armstrong, Brooklyn Museum Director Anne Pasternak and Whitney Museum Curator Christopher Lew lingered for a few days to take in the amazing range of art presented by the 239 galleries exhibiting at the fair.
Most galleries chose to hedge their bets, offering a mix of works by established and emerging artists in their stables, but a few dealers decided to put their money on one artist and take a chance on the outcome. Seven of those exhibitors caught the Observer's eye.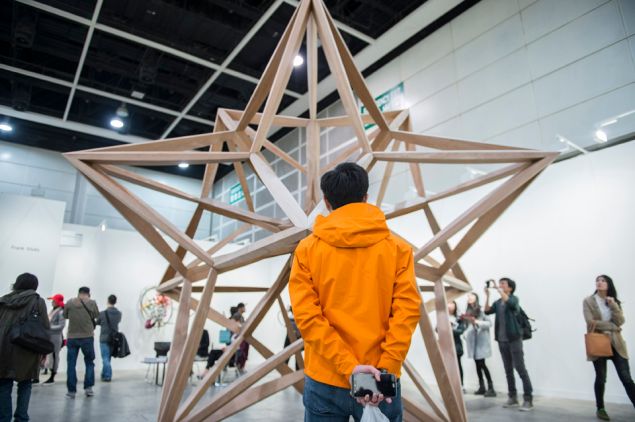 New York's Marianne Boesky Gallery brought its top gun, 79-year-old superstar artist Frank Stella. The gallery featured his massive 2014 sculpture Wooden Star I alongside digitally assisted pieces from his Scarlatti K series. The teak wood sculpture, as well as the abstract works from the computer rendered series that have digitally printed plastic stars incorporated in their stainless steel forms, were recently exhibited in the venerable artist's Whitney Museum of American Art retrospective, which travels to the Modern Art Museum of Fort Worth in April. The works on view at the booth were priced between $275,000 and $2.5 million.
Goodman Gallery, one of South Africa's most prominent art dealers with spaces in Johannesburg and Capetown, presented works by the internationally celebrated South African artist William Kentridge, whose production of Alban Berg's Lulu wowed audiences at the Metropolitan Opera this past winter. The gallery exhibited large-scale still life drawings and two-dimensional cut-steel heads (priced between $50,000 and $400,000) that are related to the artist's recent film Notes Toward a Model Opera, which was the centerpiece of his 2015 retrospective at the Ullens Centre for Contemporary Art in Beijing. Mr. Kentridge's animated films were also featured in ABHK Film, which screened over 70 films by and about artists that were free for public viewing.
Taiwan's Eslite Gallery displayed a solo show of recent paintings by David Diao, who was born in China in 1943, lived in Hong Kong for six years and has spent the past 60 years in New York, where he began working as an artist in the late-1960s. The ten canvases on view (all sold at prices between $26,000 and $91,000) take memories of the artist's early life in Hong Kong as the point of departure, employing childhood photographs, school symbols and maps to recall the past. Mr. Diao spoke about the Post-modernist works and his Chinese and American histories with Hong Kong's M+ museum curator Dr. Pauline Yao in the first talk of the Conversations section of the fair.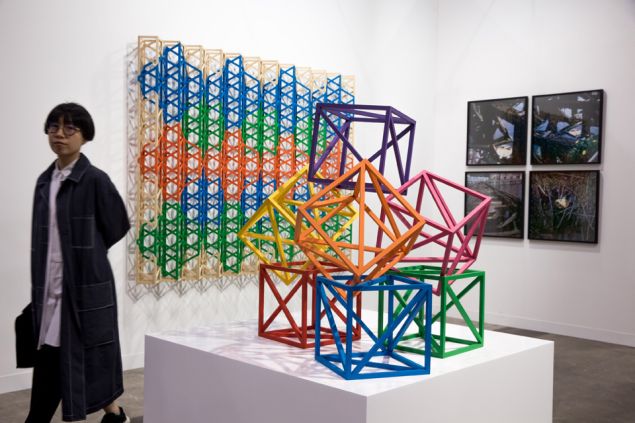 Rossi & Rossi, a gallery that specializes in classical and contemporary Indian, Himalayan and South East Asian Art at its spaces in Hong Kong and London, exhibited early and recent photographs and sculptures (priced between $70,000 and $150,000) by Pakistani-born artist Rasheed Araeen, who has lived and worked in London since 1964. Recognized as a pioneer of minimalist sculpture in Britain, he uses painted lattice to construct grids and cubes that reference Russian Constructivist and Dutch De Stijl abstractions from the early 20th century, while his photographic works from the 1970s and '80s employ influences of Land Art, Performance Art and Appropriation Art to conceptual ends.
In Discoveries, a sector of the fair for showcasing emerging artists with solo and two-person exhibitions, London's Rokeby Gallery offered collages and prints (both framed on the wall and displayed in sculptural form and priced between $5,000 and $50,000) by Cornwall-based artist Abigail Reynolds that draw upon her love of books, architecture and nature. Utilizing bookplate pictures of ancient ruins and landscapes that she passes daily on her way to her studio, Ms. Reynolds constructs new, poetic narratives in her collages and mixes elements of colored and textured glass and felt with found images in her sculptural displays, which convey the notion of going on a journey through use of layered visuals. The spirit of travel in her work made Ms. Reynolds one of the artists to be shortlisted for the third BMW Art Journey, an award that allows emerging artists to create adventurous projects.
Brooklyn-based artist Mira Dancy, who was on several best emerging artists and artists-to-watch lists last year, exhibited new paintings and sculptures of female nudes at Los Angeles' Night Gallery, also in the Discoveries sector. The coveted young artist showed four canvases of naked women in neon lit realms that lent a romantic mood to their earthy settings, as well as hanging sculptures of female figures outlined in black paint on shaped sheets of clear Plexiglas suspended on chains. Priced between $14,000 and $36,000, the works were all sold, representatives for the gallery said.
Last but not least on our roundup of solo booths, Beijing Ink Studio presented a stunning selection of large-scale works on paper (priced between $45,000 and $550,000) by reclusive Chinese artist Li Huasheng, a master of contemporary ink painting. Mr. Huasheng, who was seen in New York in the Metropolitan Museum of Art's acclaimed 2013 survey "Ink Art: Past as Present in Contemporary China," showed black-and-white, abstract landscapes and durational grid pieces made up of thousand of tiny brush stokes, which attracted both critical attention and brisk sales.