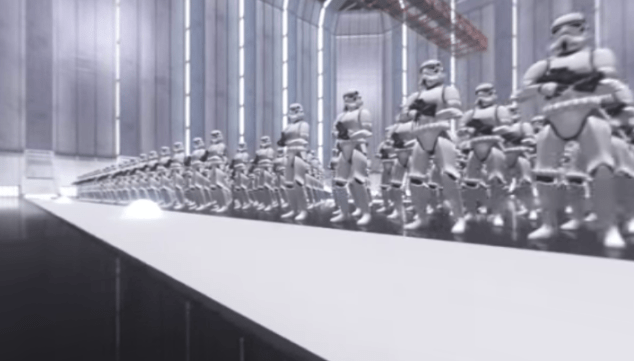 Non-tech companies like Six Flags, Dior, McDonald's and the Sports Illustrated swimsuit issue are already dabbling in virtual reality, but they're not the only ones. Besides the tech sector, one space in particular has really embraced VR.
Movie studios have been turning to VR to give viewers a new way to experience their content through special virtual reality trailers and bonus content. Twentieth Century Fox, Lionsgate, Disney, Marvel and Warner Brothers have all done work in the space, releasing VR videos as long as 20 minutes, in some cases.
Here are seven movies you can experience in VR, which will come in handy now that the Oculus Rift VR headset is finally starting to ship today.
1. The Martian
Last November, 20th Century Fox released a short VR video for The Martian on Samsung's Milk VR portal. The video was just a sneak pee
k of the full experience, expected to be 15 to 20 minutes long and be released in 2016. Shot during production using the actors and sets from movie, this immersive adventure allows viewers to experience Mars from the perspective of Matt Damon's character.
2. The Hunger Games
The official Hunger Games VR experience allows you to immerse yourself in a 360 degree narrative that explores key moments from throughout Katniss' journey across all four films in the series.
3. The Lion King
This virtual reality experience is based off the hit's Broadway adaptation and offers viewers a new perspective on The Lion King's iconic opening number, "Circle of Life."
4. Wild
After much anticipation, "Wild — The Experience" premiered at the Consumer Electronics Show and Sundance Film Festival this past January. The three-minute, 360-degree virtual reality video puts the viewer alongside Cheryl Strayed (Reese Witherspoon), making her journey a little less lonely. One YouTuber uploaded a view of the experience though VR goggles.
5. Batman: The Animated Series
Warner Brothers, DC Entertainment and cloud graphics firm Otoy teamed up for a new kind of virtual reality experience that lets viewers explore the Batcave from every angle. Producer Bruce Timm, writer Paul Dini and voice actor Kevin Conroy helped create the video available on Samsung's VR content platform, which is based on the classic Batman: The Animated Series cartoon from the 1990s.
6. School of Rock
To promote the Broadway adaptation of School of Rock, composer Andrew Lloyd Webber released a 360 degree interactive music video for the song "You're In The Band," which features star Alex Brightman (in the Jack Black role) and a cast of talented kids shredding in the classroom.
7. Star Wars
If there was ever a movie made for virtual reality, Star Wars is it. Google, Verizon and Lucasfilm's ILMxLAB studio came together to create a Star Wars: The Force Awakens VR experience for Google Cardboard late last year, and fans have taken it upon themselves to bring VR to the movie as well. The above video isn't official or related to the movie studio in any way, but it's been viewed over four million times on YouTube.