THURSDAY, MARCH 31
Opening: "Allen Jones: A Retrospective" at Michael Werner
Allen Jones is perhaps best known for his controversial 1969 sculptures Hatstand, Table and Chair, which positioned fiberglass sculptures of women dressed in dominatrix gear as items of furniture. This is the artist's first major New York show in nearly 30 years, and while those works won't be on view there will be plenty of prime examples of Mr. Jones' provocative paintings and sculptures hand-picked and borrowed from prominent collections by renowned British critic and curator Sir Norman Rosenthal.
Michael Werner, 4 East 77 Street, New York, 10 a.m-6 p.m.
FRIDAY, APRIL 1
Opening: "Alexis Rockman: Bioluminescence" at Carolina Nitsch Project Room
Alexis Rockman is an American painter with a penchant for sci-fi themes. His realistic paintings and drawings show life as it might be if we do nothing about climate change and experiment further with genetic engineering. The works on paper in the show relate to concept art that Mr. Rockman made for the 2012 Ang Lee film Life of Pi, but further explore the depths of the sea with depictions of creatures that glow to their attract prey. Beautifully painted in gouache on black paper, the works reveal an aspect of nature that's rarely seen and needs to be protected.
Carolina Nitsch Project Room, 534 West 22 Street, New York, 11 a.m-5 p.m.
Opening: "Annette Messager: Daily" at Marian Goodman Gallery
One of France's most prized artists, Annette Messager has been exhibiting in the States since the early 1980s and yet her highly poetic work inspired by dreams and fantasy remains under the radar of most American art lovers. At the center of her show at Marian Goodman is a monumental installation of everyday objects fashioned in leather and fabric—a key, a ring, a hammer, a safety pin, scissors and tweezers—suspended from the ceiling along with fabricated body parts and several cloth rats.
Marian Goodman Gallery, 24 West 57 Street, New York, 6-8 p.m.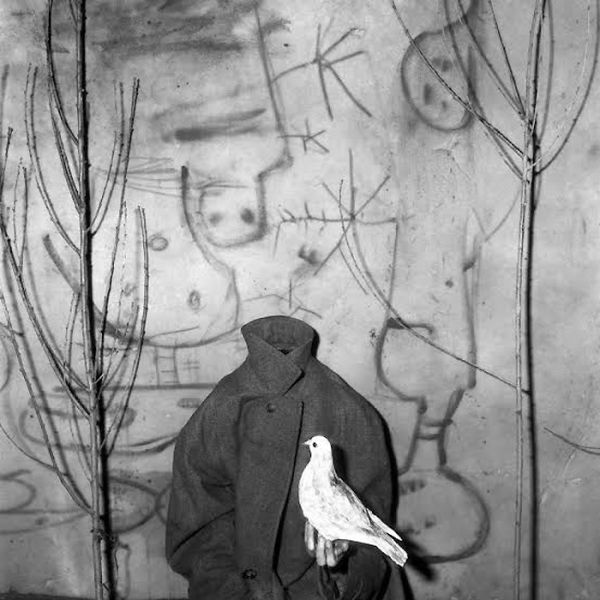 Opening: "Roger Ballen: Asylum of the Birds" at James Fuentes
An American artist who has been living and working in South Africa since the 1970s, Roger Ballen makes psychologically charged staged black-and-white photographs featuring people, animals and objects often surrounded by surreal and unsettling drawings. He is best known to younger audiences for a music video he made with South African rap group Die Antwoord's song I Fink U Freeky, which has nearly 80 million views on YouTube. Mr. Ballen reveals an equally bizarre world in his series Asylum of the Birds, which was shot in a suburban house in Johannesburg that the artist transformed into a nightmarish set for his ingenious images.
James Fuentes, 55 Delancey Street, New York, 6-8 p.m.
Talk: "Artists on Art: Kembra Pfahler" at the Rubin Museum of Art
As part of the museum's ongoing Artist on Art talks series, artist Kembra Pfahler—also the lead-singer of the cult glam-punk band The Voluptuous Horror of Karen Black—sits down with Rubin Museum curator of Modern and Contemporary art Beth Citron to discuss mystical works in the current exhibition "Genesis Breyer P-Orridge: Try to Altar Everything," on view through August 11.
Rubin Museum of Art, 150 West 17 Street, New York, 6:15- 7 p.m.
SATURDAY, APRIL 2
Event: "Dwellings: Charles Simonds and 1970s New York" at the Institute of Fine Arts at NYU
Charles Simonds has been a fixture on the New York art scene since the 1970s, and is known for his sculptural "dwellings," miniature buildings and ritual spaces for an imagined population that he calls Little People. His famous 1981 commission for the Whitney Museum of Art was an installation of one such work on the stairwell of the Breuer building. That work remained on view for many years, and is now re-installed at the Met Breuer along with another major piece from 2003, Mental Earth, which now hangs in the Great Hall Gallery of the Institute of Fine Arts at New York University. The artist is being commemorated with a symposium at the school, and guest speakers include art critic and curator Lucy Lippard, Monacelli Press editor Christopher Lyon, Ruhr University professor of Medieval and Modern Art History Herbert Molderings, and writer, curator and museum executive Patterson Sims, who oversaw the Whitney's commission.
The Institute of Fine Arts at NYU, 1 East 78 Street, New York, 11:30
Opening: "Joe Bradley: Krasdale" at Gagosian Gallery
One of the most talked about artists of the past five years, Joe Bradley has had a meteoric ride through the art world. He first exhibited at Berlin and Los Angeles-based Peres Projects grallery and New York's Canada before he was picked up by Parisian heavy-hitter Almine Rech, Zurich's Eva Presenhuber and Gagosian. The gallery has chosen to remain tight-lipped about what its first solo show with the artist will feature, but we were able to sneak a peak at some massive abstract paintings.
Gagosian Gallery, 980 Madison Avenue, New York, 6-8 p.m.
SUNDAY, APRIL 3
Opening: "Spring Open House in Celebration of: Cao Fei, Thea Djordjadze and Rodney McMillian" at MoMA PS1
MoMA PS1 kicks off the spring season with solo shows by three prominent artists from very different regions of the world. Chinese contemporary art star Cao Fei will have a survey show of her videos and photographs featuring cos-players and virtual reality avatars; Berlin-based, Georgian artist Thea Djordjadze will construct a site-specific sculpture inspired by a 12th century pharmacy located in a cave city; and Los Angeles-based artist Rodney McMillian, who has a concurrent solo show at the Studio Museum in Harlem, will show a suite of 12 abstract paintings on bed sheets painted with leftover paint from construction supply stores which provocatively comment on class, identity, gender and sex.
MoMA PS1, 22-25 Jackson Avenue, Long Island City, 12-6 p.m.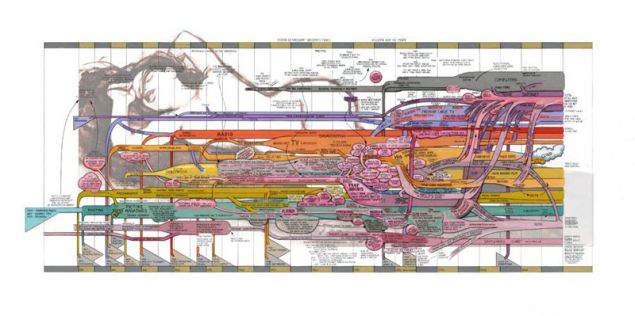 Opening: "Ward Shelley: The Felicific Calculus and The Last Library" at Pierogi
Ward Shelley is revered for his diagrammatic, timeline paintings chock full of information about the art world, science fiction, religion and counter-culture. Mr. Shelley's new paintings span a variety of subjects, from "the century of the automobile" to media technology, but the pièce de résistance about pornography and references nudie films, peep shows, X-rated magazines and legendary swingers' clubs such as Plato's Retreat. The paintings will be shown alongside The Last Library, his collaboration with artist Douglas Paulson, and is touted as "a collection of 3,500 books that should have been written, but have not."
Pierogi, 155 Suffolk Street, New York, 6-8pm