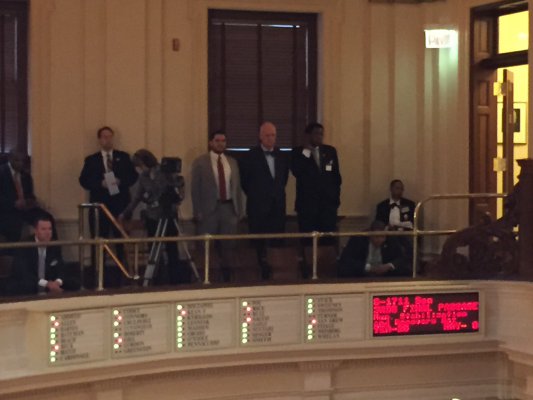 TRENTON — The Senate passed its version of a bill from Senate President Steve Sweeney (D-3) to have the state take over Atlantic City's finances to avoid a bankruptcy. The bill would have the State Local Finance board oversee hiring and firing of public employees, allow sweeping changes to collective bargaining agreements, and mandate the monetization of the city's water authority.
Opposition was thin, with the bill passing by an overwhelming 27-8 majority. But those who came out against the measure did so with passion and outrage. Senator Ronald Rice (D-28) echoed arguments made by Atlantic City's city council and its mayor, Don Guardian, when he said the takeover amounted to disenfranchisement of black voters.
Senators Nia Gill (D-34), Jeff Van Drew (D-1), Nick Sacco (D-32), Tom Kean Jr. (R-21), Chris Connors (R-9), Diane Allen (R-7) and Jennifer Beck (R-11) voted against the bill along with Rice. Senators Shirley Turner (D-15), Teresa Ruiz (D-29), Linda Greenstein (D-14) and Sandra Cunnigham (D-31) abstained.
"Intervention to me does not mean takeover," Rice said, acknowledging the city's need for a bailout or a state-approved bankruptcy while arguing that the takeover as written would turn back the clock on the black community's political gains. "We fought to have authority."
Senator Nia Gill (D-X) spoke out against the bill before voting against it, calling it a decorative feature of Governor Chris Christie's presidential bid and what she called his current "vice-presidential run" with the Trump campaign.
"The governor ensured that he would not give economic relief to AC that we all agreed was both deserving and necessary," Gill said of Christie's prior veto of an Atlantic City rescue package that the takeover effort eventually replaced. Christie vetoed those bills after the conditions of his conditional veto were met. "He ensured that Atlantic City would fail.
"He wanted to be able, in his presidential run, his vice-presidential run, to be able to say that he was able to take over the city and destroy the collective bargaining," she added.
One reluctant supporter, Jim Whelan (D-2), was the sponsor of that vetoed aid package, whose companion bill also passed Monday afternoon. It's key bill, the payment in lieu of taxes deal for Atlantic CIty's remaining casinos, also passed.
"If we do, the city gets the money it desperately needs," Whelan said of passing the takeover legislation, which is now apiece with the PILOT agreement after Christie's veto. "This is not some sleight of hand.The city will be broke in a month."
"We have a dilemma," he continued. "I'm supporting this bill and its companion bill because that's the most viable option for Atlantic CIty's future. I still live there. I'm not happy about this."
The Assembly has not yet posted its own version of the takeover bill, with Speaker Vince Prieto (D-32) saying that he will not approve any bill that leaves collective bargaining rights on the table.