While many have simply given up on their pursuit of the golden Hamilton ticket, some remain hopeful that they will be the lucky winner of the daily lottery for a front row ticket to the the most popular play on Broadway. The process of entering personal information into the site can become a pesky task for those who are dedicated to registering for the lottery daily, until now. Introducing the Ham Lottery App, your fast track to entering the Hamilton lottery.
The app, who's icon is a literal dinner-ready ham, makes entering a breeze by auto-filling your personal details, eliminating any laborious form-filling. It also features a daily notification option to remind you to enter before the lottery closes for the day. Though the concept of this simple app isn't groundbreaking, it does eliminate the tedium that comes with entering the lottery.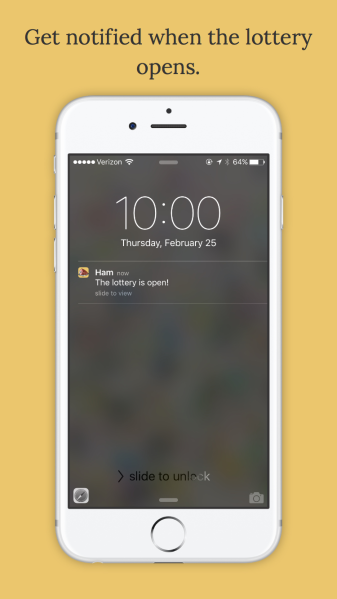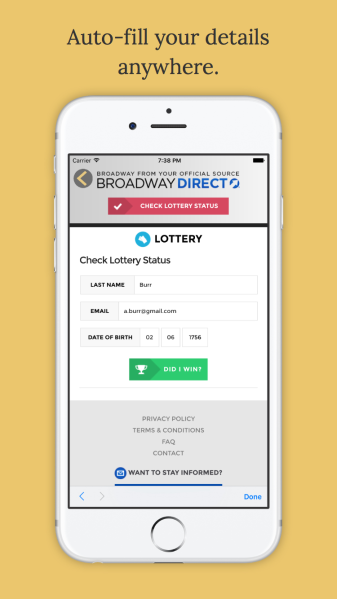 The app was created by app developer Lukas Thoms, the creator behind the hyperlocal shopping app, Shophood. After receiving tickets to see Hamilton for Christmas from his mother, Mr. Thoms was struck by the play's incredible music and diverse cast. He immediately knew that he wanted to see it again. After entering the digital lottery a couple of times, Mr. Thoms quickly realized that he could streamline the process by building an app. One week later the Ham Lottery App launched.
Though Mr. Thoms has yet to win tickets to see Hamilton again, he hopes his app brings success to other hopefuls. "They've released the soundtrack, so most people are listening to that without being able to see the actual play," he says. "This app is for the New Yorker that really wants to see the show."
With two apps under his belt, Mr. Thoms is a new addition to the app developing world. He left his career in eCommerce only ten months ago to take part in a 3-month iOS development course at the Flatiron School. In the case of this app, his creativity has won out over his newbie status. Two days after launching the Ham Lottery App, it is being widely tweeted, shared and downloaded by hopeful Hamilton fans happy to discover an app that keeps them vigilant in their quest for tickets.