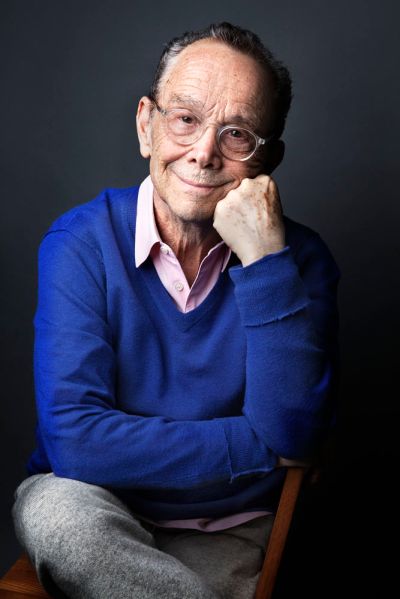 Other teenagers idolized swaggering rock stars, folksy crooners or bad-boy movie stars in well-worn jeans. But my crush sang and danced in tails and women's lingerie. He had cupid-painted lips, false eyelashes and rouge. My crush, from the moment I saw him in Bob Fosse's Cabaret, was Joel Grey.
I was in high school—my third since we moved a lot—reclusive, steeped in existentialism, art, poetry and old jazz. I mostly avoided making friends—I was an eccentric outsider and didn't even go to my senior prom, though I did get asked by a girl named Lynn, who like Joel Grey, was going to wear tails.
Something about Joel Grey's persona in Cabaret thrilled me to the core. He conjured the decadently stark severity of an Otto Dix portrait—his very movements animated the lewd absinthe-soaked nightclub atmosphere of Expressionist painter George Grosz. As a melancholy art student, I had found my muse. Joel had an endearing demented glow. He was strange and nimble as an elf. Joel made strangeness magical, enchanting. He excited my curiosity about the rules of gender. I wondered how I could ever love a man who could not put on the drama of drag. Joel Grey infiltrated my life with a supernatural, visceral and alternative reality. It was he who inspired poetry and gave me the courage to be myself.
My little sister Tessa was friends with Lynn's little sister, and one day they rummaged through her father's old Playboy magazines in the attic. I know this because Tessa came running up to me with a torn-out page fluttering in the breeze and screaming "Joel Grey! Joel Grey!" And it was. It was from the October issue (1971), and there he was in full costume, a debonair spritely specter pointing his willow cane at the nude silhouette of Cabaret co-star Marisa Berenson as if taming or invoking her. I'll venture to guess he was the first man to appear in Playboy in such heavy maquillage. It became a sacred talisman that I kept hidden safely between the pages of my Aubrey Beardsley book.
In those days I had only one friend, Erica, an artistic eccentric who embraced my melancholy and attraction to seedy beauty. It was her idea that we write to our heartthrobs. She sent a mash note to a tall tousle-haired actor she worshipped; I wrote to my strangely handsome, vampy hero—I wished Joel Grey a happy birthday and sent him a poem that seeing him had freed from my dormant creative subconscious. I'm a little embarrassed about it now, but the poem was called "On Perversity," and I seem to recall there was a passage about "mushrooms growing in the crotch of a dark place."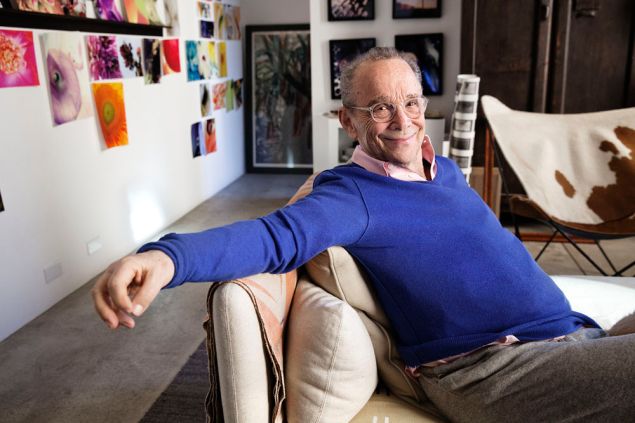 And he wrote back. The envelope engraved with his name in a whimsical, elegant font in a divine blue grey. What Oscar-winning star in his late 30s answered fan mail from a star-struck teen? And even more miraculous, he told me in his typed letter that I was very talented. I was uplifted, my strangeness not only accepted but applauded! So what if I didn't fit in anywhere.
Since then I've stalked my elegant, winsome, eternally boyish, multitalented muse—showing up at his art openings, book signings (a third photography book is in the works), live performances and exhibit at the Museum of the City of New York. A few weeks ago he invited me to his talk at the 92nd Street Y where he chatted with Gay Talese about his new book, a memoir, Master of Ceremonies, Joel Grey (Flatiron, 2016). He charmed the standing-room crowd with stories and impromptu song and later autographed his memoir and the 1971 issue of Playboy I'd ordered on eBay. (My poorly preserved tear-sheet wouldn't hold up to a pen.)
He was strange and nimble as an elf. Joel made strangeness magical. Enchanting. He excited my curiosity about the rules of gender.
When we spoke by phone recently I got to ask him about the letter he'd written me several decades ago. Had he really read my poem and taken the time to compose a personal response?
"I was reading everything and signing everything," he assured me. "But I had help. I was probably dictating."
It's dangerous to read an intimate autobiography of someone you idolize. Would the silver sheen of my admiration tarnish in the light of reality? But reading his memoir is like watching someone create an origami swan from a small piece of paper or magical cocktail napkin. In fact, he told me much of his memoir, co-written in his West Village apartment with Rebecca Paley, came from notes he made on little pieces of paper he scribbled on over the years and stashed in a drawer.
Joel grew up in Cleveland where his father, comedian Mickey Katz, played jazz clarinet and toured with his own stage revue. When he was 16, Joel began appearing as a song-and-dance man in his father's shows. But it was the theatre that ignited his passion; he began doing plays as a child. I had only to read about him being locked overnight in the Cleveland Play House at the age of 9, where he unleashed his fantasies trying on costumes and practicing stage entrances, to fall even deeper under his spell: "Onstage, illuminated only by a single ghost light, I recited to an imaginary, yet deeply enthralled audience the 'Queen Mab' monologue from Romeo and Juliet."
What I wouldn't give to see which costumes! Joel was sometimes called queer, largely for the fancy outfits his mother chose. (There was a bright green bow tie for starters.) He seems to have been born with style and a couturier's instincts. For his role as the wizard in Wicked (where he manifested an agile and mesmerizing energy) not only was the dance scene his idea, but he even dreamed up the silhouette of the long coat that swung out when he moved.
"I wanted to be in the theatre to shock, expand, make life more interesting," he writes, and his storytelling does all that as well, from being violently bullied for jitterbugging, to his first sexual explorations with the elevator operator of his building. The book is laced with lusty romantic encounters from his teenage affair with the 25-year-old cantor at synagogue with whom he later had a scandalous ménage à trois to a Vegas showgirl until he settled down with the woman he called the love of his life, Jo Wilder, to whom he was married for 24 years and parented two children. He's endearingly wide-eyed throughout every experience.
Master of Ceremonies also reveals the struggles of overcoming the nightclub stigma and getting to Broadway. He's acted in more than a dozen plays and Broadway productions including Chicago, George M! and The Normal Heart and in over 20 films (he told me it was choreographer Vincent Paterson, also known for directing and choreographing Madonna's Blond Ambition tour, who suggested him for the part in Lars von Trier's Dancer in the Dark) and has made countless TV appearances. (Who knew he played Huckleberry Finn and Billy the Kid in the series Maverick and a blond Adonis as Jack from Jack in the Beanstalk?) But it was the 1966 musical production of Cabaret, followed by the movie, that was a turning point of his career, one of epic proportion. In this book he has finally written about how he created the Emcee of the Kit Kat Klub in the Kander and Ebb musical Cabaret set in 1930s Berlin based on a drama inspired by Christopher Isherwood's book The Berlin Stories.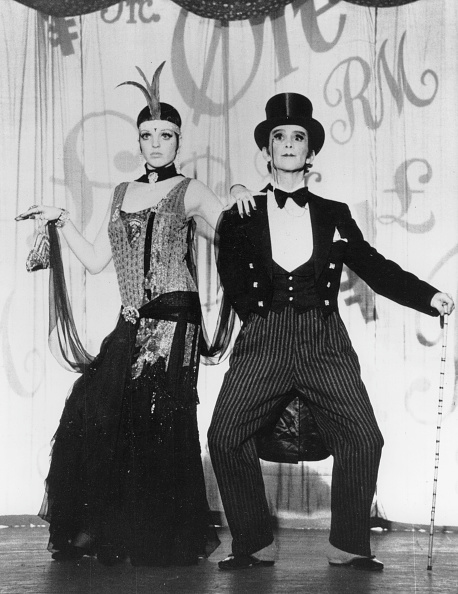 He was heroic in his abandon to splendid, incandescent perversity. No one had more evil charm, right down to his accent. "Fosse," writes Joel, "knew his way around sleaze and appreciated the blending of the outrageous and the sinister I brought to the Emcee." But Fosse wasn't initially keen on casting the man who invented the part. When Fosse vetoed Joel so he could reinvent the cinematic version, telling the producers, "It's either Joel Grey or me," they chose Joel, and Fosse caved and kept his job.
I could not articulate it at the time, but I sensed Joel Grey, who won both the Tony and an Oscar for his role as the Emcee, had cultivated an archetype: Boris Karloff as Frankenstein's monster. Bella Lugosi as Dracula. Basil Rathbone as Sherlock Holmes. Joel Grey as the Master of Ceremonies in Cabaret. He created an entirely new being—with absolute charisma, muscular electricity, profane passion, fearless drama and unconventional beauty—a performance and look that created an icon!
"There were no notations or descriptions in the script regarding my character," Grey writes of his character, who was described as a small man with too much makeup based on a master of ceremonies in a seedy nightclub in Stuttgart. In creating his character's biography, he was looking for something deeper, more nuanced than a mere nightclub performer. "I embraced everything that was in poor taste and not acceptable," he writes of inventing the lewdness on a flash impulse in an early rehearsal, all based on a dream about a "vile comedian" he'd seen perform when he was on the nightclub circuit in St Louis. "And there was I in the sweaty body of the comedian from my dream…
He created an entirely new being—with absolute charisma, muscular electricity, profane passion, fearless drama and unconventional beauty—a performance and look that created an icon!
"This new, different Emcee had no compunction about manhandling the girls. Although I had no makeup and was wearing only a tailcoat over my rehearsal clothes, I became another person by fully discovering the inner life of this character. The change took the dancers and ensemble off guard. I could feel a bristling of discomfort as I lifted up a Kit Kat Girl's skirt with my cane and an intimidated resistance as I sat down on the lady piano player's lap. The choreography was the same, the same steps I had repeated many times in rehearsal, but the spirit in which they were done was mercenary, lascivious, and menacing.
"I had just shown the crème de la crème of the legitimate theater— that place I had wanted to be since forever—all that I had worked for years to rise above: the cheap tricks of the vaudevillian, the vulgar jokes among the musicians in my dad's orchestra, the fag impersonations of a sleazy nightclub comedian. All the things I didn't want to be.
"Next the Emcee needed a look," writes Grey, who plundered his wife's makeup case to invent his decadent androgynous glamour. "I started with a stick called Juvenile Pink…matted down with Johnson's baby powder. I then drew thick, dark, slightly arched eyebrows…Jo's old lashes were so thick with mascara that they looked like black construction paper or the lashes of a ventriloquists' dummy…and for the lips, not a lipstick but a type of old German shading stick called Leichner's 'lake.' "
Where is that makeup now? "I think we gave the makeup to the Smithsonian along with my first costume," he said.
Me, incredulously: "So you don't even have a pair of false eyelashes or some pancake makeup sitting around your apartment?"
Joel: "If I did, I wouldn't tell you."
Joel Grey continues to inspire and influence me. I have written some perversely artistic scenes in my new novel that only he could have evoked…and that only he could bring to life.
So I remind him I have a quirky, weird part for him in the works. "It's a little morbid and strange: You play a trombone and work at a cemetery, but it's kind of beautiful," I say.
"Of course, it is. You wrote it," he said. "I'm ready."