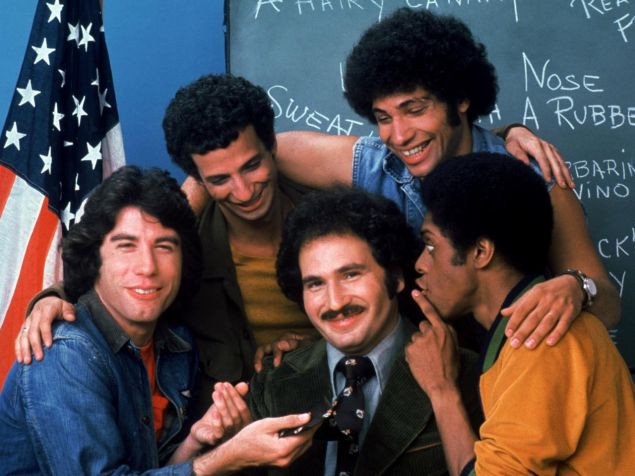 The other day I was in my local neighborhood bar, Bar Goatsé in North Williamsburg which is in Queens, reading two different Huffington post articles by the same author that contradict each other because it's important to get BOTH sides of the story. I was enjoying a Starbucks coffee which I had poured into a local coffee shop's coffee cup, spiked with Fernet Branca, and then brought into the bar illegally: a drink I invented called the ABC'S LOST Island Iced Tea because it does NOT end well. Anyways I was sitting at the bar with my artisanal seltzer and my local arugula and my craft baby, Amaro (we named her after our favorite Instagram filter), minding my own business when the baby needed to be changed. So I did what any responsible parent would do, I got up and took him to the bathroom, but it was locked so I had to bang on the door a bit and eventually one of those 27 year old guys that somehow look like they're in 1970s Thin Lizzy walked out followed by 3 similarly dressed young women. I couldn't believe it. I was like, "hey man, this is a family bar!" Which is a thing I've I have decided because I accidentally started a family but I still want to go to dive bars. He responded by apologizing and buying a round of shots, which was so offensive. I can't do shots! I'm a father! I'm out with my baby! I'm just trying to hang out in my local neighborhood haunt without paying for anything and these jerks are trying to get me drunk. I picked up my satchel of drum tobacco, called them all hipsters, and left.
When I got home Amaro was really upset by the whole thing, so I went to the kitchen to get her formula and it was all gone! Not only that, I was broke. "Great Uncle Juice!" I thought, "why don't I have any money?" Then I remembered I had spent my last paycheck on a bunch of DVDs of something called Welcome Back Kotter because I thought the kitschy 1970s box art would make a hilarious wallpaper collage for my bathroom. I have a Master's degree in English.
My baby was crying and I didn't know what to do so I popped these suckers into the XBOX One that I bought instead of paying March's rent and then, like an ending to a Dexter episode, I was saved by some random deus ex machina shit that came out of nowhere: The theme song to Welcome Back Kotter. It's mellow and enchanting, like the vape flavor recipe that me and Action Bronson came up with at SXSW. That shit Father John Misty'd my baby right to sleep. What happened next was epic legendary woke.
I think I figured out what Bernie Sanders was doing in the 70s. He was filming a documentary about youth unemployment called Welcome Back Kotter.
You know how every couple of months someone digs up an old black and white photo of Bernie Sanders protesting in the 60's or lighting himself on fire like the Rage Against the Machine album cover or whatever? I think I found something huge. I think I figured out what he was doing in the 70s. He was filming a documentary about youth unemployment called Welcome Back Kotter. Every episode kicks off with Mister "Kotter" going all Bone Thugs 'n Harmony about one of his uncles to his wife "Julie" (I don't know why they're using pseudonyms). Then the camera moves to it's main location, the Brooklyn high school where "Kotter" teaches a bunch of Bernie bronies called The Sweathogs about socialism.
Their leader, "Vinnie Barabarino," is actually a young John Travolta, who later went on to make Battlefield Earth which is a film loosely based on the Nicaraguan Sandinistas or possibly a weird dream that someone had. Then you've got Freddy "Boom Boom" Washington, the black voter who "Kotter" tries and tries to win over with his "cool teacher" raps about living responsibly, abstinence until marriage, and Rosa Luxemburg's Marxist theory of the Dialectic of Spontaneity and Organization. This sounds like it would be awkward but Freddy just keeps going "Arliiiiight" and "Hi theeere" until everyone, including the viewer forgets what the hell was going on. The 70's were a special time. Then there's Juan Epstein, The biracial latino bernie bro who no doubt spends most of his free time harassing female Nixon supporters on ham radio, which is the 1970s version of Twitter (https://twitter.com/feraljokes). I mean this isn't pictured on the show at all, but knowing what the internet tells us about Bernie Sanders people, we should assume that Epstein lives in his mother's basement where he screams hash tags about the ethics of Pac Man journalism into a trucker microphone. Finally there's Horshack, the Paul Rust of the story. If this was a Judd Apatow series, Arnold Horshack would be hooking up with women way out of his league while whining like a Weakerthans song, however this is not Apatow, this is real life. This is a documentary. It should also be mentioned that all these people have Mars Volta afros.
Welcome Back Kotter explores the rise of socialism under the black light of 1970s Brooklyn. This is hands down one of the best docs I've ever seen. It's right up there with Blackfish and that one where Morgan Spurlock tries to eat all the different smoothies at Pinkberry to prove a point about how red his hair is or whatever. WBK Is a gritty look at the struggle of the period's working class as they fight for equality, for freedom, for the future. "Ooh! ooh! ooh!" they cry. I cry with them, because I spent all my money on Simpsons Tapped Out extras and now I need socialism to pay my rent.