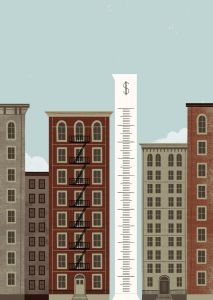 What would you pay for a square foot of orange juice? How many square meters of gas does it take to fill your tank? Do you want the 20-square-inch coffee or the 30?
The point being, volume is important. Buying a Jackson Pollock or a flat-screen TV? Two dimensions is probably enough to go on. For a swimming pool or a bottle of scotch, on the other hand, you want to nail down all three.
It's in this spirit that certain New York City real estate brokers have raised with the Observer the matter of marketing apartments according not to the traditional price per square foot but, rather, price per cubic foot.
"I think there's a need for our industry to start considering cubic footage in our assessments of pricing," Douglas Elliman's Michael Graves said. "This is something I think buyers are very keen on knowing."
This is particularly the case, he noted, in the market's upper echelons, where buyers are often looking at properties with generous ceiling heights.
"It's not [something] that matters for the one-bedroom and studio buyers so much because they aren't that sensitive to it. People don't expect a studio to have 14-foot ceilings," Mr. Graves said. "But when you are buying something that is $10, $20, $40, $50 million, ceiling height becomes a very sensitive issue."
Indeed, in the telling of Citi Habitats broker Victoria Rong Kennedy, the last decade of luxury real estate is a story of ever-ascending ceilings.
"First there was Time Warner Center, and there instead of the [usual] eight-and-a-quarter feet or nine feet of a prewar building, they had 10-and-a-half-foot ceilings," she said. "Then you had 15 CPW, and that went to 11 feet. And then One57 went from 11 to 12 feet. And then right after that we come to 432 Park, and that went to 12 1/2 feet. And of course, now, downtown at 30 Park Place they are building [ceilings] that are over 13 feet. It's like the ultra-luxury developers are using ceiling heights to be competitive with one another."
Ms. Kennedy said she is "100 percent in support of using cubic feet for valuing real estate," suggesting that the idea was something brokers should bring a body like the Real Estate Board of New York for formal consideration.
'I talk in terms of cubic feet even though I don't go there with [exact] numbers, and people feel it, because you live in a three-dimensional space, not on a [two-dimensional] floor.'—Halstead broker Brian Lewis
"I've heard some European and Asian [brokers] talk about cubic meters," Halstead broker Brian Lewis said. "But I rarely hear cubic feet talked about here in [the U.S.]
"I wish it were more common, though," he said, giving the example of an apartment he's currently selling on Central Park West. The unit is relatively small in terms of square footage but has 10-foot ceilings.
"So I talk about how voluminous it is," Mr. Lewis said. "I talk in terms of cubic feet even though I don't go there with [exact] numbers, and people feel it, because you live in a three-dimensional space, not on a [two-dimensional] floor."
Douglas Elliman's Darren Sukenik is likewise a cubic footage enthusiast. In fact, he said, he believes he's among the first to raise the idea.
"I'm really West Village and Tribeca-centric, where we tend to have these incredible ceiling heights that really add so much value to the properties, and there's really no way of representing that drama and added X factor other than measuring in volume," he said.
So does he offer clients a cubic feet figure?
"Unfortunately no," Mr. Sukenik said, noting that even square footage remains a challenge for the business. Because of the different standards used for calculating an apartment's square footage, brokers generally shy away from giving exact figures, offering estimates instead.
"We're having enough trouble with two dimensions, let alone three," said Stribling's Kirk Henckels, although he added that in his experience "ceiling height is one of the first questions many people ask, and that's really all about volume, isn't it?
"Let's face it, real estate is not two dimensions, it's three dimensions," he said.
But are buyers actually ready to do their house hunting by volume? Everyone knows what a gallon of milk looks like. But what about 90,000 gallons of condo?
"I think before StreetEasy buyers weren't really trained to think in terms of price per square foot, and I think StreetEasy trained them to do so," Mr. Sukenik said. "So I think [buyers] could easily be taught to think about it in [cubic feet]."
For what it's worth, StreetEasy spokesperson Lauren Riefflin told the Observer that the site has no plans at the moment to add cubic feet to its listings. (A recent StreetEasy search of for-sale properties using the keyword "cubic" returned 18 hits, most of them concerning the size of the apartments' refrigerators.) However, Alan Lightfeldt, a StreetEasy data scientist, suggested that the notion was an intriguing one—and not so much with regard to the soaring downtown pads marketed by Mr. Sukenik and his ilk but rather the city's new stock of micro-apartments.
Such units are "all about effective use of space," Mr. Lightfeldt said. "So utilizing often underused vertical space is key to living small." In other words, nine-foot ceilings are nice in a 2,000-square-foot apartment, but in a 200-square-foot place, they could prove the difference between a home and a cage.
Do we really need to calculate things in cubic feet, though? Wouldn't providing a simple ceiling height work just as well?
"Yeah, I think so," Corcoran broker Richard Leitner said. "If every listing had accurate ceiling height information, it would be much easier to consider how that impacts the value of the property."
Corcoran's website has a field for entering ceiling heights, Mr. Leitner noted, but this data remains spotty.
"I think it might be that not everybody does consider it important," he said. "But for years I've longed for more ceiling height information in our databases, because I believe that no other single element can so significantly impact the feel of a space."
Not everyone is a fan of the idea. Karla Saladino, managing partner at Mirador Real Estate, told the Observer that she ran it by a couple of her landlord clients "and they literally [we hope not!] laughed themselves to death.
"They thought it was just more broker babble and ridiculousness," she said, suggesting that cubic footage is basically just a ploy to make apartments sound bigger than they actually are.
"I think it's like using the word 'cozy,' " she said. "Clients will see right through it. It's like listing in centimeters to get more numbers into my listing."
"I don't view it as having merit," Engel & Völkers New York City CEO Stuart Siegel said. "I view it as trying to almost over-rationalize premiums that the market can't sustain. Because what you are trying to do is apply a quantitative measure to what is a subjective or quality of life benefit."
'I think it's like using the word "cozy." Clients will see right through it. It's like listing in centimeters to get more numbers into my listing.'—Karla Saladino, managing partner at Mirador
A person might just as well try pricing apartments by, say, square feet of windows or number of outside-facing doors, he suggested.
"There are so many components that determine value, and all of those things combined add to premiums, but trying to price a property based on its volume to me is more a signal that perhaps some things are not priced realistically to reflect the market and they are trying to create artificial value metrics," he said. "Don't get me wrong: [Volume] is an essential feature of a property, but it's not one that should be used in driving value."
Adding an ominous tinge to the discussion, Mr. Siegel suggested that the interest in volume-based pricing is "symptomatic of challenges in pricing in the market. This is an issue that raises its head, almost as a canary in the coal mine, when asking prices are not truly reflecting market conditions."
He pointed to the last time he read an article taking up the question—a 2007 story in The Real Deal. "And what was happening in [2007]?" he said. "The market was changing. History frequently repeats itself."
Gulp.
That Real Deal article focused on Compass broker Leonard Steinberg, then at Douglas Elliman, who was pushing the idea of marketing properties—and loft spaces in particular—according to their cubic footage.
"It didn't really catch on," Mr. Steinberg said, looking back on his evangelizing efforts. "I got a lot of resistance immediately." In part, he said, this was "because no one likes change" but also because the questions surrounding the calculation of square footage made it difficult to arrive at a standard for determining cubic footage as well.
Nonetheless, Mr. Steinberg said, "I think there is tremendous value to it. I have lived in a number of apartments with ceilings ranging from 11 feet to over 15 feet, and I have to tell you, the space that is wide may not necessarily be as valuable as space that is tall."
So does he plan to give the idea another go?
"It is up on my checklist of things to do, though I wouldn't say it's my No. 1 priority," he said. "But I'm glad you are resurrecting it because it is something people should consider."