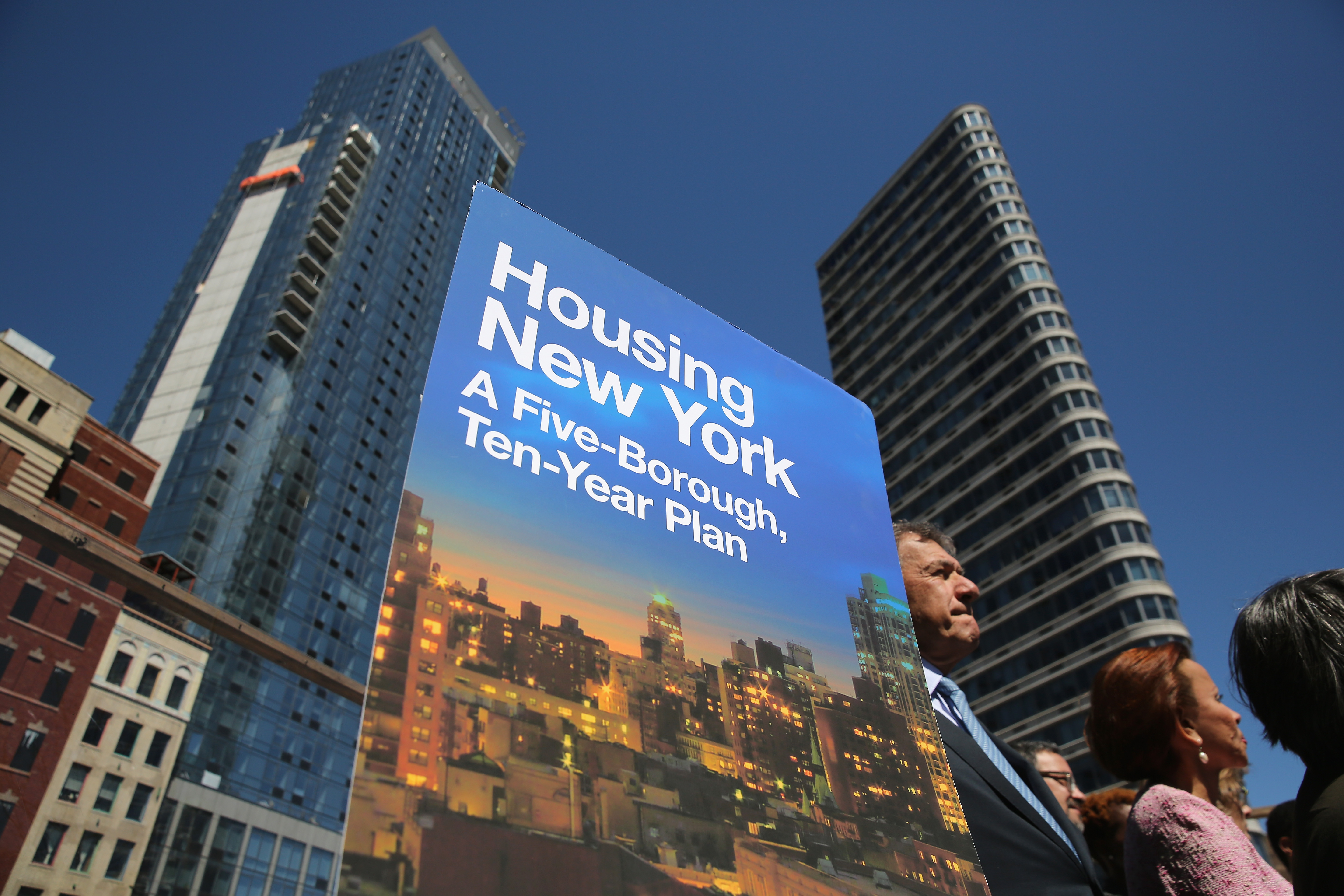 Mayor Bill de Blasio did a victory lap on TV and radio this morning, a day before the City Council will almost certainly vote in support of his affordable housing plan—but he admitted that his administration stumbled in presenting his proposals to the city as a whole.
Recalling how community boards, borough boards and borough presidents across the city attacked the mayor's plans to rezone the city, Mr. de Blasio acknowledged the shortcomings of his team's outreach work in an interview on WNYC. The mayor's plan would loosen height and density restrictions for developers in exchange for requirements that they construct apartments for below-market tenants—but many feared the new units would still be too expensive, and that the plan would wipe away hard-fought neighborhood zoning rules.
"Sure. I think if I could do it over again, we should have started a deeper conversation with the people of this city earlier. To explain the vision and to answer people's real concerns," Mr. de Blasio reflected, before pointing out that multiple labor unions and the AARP eventually came on board. "Now that did happen in the process overall."
Mr. de Blasio referred to local residents opposed to his plan as "doubting Thomases" last year, a sentiment he seemed to reiterate today.
"Community boards have always had a tendency to be negative about new development, and I understand why," he said, before highlighting his success in convincing the Council, which has ultimate authority on zoning matters. "The City Council had a lot of tough questions, but they increasingly came to the realization that the only way to protect affordability in New York City was also to create a lot more affordable housing."
The mayor's original Mandatory Inclusionary Housing plan would have let the Council choose what amount and level of affordability to mandate from a menu of options each time it approved a new project. The first option would require the builder to allocate a quarter of their new units to people making 60 percent of the federally-set area median income—meaning the apartments would be priced for a family of three making $47,000 annually.
The second would require the developer to set aside 30 percent of their new building for people making 80 percent of the area median income, or $62,000 for a family of three. The third—which troubled several council members—would allocate 30 percent of the apartments in a project to people making 120 percent of the AMI, or $93,000 for a family of three.
The new plan retains many of the same elements, except it creates new menu option that would require the builder to set aside 20 percent of the new units for tenants making an average of 40 percent of the AMI, or $31,000 for a family of three. In addition, the deal would tinker with the third option, reducing the income bracket to an average of 115 percent of the AMI, and requiring that the developer price one-sixth of the affordable units for families making 70 percent of the AMI, and another six for families making 90 percent.
Mr. de Blasio hailed the revised vision as a vast improvement on the policies of his predecessor, former Mayor Michael Bloomberg. Mr. Bloomberg's plans created "zoning bonuses" permitting greater height for developers who agreed to include lower-income units—but the program was completely voluntary.
This laissez-faire approach, Mr. de Blasio argued, allowed for escalating rents and widespread displacement.
"Over the last, particularly, 15, 20, years, gentrification has had just a rampant impact, and it's changed the nature of the city. But guess what? The city government didn't respond. There was no policy," Mr. de Blasio said. "There wasn't even a serious discussion in this city. This was a mistake I think, and probably was partly because of the dynamics around the Bloomberg administration, I think there was a lack of public debate."