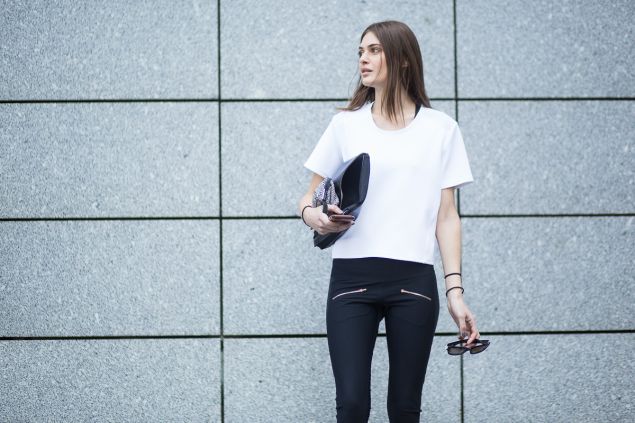 Walking into ADAY's chic, minimalist SoHo offices, founder Nina Faulhaber was eager to show off technical clothing meant to be worn throughout a busy city day, all while looking (and feeling) similar to silk and cashmere. The bubbly Ms. Faulhaber explained how she and her partner, Meg He (both made the Forbes 30 under 30 list), created a simple, pared down line for the downtown it girl who wants a weekend wardrobe she doesn't have to think about. 
"We don't really see ourselves as an athleisure brand."
While most brands boast about athleisure outfits to make the transition from the gym to happy hour seamless, in reality they still look like workout wares. ADAY is one of the first brands to truly create clothing one can wear anywhere, whether it's barre or the bar.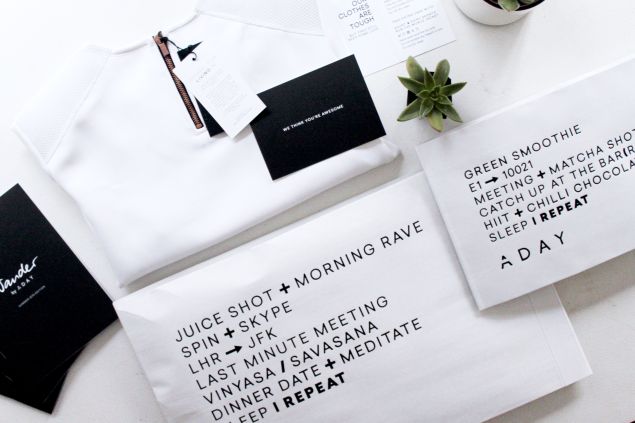 Flipping through a rack of carefully curated clothes, Ms. Faulhaber said, "We don't really see ourselves as an athleisure brand." As she showed off black, laser cut shorts similar to a grown-up, Brooklyn-ized version of collegiate Nike shorts, she added, "There's tons of Lululemon types that make it pink, put a print on it and make a cut out…basically fancy gym clothes is what I think of as athleisure. We think of ourselves much more as technical clothing for everyday." Some popular brands make sexy, boudoir-inspired workout looks, but they can be less than practical when it comes to actually being active; ADAY makes performance wear for women on the go.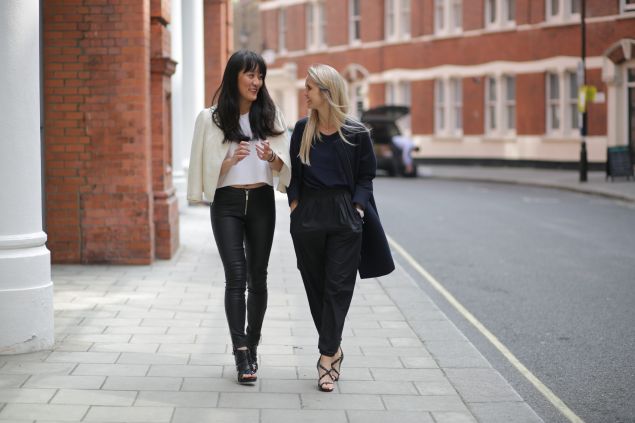 ADAY began when the founders met at Goldman Sachs in London. Ms. Faulhaber grew up doing gymnastics, but lost time to focus on fitness when she started working.
Ms. He never worked out, but started after a move to Silicon Valley for her MBA at Stanford. She bought a road bike, did yoga training and realized Nike and Lululemon weren't up to her standards. Then, ADAY was born.
"We think of it as clothing that helps you simplify life by creating a few pieces that have a lot of technology, but are constructed in a way that they're simple, minimal and really keep, so that you don't have to own a million different things," Ms. Faulhaber said. The founders looked at their wardrobes and thought about favorite pieces, then created similar sweatshirts, leather leggings and shiny track pants, meaning there's no reason to carry around a heavy gym bag.
"Activewear has become super technical, and regular clothing has also evolved, but no one has ever really thought to put the two together. Or meet in the middle," she said, showing off a top that looks, and feels, like a silk camisole. No one would think it was made for a workout, unless they were wearing it during one. Other highlights were a pair of leather leggings that would work for a night out and laser cut tees with a T by Alexander Wang aesthetic. 
ADAY moved from London to New York in September. "New York always felt like a place where it's easy to do partnerships, it's easy to bring our community together. When we launched, 85 percent of our customers were in the US, so it made a lot of sense from that perspective. I think from our brand ethos and aesthetic we felt London and New York were very core cities for us," Ms. Faulhaber said. 
ADAY interacts with their customers through their direct-to-consumer model. Ms. Faulhaber described the wearer as a woman who has "multiple currencies in her wallet at all times." Brand director Alexis Cuddyre explained, "As soon as I started wearing our silk-inspired fabrics, which feel like silk but you can sweat in it, I just didn't want to wear any of my regular clothes again. I couldn't sweat in it, I couldn't commute in it in the right way." (After trying ADAY for a day, I agreed; yoga pants doubling as leather leggings are so comfortable I may never wear real pants again.)
Ms. Faulhaber doesn't believe the clothes are only for workouts. "If they want to run around town that's fine, if they want to go on a date that's fine, if they want to run a marathon in it, that's cool, too, but you choose what to do." While other brands have tried to create transitional looks, ADAY believes they're missing the mark. "They've tried to do bike to boardroom and jump on the athleisure train, but we still feel that if you wear a Lululemon logo or Nike logo or if it's just sportswear; it's still not truly, fundamentally going to help you in your work day or work life."
As Marie Kondo's philosophy becomes more popular, brands are weighing in with their creations, which is convenient for New Yorkers with small closets who have no interest in fast fashion. "If you just create a few pieces you can do a lot in, as a result it will allow our women to spend time not thinking about what to pack or what to wear, but create headspace to do other things. Call her friends, call her girlfriend, hang on dating apps," Ms. Faulhaber explained. "We want to support and fuel going back to the minimal, using your headspace, the extra time, to do meaningful things instead of buying lots and then throwing it away."