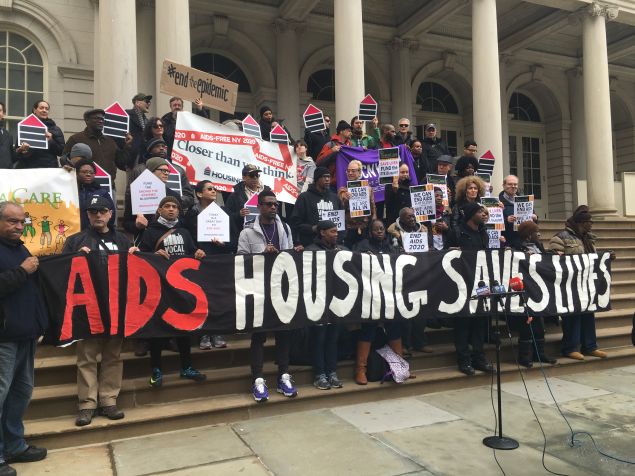 In 2015 Gov. Andrew Cuomo announced a plan to significantly reduce the number of AIDS cases in New York state by the end of the decade. One year later, a group of advocates are questioning his commitment to the issue.
The End AIDS NY 2020 Coalition, made up of several advocacy groups from across the state, rallied outside City Hall Monday, calling on the governor to invest $70 million towards fighting HIV/AIDS in the 2016 state budget and highlighting the need for accessible housing for people living with the disease.
Last December, the governor committed an additional $200 million to the $2.5 billion the state already spends on fighting the disease, with a portion of those funds devoted to expanding affordable housing and providing additional housing assistance for HIV-positive New Yorkers. However, advocates at the rally voiced concerns over whether the funding would in fact become a reality, noting that the issue has not been mentioned in state budget negotiations so far.
According to the coalition, the $70 million investment must be made this year in order to reach the governor's goal by 2020. Advocates have asked for $20 million to go toward new funding for the AIDS Institute, $17 million to expand rental assistance for people living with HIV outside of New York City, and a state share to expand HIV/AIDS Service Administration (HASA) for New York City residents totaling $33 million in first-year costs.
Many of the advocates who spoke at the rally see implementing these housing programs as a crucial part of the fight to ultimately end the epidemic.
"One of the key drivers for people with HIV falling out of care and not being virally suppressed is housing instability," Charles King, President and CEO of Housing Works, a non-profit devoted to fighting AIDS and homelessness, said. "For people who are most at risk, they're not going to be able to protect themselves unless they have basic necessities of life."
Ginny Shubert, Senior Policy Advisor for Housing Works, pointed to a report recently released by the American Journal of Public Health that showed how homelessness can lead to new HIV infections by, in part, increasing the likelihood of risky behavior.
"The budget process is ongoing and the governor looks forward to productive discussions with both houses as we address a variety of issues including the End AIDS initiative," a spokesman for Mr. Cuomo said in a statement to the Observer. "No one is more committed to ending HIV/AIDS than Mr. Cuomo, who with a $2.5 billion annual investment, has made New York State a national leader."
But advocates, like Reginald Brown, the leader of VOCAL New York, said the vast majority of this $2.5 billion investment is Medicaid costs to pay for life-saving treatment. Mr. Brown believes that by investing in increasing housing stability, the state can save large sums on these medical costs.
Another VOCAL New York member Marcel Harris, who has been diagnosed with HIV and is currently homeless, described the difficulty of keeping up with medication and appointments while living in a shelter, especially with the constant threat of being rehoused in a different location.
"Not only do you have to deal with the stigma, with people looking down on you because you're homeless, you have to worry about having this chronic illness," Mr. Harris told the Observer.
For Mr. King, the fight against AIDS can't be viewed as just a medical issue.
"Unless we attack the root causes and provide people the basics that they need to live their lives whole, we cannot end this epidemic," he said.