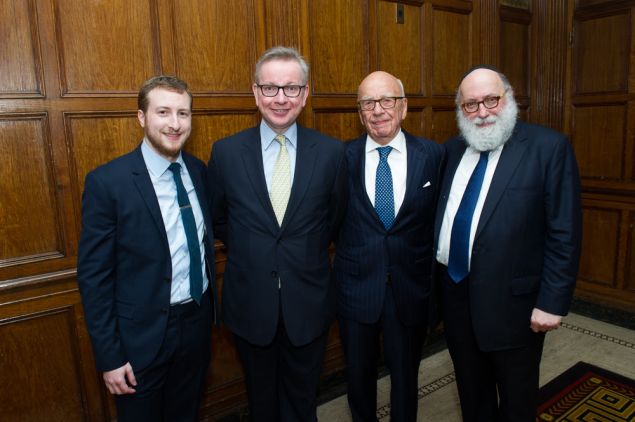 An eclectic cast of characters gathered inside Broadway's Gotham Hall on Monday night where The Algemeiner, a conservative-leaning Jewish-American newspaper, unveiled its "Jewish 100" list.
This year's "Jewish 100"  includes the billionaire media tycoon Rupert Murdoch, French philosopher Bernard-Henri Levy,  British Secretary of State for Justice Michael Gove, Russian President Vladimir Putin and Ivanka Trump (who is married to the publisher of the Observer). These five, along with the 95 others, were honored and celebrated at the gala because they were deemed by The Algemeiner to have a "positive influence on Jewish life."
At the gala both Mr. Levy and Mr. Gove received the ostentatiously named "Warrior for Truth Award." Mr. Gove, who was introduced as a "potential future Prime Minister" by Rupert Murdoch, had harsh words for the Boycott, Divestment Sanctions (BDS) movement against Israel in his acceptance speech, describing it as the "new antisemitism." Mr. Murdoch struggled to be heard above the din of an unshushable crowd, but Mr. Gove faced no trouble broadcasting his booming British wit above the chattering diners, who broke into applause several times in recognition of his point that nations where anti-semitism is rising are failing nations.
Mr Levy's speech took a similarly strong tone, delineating three "battles" that must be fought against "anti-Zionism, against the denial of the Holocaust and against the…so-called competition of victims."
When Algemeiner editor Dovid Efune spoke to the audience of 600, he said, boldly, that "the world has been mended by [The Algemeiner's] coverage." Google changing its  "algorithm to remove anti-semitic entries" and universities cracking down on the on-campus "intimidation of Jewish students," were two examples Mr Efune gave of The Algemeiner's world-healing influence.
The Gala was also something of a birthday celebration for The Algemeiner with Mr. Murdoch, who was accompanied by his wife Jerry Hall, congratulating the newspaper on reaching its forty-fourth year of publication.