Opera buffs in New York should hit the ground running this spring, ready to savor offerings spanning more than four centuries of lyric theater in venues sprawling from Bushwick to Harlem.
Tosca
Part of the excitement of attending LoftOpera is simply locating its latest venue, which, for Tosca, opening March 10, is on an industrial block in Bushwick wedged between a lumberyard and a truck repair shop. Once you regain your bearings and plunk down your $30, you can enjoy Puccini's classic melodrama in a production that promises to meld top-notch musical values with offbeat dramaturgy. (In case you've forgotten you're in Brooklyn, the company will offer "biodynamic wine in eco-friendly packaging" during the show.)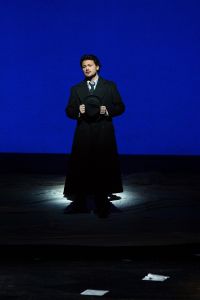 L'Elisir d'Amore
Or, if you're too timid to brave the L train, you can find a safe space at the Metropolitan Opera, where a revival of Donizetti's L'Elisir d'Amore premieres the same night. This romantic comedy boasts one of the Met's strongest casts this year with hunky tenor Vittorio Grigolo as the lovesick bumpkin Nemorino and sparkling soprano Aleksandra Kurzak as the proud, wealthy Adina who Nemorino hopes to win over. How, you ask? That's where the elisir (love potion) comes in! (Note that both this opera and Tosca run for multiple performances, so you can—and should—catch both.)
¡Figaro! (90210) 
One of the less attractive revivals at the Met this year is an ineptly updated version of Mozart's Le Nozze di Figaro. Better to give that one a miss and instead take in the vastly more cleverer ¡Figaro! (90210), arriving at The Duke on 42nd Street on March 19. Though big chunks of Mozart's music go by the wayside in this musical theater adaptation, Vid Guerrerio's crackling lyrics (in English and Spanglish) restore the work's radical spirit, imagining Figaro and his bride Susana as undocumented workers toiling in present-day Beverly Hills.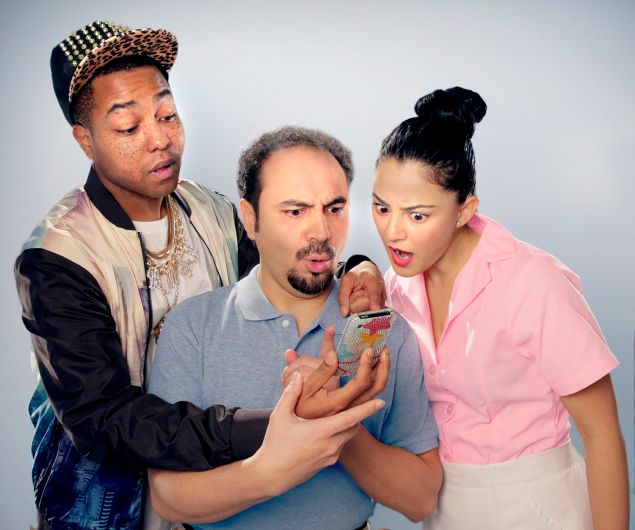 Orphic Moments
It's hard to know what to expect from Orphic Moments, opening March 23 at National Sawdust, except the certainty that everyone you know will be talking about it the next day. Countertenor Anthony Roth Costanzo curates this musical mashup, featuring the New York premiere of wunderkind Matthew Aucoin's cantata The Orphic Moment followed by a banquet for the audience that transitions into a performance of Gluck's opera Orfeo ed Euridice. Wait, there's dinner? The event's press release says, "The food itself, half art, half dinner, will represent both the feast that celebrates Orpheus's marriage to Eurydice, and the poison in the snake bite that subsequently killed her." Bon appetit!
Roberto Devereux
Elizabeth I strides onto the stage of the Met for the first time on March 24 in the person of Sondra Radvanovsky, taking on the prima donna role of Donizetti's Roberto Devereux. This is the final installment of the so-called "Tudor Trilogy" for Ms. Radvanovsky, who earlier this season assumed the daunting task of interpreting other British royalty in this composer's virtuoso operas Anna Bolena and Maria Stuarda. Luxe casting for Devereux includes tenor Matthew Polenzani, mezzo-soprano Elina Garanca and baritone Mariusz Kwiecien as various bodice-heaving courtiers.
Les Fêtes Vénitiennes
Speaking of bodices, Les Fêtes Vénitiennes, opening April 14 at BAM, promises all sorts of saucy action in a rarely staged opéra-ballet by André Campra. Legendary baroque maestro William Christie and his ensemble Les Arts Florissants will provide musical splendor in this series of tales of gamblers, gypsies and jilted lovers set against the backdrop of the decadent Carnival in Venice. Robert Carsen's eye-popping production features giant puppets, gliding gondolas and dancing sheep, not to mention the Scapino Ballet Rotterdam in frilly period costume. Dive in!
Elektra
In another example of When Calendars Collide, that same night the Met opens its most-anticipated presentation of the season, Elektra, in a staging conceived by one of the few directors who legitimately deserved the title "genius"—Patrice Chéreau.  Sadly, he died of cancer before he could bring this production, previously seen in France and Italy, to New York. But the superb cast the Met has assembled should see his vision of this Richard Strauss tragedy expertly consummated. Veteran mezzo Waltraud Meier and radiant dramatic soprano Nina Stemme square off as the hate-crazed mother and daughter of the cursed House of Atreus with Chéreau's musical collaborator Esa-Pekka Salonen leading the mighty Met orchestra.
Hopper's Wife 
Finally, on April 28 we'll get to see how the revived New York City Opera recovers from their soggy take on Tosca last winter. The company now turns to the contemporary with the East Coast premiere of Hopper's Wife at Harlem Stage. This 90-minute chamber opera by Stewart Wallace and Michael Korie imagines a marriage between painter Edward Hopper and Hollywood gossip columnist Hedda Hopper. The creative team are no strangers to controversial subject matter: Their opera Harvey Milk included scenes of S&M, drag and gay cruising when it was presented by the "old" NYCO back in 1995.