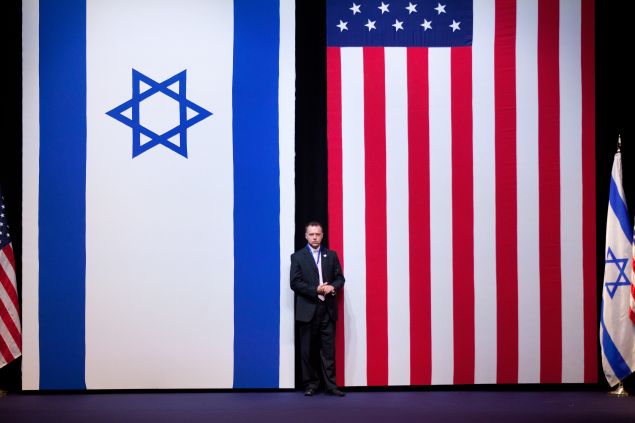 "We give Israel $10 million per day! That money can send our kids to college." So reads a billboard on Interstate 680 in Walnut Creek, California, sponsored by "If Americans Knew."
The organization is the handmaiden of our local dowager of anti-Zionism, Alison Weir, a self-described freelance journalist who has been called a rabid anti-Semite—a charge she denies despite her twisted fascination with Jews harvesting organs of Palestinians. Her theories of Jewish conspiracy resonate with David Duke and she is frequently cited by the Holocaust-denying Institute of Historical Review.
Of course, the obvious subtext of the billboard is that if not for those damn Jews and all their power, your kid could go to college for free.
Like all conspiracy theorists, Ms. Weir wants you to believe information about Israel is secret and hidden; consequently, "if you only knew." Her own peripatetic undertakings on the anti-Israel circuit belie that, as would a trip to the University of California, Berkeley campus, where anti-Israel activism flourishes.
She echoes one of the same themes that Goebbels created for the burgeoning Nazi party—the truth is what you are not being told. The Jews control the truth, and only Der Fuhrer will unmask it. In our community, it is the energetic Ms. Weir who will provide that—if you only knew.
We should, however, be grateful to her and her billboard because it has created a discussion about Israel and aid to it. Ms. Weir is less important than the subject she raised.
Zionists talk of the special relationship with Israel growing out of democracy and shared values. Sorry, that's a fiction. In the world of political realism no one cares about shared values, just shared interests.
There is a special relationship between the U.S. and Israel. It started when a young James Jesus Angleton, arguably the greatest counterintelligence mind of the 20th century, noticed the operations of the Aliyah Bet in smuggling Jewish survivors into the British Mandate of Palestine. Mr. Angleton was smitten with the operation and argued that the Aliyah Bet was the harbinger of a dynamic intelligence enterprise that America needed in the inevitable conflict with the Soviet Union.
Although I never met Mr. Angleton, I did meet people who worked closely with him. He was a legend in his time.
Even as head of America's covert operations, Mr. Angleton personally managed the Israel portfolio. His bet on the Israelis paid off handsomely at a time when America—submitting to Arab pressure—was not even a major supplier of arms to Israel.
On February 25, 1956, Nikita Khrushchev made the famous speech denouncing the deceased Stalin to a secret session of the 20th Party Congress of the Soviet Union. Every Western intelligence agency wanted a copy of the speech. But Soviet counterintelligence prevented Western intelligence penetrations, except in one case—the Israeli Mossad.
The Mossad gave Mr. Angleton the speech, and he had it printed in The New York Times, scoring a massive intelligence coup and undermining the Communist Party of the United States.
In 1956, Israel secured a Soviet MiG-15, an aircraft advanced for its time, and shared the intelligence with America. But an even larger coup occurred when Israel secured an intact Soviet MiG-21 in 1966, making available to America the Soviet's most advanced fighter, courtesy of the relationship Mr. Angleton built. Israel at this time was dependent on France as its main weapons supplier and was not flying American planes.
In 1969, Israel stole an advanced Soviet radar system, which was turned over to America.
In the same year, at the request of President Nixon, Israel flew reconnaissance missions to provide intelligence for an American mobilization against a Syrian invasion of Jordan.
Today, Israel has the best regional intelligence operation in the Middle East and shares with America intelligence on known terrorist groups.
Ms. Weir knows well that the money she crows about is by law spent back here in America—a full 76 percent, much of it right in her own California—and that the aid to Israel is a direct consequence of the deal America sought and achieved, which was for Israel to leave the strategic Sinai in return for military aid to maintain Israel's strategic edge by replacing land with technology. Egypt received an almost equivalent aid package, a fact that Ms. Weir has never put on a billboard.
As a result of Israel's technological and scientific innovations, American armaments sent to Israel have improved. America now spends $1.5 billion purchasing innovative Israeli military technology. Drones deployed in Iraq and Iran are from Israel. The revolutionary helmet-mounted sight used in nearly all frontline Air Force and Navy fighter aircraft was invented in Israel. The armor used against IEDs in Iraq and Afghanistan was invented in Israel, as was the gun system for close-up defense of our naval vessels.
Israel serves America as an unsinkable aircraft carrier. Haifa is the only port in the Middle East where American troops are genuinely welcomed and where local authorities are really committed to their security.
The United States currently maintains several "secret" listening posts in Israel to monitor terrorist chatter, among other security interests.
Perhaps Ms. Weir should raise a billboard asking what America has received for all the aid it has poured into the bottomless sinkholes in the rest of the Middle East. How many intelligence coups have been provided? How many technological innovations saving the lives of American warriors have been created? And yes, how many college educations could have been paid for?
Abe Miller is an emeritus professor of political science at the University of Cincinnati and a distinguished fellow with the Haym Salomon Center.