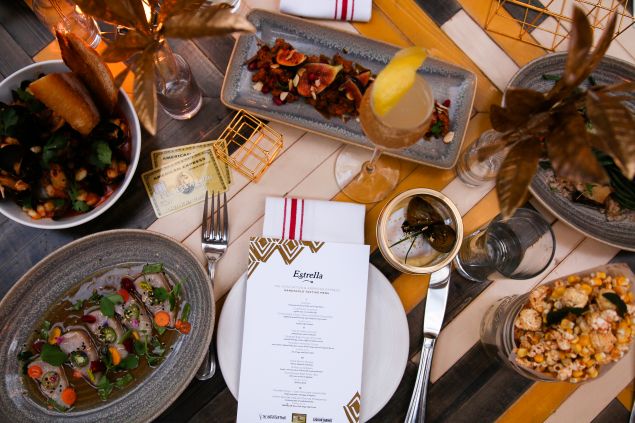 Food bloggers, actors and influencers gathered last night to enjoy course-after-course of delectable bites at West Hollywood's Estrella. The private dinner is part of a larger series hosted by The Infatuation and American Express to celebrate the card's new double points offerings on U.S. restaurants.
The patio at Estrella welcomed around 50 guests, including Jesse Tyler Ferguson, Minka Kelly and the bloggers behind Hangry Diary, Daily Food Feed, Stir and Style and Food With Michel. (Editor's note: you are about to be very hungry).
"The Infatuation grew and grew, and now here we are—we left our full-time jobs and we are doing The Infatuation full time," Infatuation co-founder Andrew Steinthal explained. "It's been a year-and-a-half of building a real business," he added. To fully emphasize how widely Mr. Steinthal's voice resonates across social media: his signature hashtag 'EEEEEATS' is used 10,000 times a day.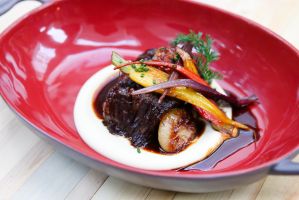 Estrella's Chef Dakota Weiss prepared the family-style dinner—a four-course menu including slow braised beef short ribs, hiramasa yellowtail crudo and compressed canary melon with buffalo mozzarella.
The Liquor Cabinet (co-founded by Patrick Janelle of A Guy Named Patrick) curated the cocktails. "I've been a fan of [The] Infatuation since I moved to New York City," he said. "I didn't know anybody, but I knew where to find the best restaurant in whatever neighborhood I was in."
The #AmexGold dinner series kicked off in New York City on January 26 at Michael Chernow's Seamore's restaurant and will continue, touring San Diego, San Francisco, Chicago and Boston.