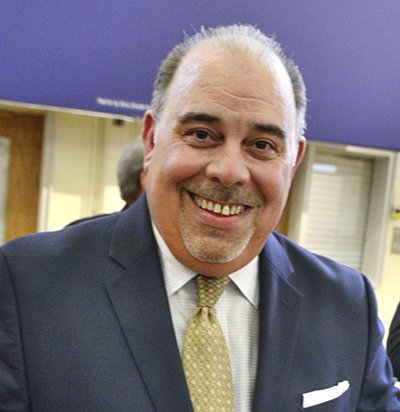 Jose Arango and Bob Menendez clashed hard in the 1980s, each offering a different vision for Cuban American populations and others in Hudson County: the former fastened to then-Republican Gov. Thomas Kean, the latter framing for all to see in City Hall a portrait of then-Democratic Senator Bill Bradley.
They had one thing in common that year in 1987, however, and that one thing has never abated all these long years since Menendez of Union City defeated incumbent Arango of West New York for that 33rd District Assembly seat and began his incredible ascendancy to a powerful and now perilous perch in national politics.
They both hated and still hate Cuban dictator Fidel Castro.
Menendez has already vociferously clobbered President Barack Obama over the president's decision to normalize relations with Cuba, the island land of Arango's and Menendez's ancestry.
Today, a day after Obama touched down in Havana, signalling a new era of supposed harmony between the United States and Cuba, Arango, the Republican Party chairman of Hudson County and former assemblyman from West New York (1986-1988), let loose. But he's flummoxed at the moment over the fact that the front-runner for the 2016 presidential nomination in his own party offers far less opposition to Castro's Cuba than does Arango's old foe Menendez.
"I think it's disrespectful, what we are doing," said Arango, whose father's business was seized when Castro came to power, the Canada Dry the six-year old native born Cuban Jose was sipping at the time snatched out of his hands by an occupying army.
"We are building a relationship with a dictatorship," he added. "They don't understand, the Obama Administration, the younger generation, forgets. They don't equate Fidel Castro's government to Franco in Spain and Pinochet in Chile, but that's what it is. It's a dictatorship. It's a condition of denying freedom to people. The president's thinking about his legacy but this is a history of total fiasco of a government oppressing people. There no way the Cuban government is going to change. If they change, they will not survive. You can't go and negotiate with a dictatorship."
Arango's father lost everything, he said, when the government nationalized his business and arrested him.
"The soldiers told him, 'This now belongs to the people.' So if you're a business person, you're not part of the people."
Arango's absolutely contemptuous assessment of Obama's actions don't appear at all diminished when he considers Republican presidential front-runner Donald Trump.
Trump favors normalized relations with Cuba.
"The Cuban Americans are extremely alarmed," Arango said. "Donald Trump had better reform himself on what he's saying. Not everything is a business deal. Yes, it's true. Cuba doesn't have respect for Obama. But the Cuban government also doesn't respect a guy like Donald Trump. Remember. He's a businessman."
The fractured nature of the Republican Primary finds itself mirrored in the minority party in Hudson, where the southern half of the county favors Trump, and the northern half is split now between Texas U.S. Senator Ted Cruz and Ohio Governor John Kasich.
But given the way Trump appears to be running away with the nomination, that fracture doesn't reflect with the same power the stakes in that 1987 LD33 election, when, by Arango's reckoning, Hoboken decided the contest in Menendez's favor.
"It was the projects," the GOP chairman said. "The residents in the projects were Democrats and they came out big for Menendez, because Menendez was a Democrat. I won everywhere else."
But the GOP era in Hudson – boosted by Ronald Reagan, Kean, then-Republican Albio Sires, and Arango – was over.