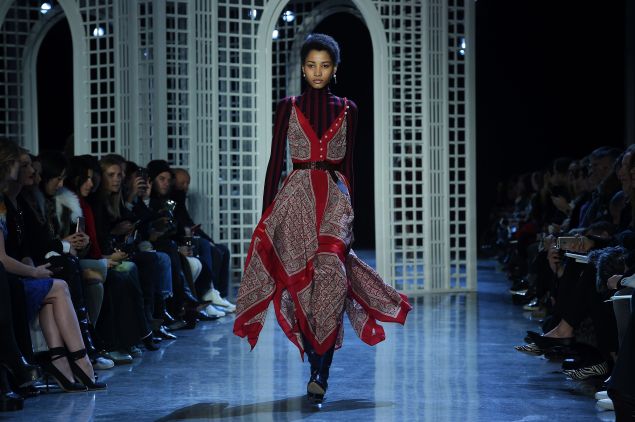 The Fall 2016 shows of New York Fashion Week are over, but the different trends put forward by the designers still linger. One interesting trend that emerged was unconventional layering: layering sleeveless dresses and tops over long sleeved shirts and sweaters. But this unconventional layering technique is actually quite conventional for a subset of the population to which I belong: Ultra-Orthodox Jewish women,
Orthodox laws of modesty, which include covering the legs, arms and chest, prevent these women from partaking in a lot of fashion trends. In the late aughts, it was difficult, often impossible to find dresses with sleeves. And so Orthodox women, wanting to keep up with the latest trends, relied on what they call "shells": layering shirts, often made of body-skimming lycra, worn under those sleeveless, low-necked and strapless confections. As it became more and more common to wear shells, it soon grew into a trend of its own. Stores catering to religious Jewish women have racks of sleeveless tops and dresses, and salesladies help customers style them with a comprehensive offering of shells on sale nearby in a rainbow of color options.
Fashion has a long history of being inspired by the "other" – the exotic, the different. And strict adherence to religious traditions in an increasingly secularized world is increasingly foreign to many. Dolce and Gabbana's shows frequently reference the regal solemnity of Catholicism. Hussein Chalayan's evocative Spring 1998 collection put models in white Islamic chadors of varying lengths, ending with a floor-length black chador. Karl Lagerfeld courted controversy at his Spring 1994 couture collection when he sent Claudia Schiffer down the runway in a black bustier dress with a Koranic verse embroidered in pearls. And Jean Paul Gaultier's Fall 1993 collection was directly inspired by Hassidic garb; the show invites even contained Hebraic script.
But here, the influence of Orthodox women on unconventional layering is subtle. No designer has explicitly stated that he or she was inspired by Orthodox women. Yet designers are creative people who are inspired by the world around them. Because unconventional layering is ubiquitous amongst the Orthodox, it is more likely than not that fashion designers would encounter and be exposed to Orthodox women and girls wearing this look on crowded Manhattan streets or in the heart of Los Angeles. Both cities have large Orthodox Jewish populations and house the showrooms of most major American fashion designers. And Orthodox women stand out: If you see a woman wearing a shirt under a sleeveless, knee-length dress, there is a very good chance she is Orthodox; the chances increase if the dress is worn during New York City's oppressively hazy summers.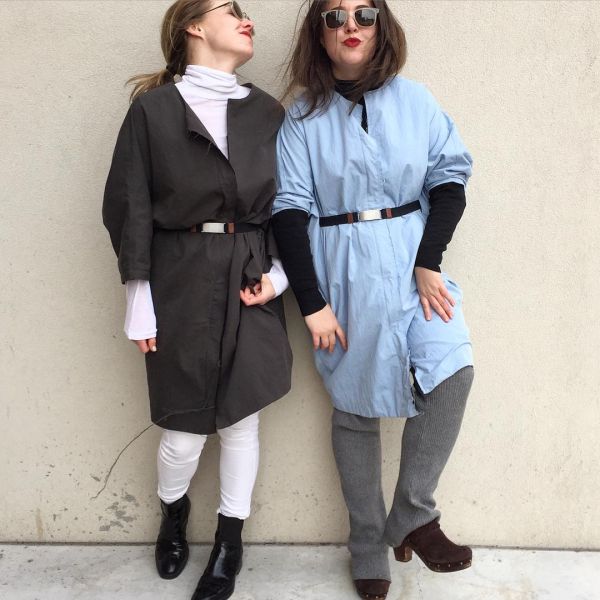 This subconscious coopting of Orthodox modes of dress may be explained by the rise of street style. Street style has designers looking to the street, to the way ordinary people put together pieces that don't normally go together. Unconventional layering is one of the many ways street style stars distinguish themselves from the sea of other well-dressed and well-heeled fashion show attendees. Simi Polonsky, one half of a Hasidic sister duo behind The Frock, a line of modest basics, agrees: "I really think that now fashion is taking a much more personal, interpretive approach. [And] unconventional layering is about enhancing and adding depth to an existing item that can be worn by itself."
It's easy to wear a dress that came off the runway, but if you "remix" it – to borrow fashion blogger parlance – you create a look that's personal and unique. Globalization has led to increasing homogeneity in dress across cultures. And designers, in an increasingly crowded industry, are always looking to distinguish themselves, to create something unique.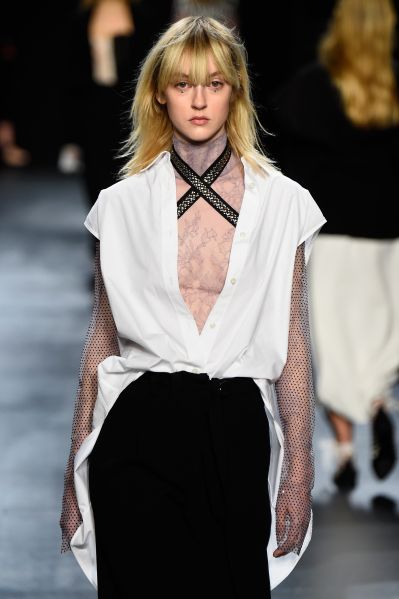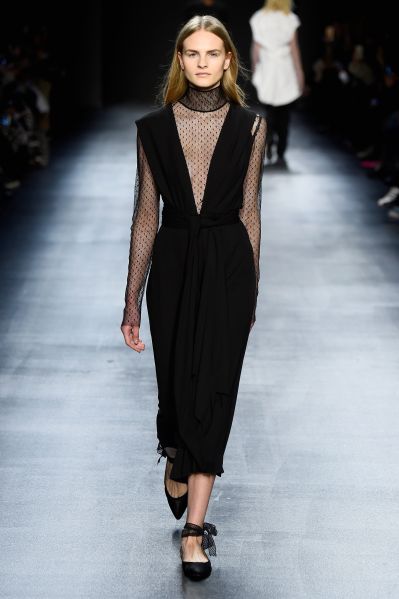 For Fall 2016, designers took varying approaches to the trend. Peter Copping at Oscar de la Renta layered neutral, tissue-thin mock neck sweaters under jacquard knee-length cocktail dresses with v-necks. At Tome, the layered look was decidedly more risqué, with sheer, lacy lingerie-inspired shirts layered under tops and dresses; a more explicit reference to the layering top's undergarment beginnings. And Public School, Prabal Gurung and Proenza Schouler all used printed tops to add depth to neutral v-neck dresses.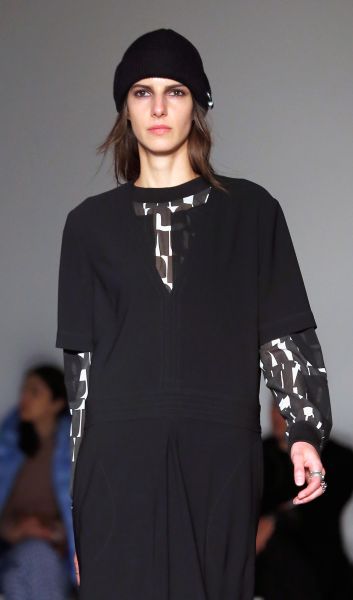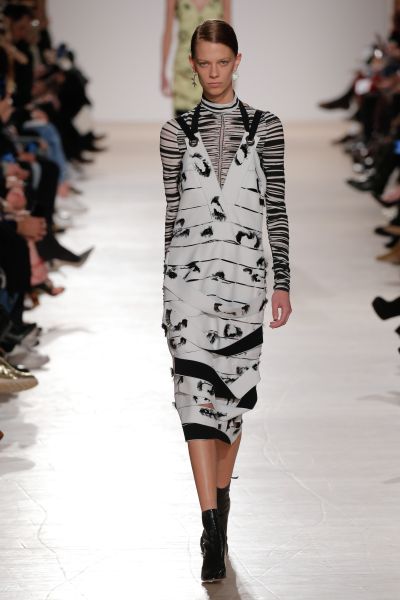 Unconventional layering as inspired by Orthodox women is not just an isolated trend. It is part of a growing desire for covered-up chic across the board. Mimi Hecht, a co-owner with her sister-in-law Mushky of minimalist, Hasidic fashion brand MIMU MAXI, explains, "I think in general, fashion is exploring a lot more with modesty… Designers today are taking this inspiration and having a lot of fun with it."