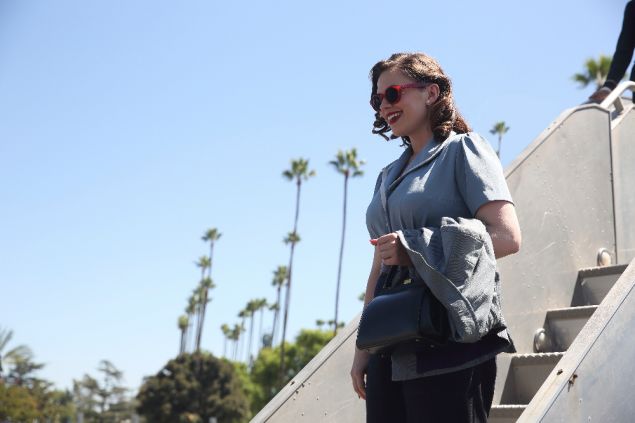 Welcome to our TV Fashion column, where TV Ate My Wardrobe's Emma Fraser discusses the trends in television apparel. This week: How to find your favorite as-seen-on-TV outfits.
Olivia Pope's wine cardigan, the red framed sunglasses Peggy Carter wears, Ilana's bras on Broad City: all items you might covet and with the help of various sources you should be able to find them. Television costuming is big business and it is possible to wear the same clothes as your favorite characters…if you know where to look.
TV has always had a hand in influencing my style choices; Angela Chase and all her plaid informed my look early on and while I didn't know exactly where she got her clothes from it wasn't too hard to find a flannel shirt in the mid-90s. A haircut is Jennifer Aniston's Friends style legacy much to her chagrin, but I was much more of a Jen Lindley adopter in this department and Rachel Green provided fashion guidance in another area. I stuck with the plaid theme and a pair of unfortunate pants I got from Topshop (back when communal changing rooms were somehow a thing – way to crush confidence) in an effort to try and match one of Rachel's season 2 looks. My dad made Bay City Rollers jokes; not the comparison I was aiming for.
Tracking down a specific piece of clothing as-seen-on-TV was pretty tricky with that version of the internet, and the best you could hope for was an approximation. Logos were a big 90s thing and brands like Tommy Hilfiger or Ralph Lauren were instantly recognizable. Alas, my allowance/wages from my Saturday job did not stretch this far.
A typical Olivia Pope wine cardigan can cost upwards of $1000. Don't spill any of that red down it because it's definitely going to be a dry clean only job.
Cut to present day and the ability to find out where garments are from has gone from guess work to typing in a web address. There are a variety of sites which cater to a wide range of current TV shows such as Worn on TV, Shop Your TV, The Take and Spylight which put you a few clicks away from purchasing the sweater you saw on Brooklyn Nine-Nine last night. I mean ASOS started as a company that sold products 'As Seen on Screen' and developed into the company it is today. Sometimes their clothes are seen on screen, but now they are the source.
Sometimes items are no longer available but it helps that the timeframe between production and airing is relatively small, especially with network shows. Cable tends to film all the episodes before airing so if clothes from Girls or Broad City are what you are looking for it can get a little trickier, but because of the time that has passed the chance of it being a sale item is much higher. Bonus.
You can also go the direct route by using social media. Many costume designers on Twitter are more than happy to answer your clothing queries; shout out to Jenn Rogien for solving my Mimi-Rose pajama mystery last season on Girls (J. Crew for anyone wondering). Instagram is also another great source. Both Mindy Kaling and Mindy Project costume designer Salvador Perez regularly share what her character will be wearing and where the clothes are from in advance.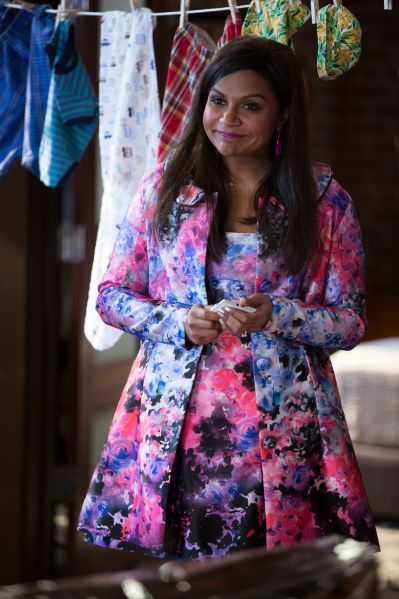 Cost varies and the monetary value doesn't always match the lifestyle/salary of said character. That sweater Gina wore on Brooklyn Nine-Nine is from Neiman Marcus and costs $325. Instant crushing defeat at this splurge amount on a weekly basis because, among other things, Gina is a sweater queen and they are rarely in the affordable bracket. With a show like Broad City this is much more important as the costuming plays a big part in the whole aesthetic and who Abbi and Ilana are. It makes sense for them to wear clothes from stores like H&M, Topshop (where Abbi buys jeans in the season 2 premiere) and Free the People. These are the kinds of places someone with their income would shop and when Abbi does splurge in a boutique the dress which she originally intended to return is far from a one-wear affair.
On a recent Channel 33 podcast Abbi Jacobson and Ilana Glazer talked to Andy Greenwald about the free clothes they have been offered as their profile has risen and why they have to turn them down. "They would never wear a Stella McCartney sports bra. They're like $90," Ms. Jacobson says. And if you are having trouble sourcing clothes from Broad City, Ms. Glazer did mention that they even bring in their old clothes to wear rather than getting new ones. (P.S. I am still after the hoodie Abbi hid in to shield herself from the Bevers embrace in season 1).
Part of Broad City's costuming charm comes in these moments where they do repeat pieces and not just because it is an expensive dress; in an interview with Flavorwire costume designer Staci Greenbaum explains, "The repetition thing was really big that we established early on because I just felt like it would so unrealistic and so atypical for somebody to wear something new every time we saw them. It just didn't fit right with the nature of the authenticity of the show."
There are 3 different categories which you can break most shows down into when it comes to purchasing the clothing as seen on screen. Let's start with Broad City which falls into 'Contemporary Affordable' as the characters wear clothes that match their income/lifestyle. When you click on that link a whole month's rent doesn't come into the equation. Jane the Virgin is another good example, as most of Jane's wardrobe comes from places like Target (her favorite), H&M, Topshop, Forever 21 and Nordstrom Rack (so designer at outlet prices). Another show that also falls into this category is Girls although they do tend to edge toward the second category: 'Contemporary Aspirational.'
This where the more expensive splurge items live and comedies like Brooklyn Nine-Nine, New Girl and The Mindy Project hover. Sometimes the luxury levels match the income (see Mindy), but generally even with a whopping salary there is likely to be discrepancies if you add up everything these characters have worn. Scandal and The Good Wife also fall into these categories and a typical Olivia Pope wine cardigan can cost upwards of $1000. Don't spill any of that red down it because it's definitely going to be a dry clean only job.
While these prices are probably beyond the average viewer's monthly clothing budget, as I mentioned earlier by the time these episodes air some of these garments are 'last season' and often available at a reduced rate or from outlet sites/stores. EBay is another potential hive when you know exactly what you are looking for.
There is another alternative: the tie-in line. Scandal costume designer Lyn Paolo and Olivia Pope herself Kerry Washington worked with The Limited in both 2014 and 2015 to produce an affordable collection of Scandal-influence pieces with some of them actually making an appearance on the show.
This isn't the first time brands have capitalized on a popular show with characters who typically only wear high-end clothing. Target did a Gossip Girl-inspired collection from designer Anna Sui back in 2009. This is something that also works for the third category, 'Period.' as you can't really go into a store and pick up Megan Draper's black number from her Zou Bisou Bisou performance or Peggy Blumquist's fur collared coat.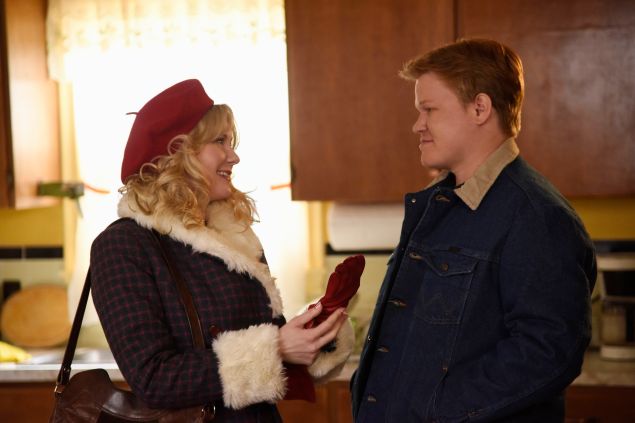 There are options, though. Mad Men costume designer Janie Bryant produced three collections with Banana Republic as a way to give an audience the look of Joan or Betty in a contemporary and accessible manner. To get the real thing or real thing adjacent then vintage is the way to go which can be just as pricey – as discussed in this recent piece on the Manhattan Vintage Clothing Show – or if you look in the right places you might stumble on a winner. Try your parents' old closets for instance.
While you probably don't want to go the Mad Men route for undergarments – 1960s 'shapewear' looks anything but fun – a more recent setting like The Americans might inspire some more practical and sexy underwear options. The Americans costume designer Jenny Gering curated a line with Cosabella that included some pieces worn by Keri Russell as Elizabeth Jennings last season in the hotel room seduction scene. I have personally opted for a more contemporary TV underwear influence and gone the Abbi from Broad City route and this has really upped my bra game.
Accessories from shows set in decades long ago tend to be easier to identify and even acquire with some luck. The red sunglasses Peggy sports throughout Agent Carter's second season are from Old Focals and this company supplies many vintage frames for the screen.
Footwear can also be easier to source than you might expect. It helps sneakers are reissued which is why a pair of Adidas SL 72's appeared in both the 1983 set German series Deutschland 83 and the contemporary Magic Mike XXL (and as a gift to my fiancé a couple of Christmases ago) without appearing as an anachronistic footnote on IMDb.
Dressing from top to toe in items seen on TV–from an array of genres, setting and decades–is now entirely possible with a click of few buttons. Happy shopping!
Emma Fraser is the creator of TV Ate My Wardrobe and spends most of her time writing about TV, fashion and costuming; Abbi and Ilana's Broad City style, the wigs on The Americans and Mindy Lahiri's pajamas are just as vital as talking about '90s/'00s teen shows. Emma has a MA in Film and Television and she probably holds Angela Chase responsible for this path. You can find her on Twitter @frazbelina.