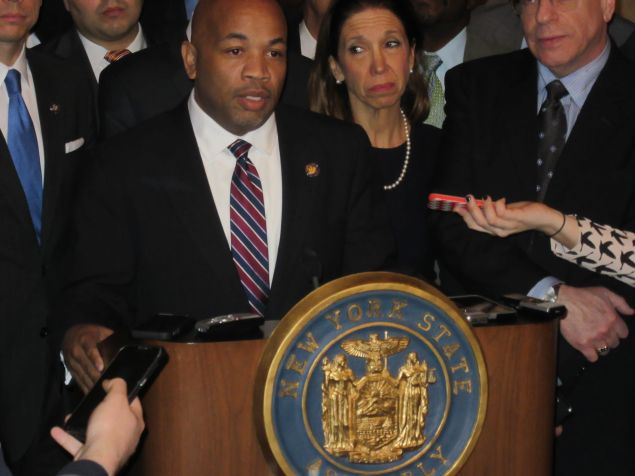 Assembly Speaker Carl Heastie endorsed Keith Wright, a Democratic assemblyman, for Congress this afternoon, a move that may have been in the works for more than a year.
Mr. Heastie, the former chairman of the Bronx Democratic Party and a heavyweight in the borough, said in a statement that Mr. Wright, a Harlem lawmaker, is "someone I look up to."
"He has been a champion for the working class; a person who, through his various leadership roles in the Assembly and the Democratic Party, has shown his immense capacity for compassion, service and achievement," Mr. Heastie said. "His extensive legislative record speaks for itself, highlighted by his strong advocacy for affordable housing, criminal justice reform and for a higher minimum wage."
Mr. Wright, a former chairman of the New York State Democratic Party, is running for the Harlem and Bronx-based seat being vacated by retiring Congressman Charles Rangel, who has held it for more than 40 years. Mr. Wright has the support of the powerful Harlem political establishment and is expected to receive the backing of Mr. Rangel himself.
But two years ago, when Mr. Rangel was fending off a challenge from State Senator Adriano Espaillat, Mr. Heastie's Bronx machine endorsed the senator, believing he had the momentum behind him to unseat Mr. Rangel at last. The seat, after being a base of African-American political power for decades, is now majority Latino, and the Bronx sliver of the district is heavily Spanish-speaking.
The change of heart came after Mr. Wright, someone who has sought promotions for higher office before, ran for Assembly speaker against Mr. Heastie last year. Mr. Wright pulled out of the backroom contest, allowing Mr. Heastie to consolidate support, on the condition that Mr. Heastie back his congressional bid in 2016, sources say. Though Mr. Heastie no longer leads the Bronx Democratic Party, he has plenty of influence and the party is likely to endorse Mr. Wright.
What this will mean is not exactly clear. In 2012, the Bronx Democratic Party supported Mr. Rangel, and it turned on him in 2014. Both times, his vote totals in the borough were similar.
The Democratic primary will be held on June 28.