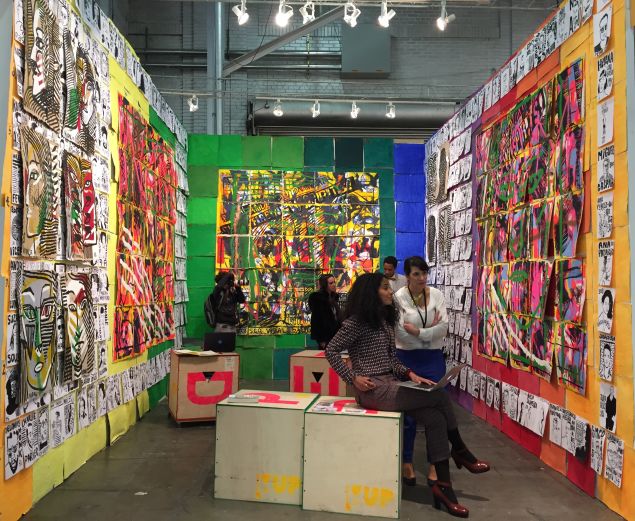 While headlines proclaim that the art market is cooling, to put it kindly, it couldn't have been sunnier on The Armory Show's opening day. At high noon on Wednesday, the aisles on Piers 92 and 94 on Manhattan's far west side were packed with eager collectors and celebrity art enthusiasts.
Neil Patrick Harris headed for the Focus: African Perspective section, Matt Dillon had his eye on pretty much everything inside Sean Kelly's booth, BBC's Being Human star Russell Tovey was spotted at Kavi Gupta, and John Waters' painted blazer was itself a work of art. A little bird also told us Steve Martin was in the house.
"Maybe I'm just a fanboy, but was that Anderson Cooper?" a dealer asked us in the Modern section on Pier 92. Indeed, it was.
And while sadly we didn't trip into Leonardo DiCaprio this time around, we did overhear one visitor ask their art adviser "So, are you working with Leonardo DiCaprio now?"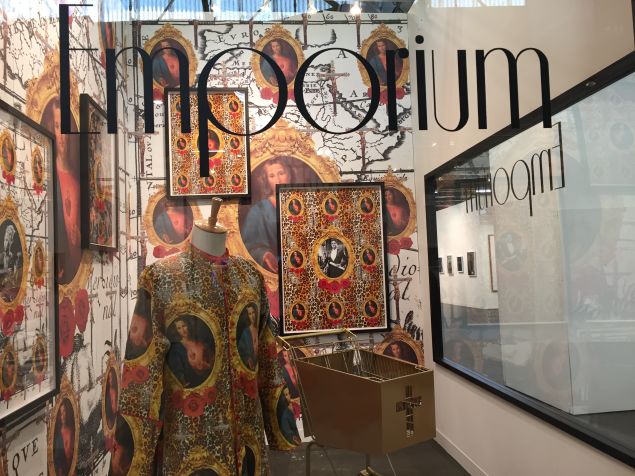 Prominent art world figures such as former Brooklyn Museum director Arnold Lehman and his successor Anne Pasternak were in attendance, as was artist Matthew Barney, Art Basel execs Marc Spiegler and Noah Horowitz, and Expo Chicago director Tony Karman.
Celebrities and regular VIPs alike all gravitated toward the Focus section, which typically showcases galleries and artists from a specific geographic region, and shines a spotlight on Africa this year. While the section only included 14 galleries, specially commissioned projects from African artists spilled over into the rest of the fair and many dealers in the main section chose to highlight works that touched on the regional theme as well.
Zimbabwean artist Kuzanai Chiurai's project Emporium was shown by Goodman Gallery, which has locations in Capetown and Johannesburg. The installation juxtaposed the history of commerce in pre-colonial Africa with contemporary consumerism and features a colorfully printed garment, gilded shopping cart and editioned prints and wallpaper displayed in a glass vitrine made to look like a shop window. The work's asking price is $85,000.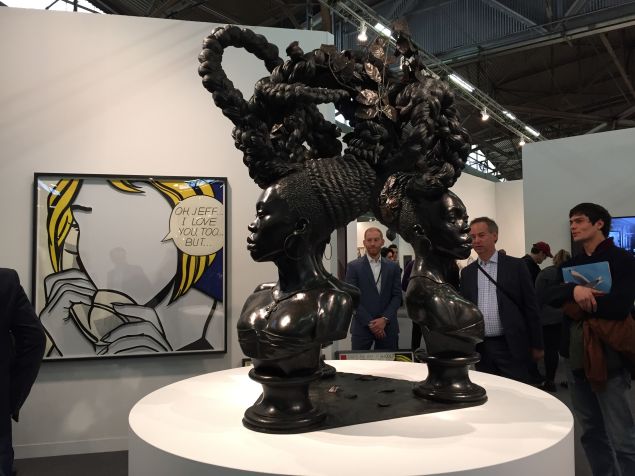 Meanwhile, at Sean Kelly Gallery near the entrance of Pier 94, a large bronze sculpture by Kehide Wiley titled Bound, featuring the busts of three women bound together by intricate braided hairstyles, drew large crowds. The work is an edition of three (one was shown at the artist's Brooklyn Museum exhibition in 2015) and is the artist's first sculpture featuring women. By the afternoon, the gallery reported the work sold for $375,000.
Standout works can also be found at Jack Shainman Gallery, which occupies an oversized booth on the north end of Pier 94. Viewers were captivated by a bright pink painting by Barkley L. Hendricks titled Photo Bloke, who will open a new, perhaps "controversial" series of works according to a spokesperson for the gallery, on March 17 at Shainman's 24th Street location. Mr. Hendricks' painting is shown next to a sculpture by Hank Willis Thomas, In Liberty, which features the cast arm of retired NBA player Juwan Howard, and is included in The Brooklyn Museum's collection.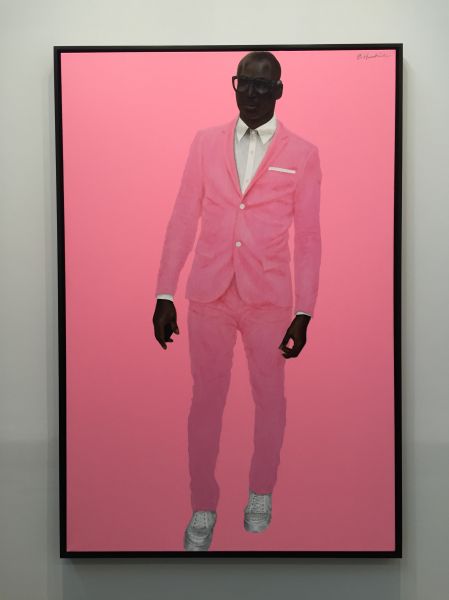 We spotted a recognizable white coif on view at Paul Kasmin Gallery. The white hair from James Nares' video portrait belongs to filmmaker and artist Jim Jarmusch, who happens to be showing his own artwork to the public for the first time at the Spring/Break Art Show at Moynihan Station this week. Mr. Nares' slow motion film work Street was shown at The Met in 2013 and featured a soundtrack by Thurston Moore, and his work Pendulum is included in MoMA PS1's "Greater New York" show. For his newest series, he captures the portraits of close friends and family using high speed cameras, and slows and stretches moments of movement into durations of 45 minutes or longer. The works premiere today in an exhibition at Kasmin Gallery, and Mr. Nares' portrait Jim (2015), is on sale at The Armory Show for $85,000.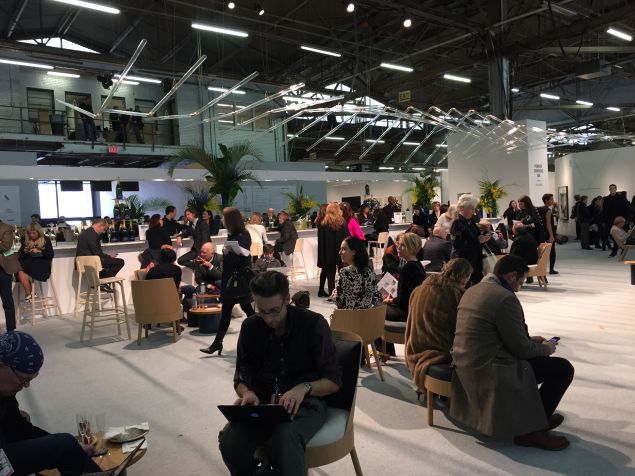 In the Modern section, a grouping of works by Gutai group artists, such as Yayoi Kusama, Shuji Mukai and Chiyu Uemae can be found at Tokyo's Whitestone Gallery, which is putting on a mini "show-within-a-show." Japan's avant-garde Gutai artists were given a spotlight during the Guggenheim 2013 survey of the mid-century art movement, and interest in the work has increased during the last five years, a representative for the gallery told The Observer. We couldn't help but ask how a slowdown in the Chinese economy has been affecting Asian art markets.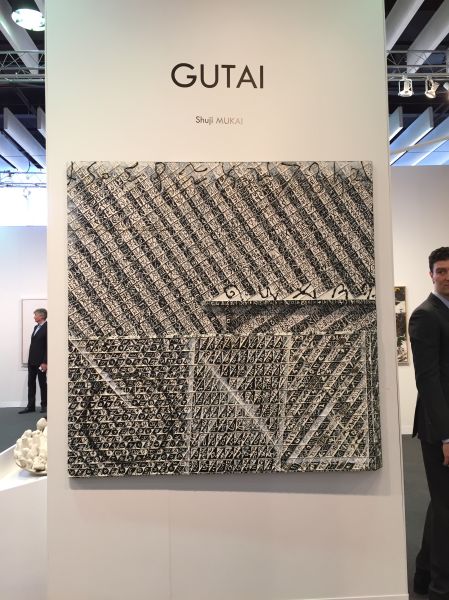 "Chinese buyers are buying. The media likes to make it sound worse than it is, but if you go to China, that's not the case," he said.
So how about that art market cooling?
"I wouldn't say a 'cooling,' I'd say it's more like a pause," he said. "The people interested in this work, who are able to buy it, aren't going to stop."