Designer Stacey Bendet
Photo: Emily Assiran for Observer
The marble floored living room
Photo: Emily Assiran for Observer
A vintage chandelier in the front hall
Photo: Emily Assiran for Observer
Dustin Yellin's dining room table creation
Photo: Emily Assiran for Observer
A painted mirror in the entry way
Photo: Emily Assiran for Observer
Fornasetti chairs
Photo: Emily Assiran for Observer
Julian Schnabel portrait of Ms. Bendet's daughters.
Photo: Emily Assiran for Observer
A ship chandelier in the kitchen
Photo: Emily Assiran for Observer
A refurbished vintage headboard in the bedroom
Photo: Emily Assiran for Observer
Can you spot the chandelier here?
Photo: Emily Assiran for Observer
A head-shaped fish tank.
Photo: Emily Assiran for Observer
Stacey Bendet is one of those designers who embody everything their brand is about. She founded the Alice + Olivia label in 2002, and it has since become a go-to for candy-colored party frocks and embellished tank tops that make formal dressing enjoyable. Naturally, her home décor follows suit.
Family is a definite focus in her two-story Tribeca apartment. Strewn across coffee tables and propped up alongside trippy Kenny Scharf sculptures are golden picture frames with images of Ms. Bendet and her husband Eric Eisner's brood of fashionistas-in-training: Eloise, 7, Scarlet, 5, and Athena, 5 months old.
The family settled into the neighborhood a little over a year and a half ago, and though their abode appears to be completely finished, one area is still a work-in-progress: Ms. Bendet's closet. Taking over an entire room of the lower level, next to the children's playroom, the generous space is filled with racks upon racks of fur coats and embroidered ball gowns. Should one need further proof that this apartment is fit for a style icon, consider the fact that J. Crew's Jenna Lyons was a previous tenant.
How did you approach designing your home? We used to live in a townhouse in the West Village, but I wanted a new place with big windows and high ceilings. That was more important to me than the views. We also have three kids, and I wanted our home to feel artistic but also somewhere our children can play. I worked with architect and designer Robert Couturier on the space. He's actually done a few of our stores and is working on the redesign of our flagship. He has become family to me, and I'll work with him for the rest of my real estate life.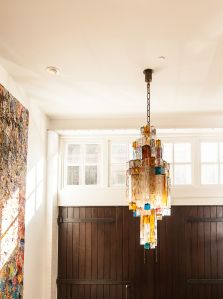 What was the first detail you tackled in the design process? The first thing I did was this black and white marble floor, but I really wanted the rest of the floors to be clean concrete. At the time, we were working on custom mirrors for our store with molding and that inspired me. We kept all of the original beams on the ceiling, but we covered the vents with molding. It feels like a little bit of Paris in New York!
Speaking of ceilings, you also have some incredible chandeliers. I like to collect chandeliers! The boat one in the kitchen I found on 1stdibs. I love the chandelier table in the living room by Liana Yaroslavsky because it's like a piece of art.
What's the story behind your custom dining room table by Dustin Yellin? I was at his studio, and he had these little people that he was working on in resin, but much smaller. I asked him if he could turn three of them into the legs of a dining table. He had never done anything like that before, but it came out really neat. We had these Fornasetti chairs around the table but had to move them because the kids kept chipping them.
What are your favorite pieces of art? The Francesco Clemente piece in the bedroom is the most special piece of artwork—to me. He's a very close friend of mine. Then there's the portrait that Julian Schnabel did of my daughters, which is also special. They had to sit for him three different times.
What galleries do you frequent? I go directly through a lot of artists, especially the ones who are my friends, like Julian. But I love Salon 94 and R & Company. At Art Basel [in Miami] this year I bought one of the Haas Brothers' mushrooms. They were sold by the time I got there, but I commissioned a rainbow colored one. I have no idea where that's going, but it might end up in the showroom.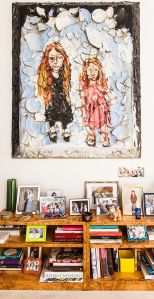 Does your home ever inspire your fashion designs? I feel like my worlds converge so much. I commissioned Lola Schnabel to do a painting, and then I ended up using it as a print. The wallpaper in the baby's room was by George Venson of Voutsa, who also does prints for me. I also took a picture of a lotus flower from the lacquered wallpaper in our bathroom by the kitchen and turned it into a print. And the black and white velvet curtains in my bedroom is the same fabric of a coat we did this year.
Finally, which portions of the home did your husband get to design? Eric wanted the living room to be his man area, so we designed his TV to come out of the floor and up through the cabinet. He designed the audiovisual system and all the door hardware. And he also designed his own bathroom because he is obsessed with steam showers. On the other hand, my bathroom has this big old tub, and the curtains are actually a kimono that I found in Asia.