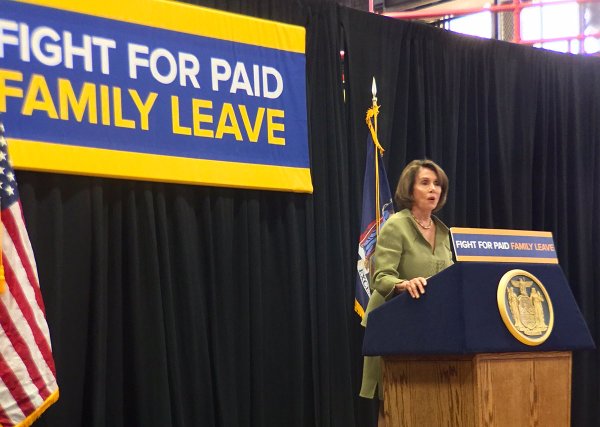 Nancy Pelosi, the House Democratic minority leader, joined with Gov. Andrew Cuomo at a rally for universal paid family leave—and described how family leave and other Democrat-backed programs would benefit new immigrant families.
Ms. Pelosi, who hails from San Francisco, noted this morning the contrasting stances on immigration expressed at the Republican and Democratic presidential debates. She asserted that Hillary Clinton, the former secretary of state, and Vermont Sen. Bernie Sanders seemed to agree that the United States should welcome people from foreign countries—in apparent contrast to the GOP field, where front-runner Donald Trump has insisted on building a wall along the Mexican border.
"Immigration is the constant reinvigoration of America," Ms. Pelosi declared, to applause from the audience at the West Side YMCA. "Immigrants come to America with hopes, dreams, aspirations, optimism, courage to make the future better for their family. That optimism is what America is all about. So when those immigrants come, they make America more American."
Ms. Pelosi praised Mr. Cuomo for pushing for a $15 minimum wage, and for a new program that would grant New Yorkers 12 weeks of paid time off to care for a sick relative or new baby (financed through new payroll taxes), and allow them to return to their old job afterward. Proposals like these, the minority leader said, would benefit the recently arrived most of all.
"We always say 'the beauty is in the mix. Our diversity is our strength.' And many of the people who will benefit from paid family leave, from raising the minimum wage, are just those courageous families, among others that we want to help," she said.
Mr. Cuomo used his time at the podium to launch into a now-familiar tirade against Mr. Trump and his anti-illegal immigrant stance.
"You want to demonize immigrants? We're all immigrants," Mr. Cuomo said. "They they want to 'make America great again'—they don't understand what made America great in the first place."
The governor did not mention the $64,000 in campaign contributions he has received from Mr. Trump over the course of his political career. The real estate mogul has also given to Ms. Pelosi and to the Democratic Congressional Campaign Committee.
Disclosure: Donald Trump is the father-in-law of Jared Kushner, the publisher of Observer Media.