If you happen by the Armory Show's Champagne Lounge this week, you might have the fortune of being a muse for Nigerian-born artist Karo Akpokiere.
As visitors check their fair maps and catch their breath, the artist will be busy creating what he calls an Alternate Art Fair on a 6-by-10-foot wall, inspired by the dynamic booths, loud art-world personalities and frenzied buzz of Armory Art Week.
The 34-year-old Mr. Akpokiere hails from Nigeria's capital, Lagos. He was trained as a graphic designer, and his drawings are known for their crisp, clean lines and bold, flat colors, fused together through patterns and text. In 2015, he gained international recognition when curator Okwui Enwezor showed his Lagos Drawings series at 56th Venice Biennale.
His Alternate Art Fair project is one of several special works selected for this year's Focus section, featuring contemporary artists and leading galleries from Africa, curated by Julia Grosse and Yvette Mutumba. In 2014, the artist did a similar live-drawing project for the Lagos Fashion and Design Week Showroom, and while that work was created during a single night rather than four days, it served as an important lesson for Mr. Akpokiere while he prepares for this week.
'For every commercial activity there should be a balance with non-commercial activity,' said Mr. Akpokiere.
"I had an idea to create a page from a sketchbook, tiny drawings and tiny text but on a larger surface. Then, I realized my initial idea wasn't going to work. [The wall was] a wooden surface painted white, and it sucked up a lot of my paint, so I just started making changes on the go."
It's no surprise then that Mr. Akpokiere chooses to be vague about the details of his vision for the fair, but he did say his goal would be to translate his experiences at the show for his fictitious version on the canvas.
During the four days on site, he'll "assume different personalities," from artist and director to curator. "[The project] is meant to drive home a point about ownership for an artist—to be able to be independent and in control of creative output and career," he told the Observer via Skype from Lagos. This will be his first time showing at the Armory, as well as his first time ever visiting New York.
"Art fairs serve a purpose. For the most part they're an extension of what a gallery has to offer," he said. "There's nothing necessarily wrong with commerce, but for every commercial activity there should be a balance with non-commercial activity—works that don't exist for sale."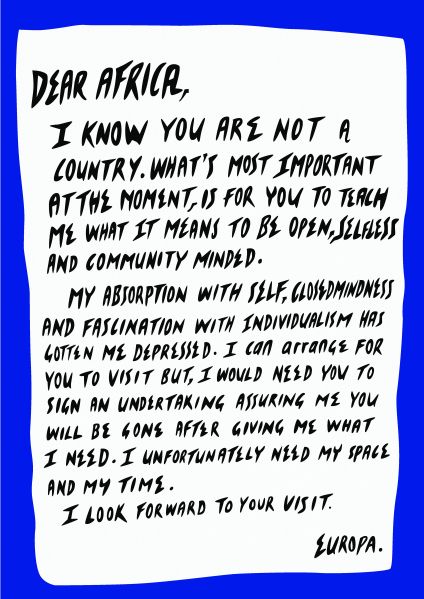 Mr. Akpokiere plans to interact with visitors as much as possible while he draws. He'll ask questions to passersby about issues relating to the art-world economy with topics such as "social mobility within the arts."
"You can't escape commercial activity. It's just the world we live in. But intent should always be questioned: 'Why do you want to be involved in an art fair?' and 'What's the
reason?' " he said.
After Armory Week is over, his Alternate Art Fair will become a new series of prints. Hang around the lounge long enough, and you might become a character in Mr. Akpokiere's work. So be on your best behavior.