Is AC/DC's still-unconfirmed hookup with Axl Rose messing with your head? I'm feeling pretty good about it, though some of the math confuses me.
Let's assume it's actually going to happen.
Axl Rose will do an excellent job fronting the band; he is a gifted and almost historically charismatic vocalist whose skills have not significantly dimmed with time. Now, in purely musical terms he might not be the ideal singer for AC/DC and their grinding, stuttering, riffing, rasping and grimacing material. Both Brian Johnson and Bon Scott had a chesty bottom to their strangulated yelp that Axl lacks, and when/if you hear those AC/DC classics without that distinctive mixture of cat-yowl and dog-woof that both Johnson and Scott excelled in, you'll hear how odd it sounds (which is not a criticism of Axl—he has a pure and bold high-end, somewhere between a tenor sax and an air-raid siren, that any singer would envy).
Personally, my first choice for AC/DC would have been a relative unknown named Todd Kerns, the near-legendary Canadian vocalist who has been playing bass with Slash for a decade or so. Todd has one of the best hard'n'high voices in rock (anyone who has heard his solo records or his work with the '90s hard-pop band, Age of Electric, will surely agree). Also, Todd's extensive run with Slash gives him the experience with big rooms and high expectations that would allow him to step into the AC/DC gig with confidence and competence.
My sentimental choice would have been Slade's Noddy Holder. Both Bon and especially Brian were hugely influenced by Noddy, but I doubt he would have taken the gig, since Noddy is a much-loved British TV personality and doesn't sing much these days. But Axl will be fantastic, and it will be interesting to see AC/DC with a true front man, something they haven't had since Bon died (Brian Johnson was more of a bend forward at the waist, pinch out those high notes, and stay out of Angus' way kinda guy).
But it's still a very strange move for Axl, and here's why.
On April 8, the long, long anticipated Axl/Slash/Duff reunion tour commences in Las Vegas. At least 21 more shows will follow, though the full tour routing has yet to be announced. Personally, if Izzy isn't involved, I can't really consider it a true Guns'n'Roses reunion; Guns'n'Roses without Izzy is like the Beatles without George. But that's another story, isn't it?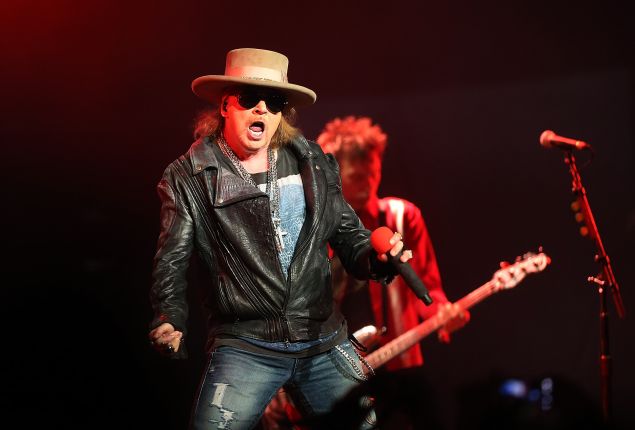 Regardless, this tour is going to be a huge money haul. Though I've only seen unconfirmed numbers about the band's nightly guarantees (and I can only make an educated guess regarding how much merchandise will be sold each night), it would be safe to estimate that Axl, Slash and Duff will each take home at least $5 million from this first leg of the tour (and it's not inconceivable that a full-length Guns tour could bring them $15 or $20 million each). Axl going out on the road with another act immediately before (and during) the long-awaited reunion tour cannot possibly help the bottom line of the G'n'R tour, and it can probably only hurt.
Imagine: You and your wife decide to go to see AC/DC with Axl; once you go on StubHub and buy the tickets, pay for the parking, get some sodas, buy a ticket for the older kid you've decided to take with you and pay for a baby sitter for the younger kid who is staying at home, you're spending, oh, $500 to $600, possibly more. Throw in some shirts and programs and that number can easily go up to $750. Now, Guns'n'Roses come through town just a little while later (maybe just a week or two after the Axl/DC show): same math, but a significantly higher ticket price—you may be looking at $800 to $1,000 for the evening (Jesus H. Strummer, remember when we used to pay $3.50 to see a great acts at Wolman Fucking Rink in Central Park?!?).
Think about it: If you've just spent 600 bucks to see Axl with AC/DC, are you going to then turn around and spend nearly a grand to see him with Guns'n'Roses? Maybe you will, but maybe you won't, and if you had to pick between one or the other, you might just pick Axl with AC/DC, because it is a more unique event.
Which is all to say that from the perspective of the Guns'n'Roses camp, Axl going out with AC/DC is a risky move, one that has a real possibility of impacting the money they'll bring home from a tour that they are most surely doing only for the money.
And I suspect there's more to the story from the AC/DC end, too.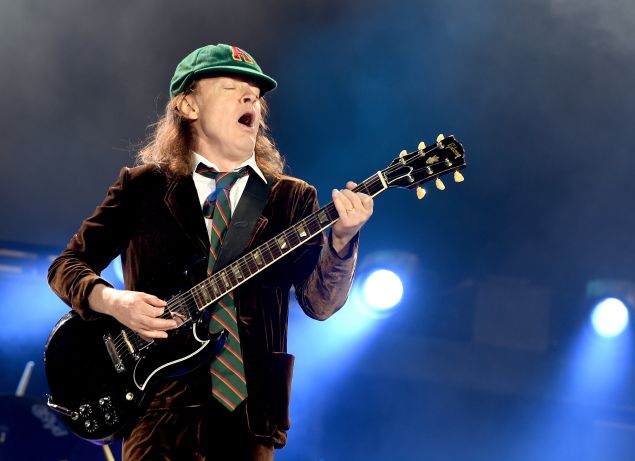 Despite AC/DC's very public announcement regarding Brian Johnson's hearing problems, it's now been firmly established that Brian didn't leave voluntarily. Since it's unlikely there was a personality conflict (legacy touring bands who gross a million a night are usually long past the idea that you have to get along with the other guys on stage), one can probably deduce why Brian Johnson, who's been in AC/DC for 36 years, was asked to leave (creating a situation where there are now only two old-school members of the band still on stage—Angus Young and bassist Cliff Williams).
Here's what I think (unconfirmed but fairly easy to figure out):
Angus Young, AC/DC's prime poster-child since the death of Bon Scott in 1980, is looking ahead to the next decade (or more) of the band's touring life. Angus is, after all, only 60, and if the Who and the Stones have taught us anything, it's that bands of AC/DC's stature could keep going for another 10 or even 15 years. AC/DC can make a lot of money on the road between now and 2030. A lot. I've done some rough math for you and, why, they could gross half a billion dollars before their touring life is done (and that's assuming they make only half of what the Who or the Stones make on the road).
I'm guessing Brian was a full partner in the group. If you consider the fact that Angus is looking toward the future, it makes total and complete sense that Angus would try to eliminate one of the partners and instead just bring in a singer he could put on salary (even if Axl makes a nice bit of change on this tour, I sincerely doubt he's being cut in as a partner).
So the Axl move really works for AC/DC, for two big reasons. Firstly, the excitement of Axl's involvement will significantly mute any of the controversy or grumbling about Brian's ouster; secondly, it's a signal to the fans that even though there will be a paucity of legacy members on stage (Angus is the only original member still in the band, though Cliff has been there for 39 years), they'll still be getting a good and/or interesting show.
AXL/DC makes total sense from the AC/DC perspective, though I'd still love to hear what Duff and Slash make of it. They're the ones who could lose money because of it.