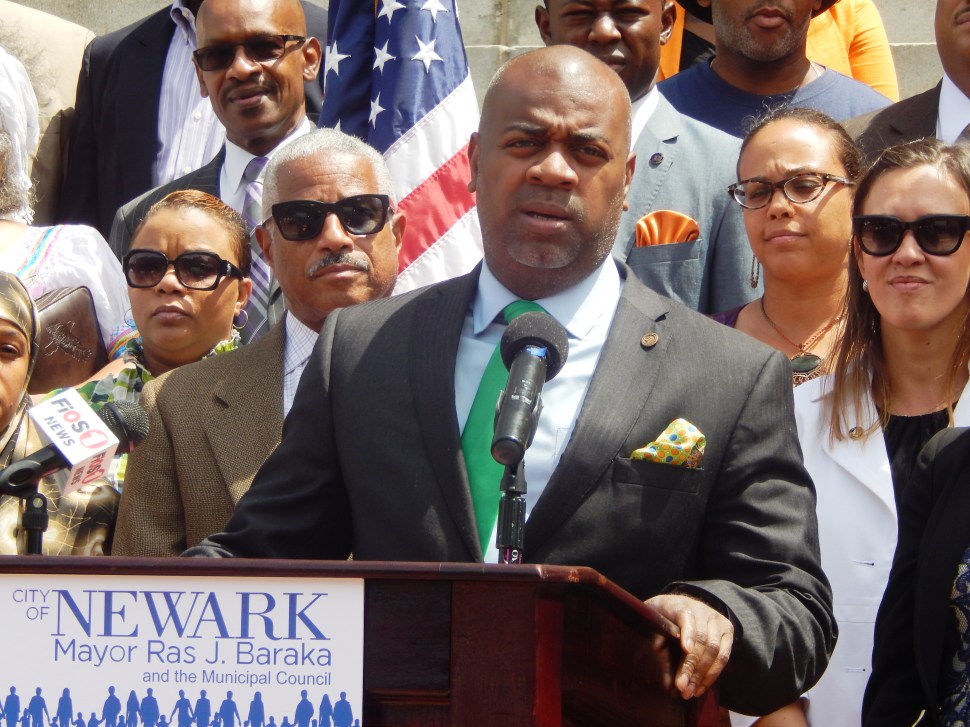 In his state of the city tonight, Newark Mayor Ras Baraka seized on the lead contamination crisis to drive his message of returning  Newark's state-run schools to local control, and had some pointed words for Gov. Chris Christie.
Following up on his war of words last week with the governor, Baraka denounced those who would choose sides and seek to divide public and charter schools based on "expediency or the influence of big money."
He also doubled down on his criticism of the nationally barnstorming governor.
"What the Governor doesn't know is that while he was away, we were working in this city trying to live up to the promise of equal education for all of our children," Baraka said. "We don't all agree, but we understand that we must struggle until we can find unity; that our children depend on it and our city demands it…. A leader would try to bring us together not further separate us. A leader would recognize that we should never advance some children at the expense of others.
"There will be no rolling over people here because if you try to roll me over you would have to roll over thousands of Newarkers that stand with me,' the mayor added. "This is Newark not Fort Lee you can't just stop traffic here without repercussions."
Baraka singled out the schools drinking water crisis as exhibit A for why the city needs to improve the failing water infrastructure.
"We need our state legislature to support Assembly Bill 2281 sponsored by Assemblywoman Valerie Huttle out of Bergen County that puts a 10 cent deposit on all plastic bottles that allows consumers turn the bottle in to get their 10 cents back or allows the monies to be collected for statewide water infrastructure," the mayor said. "Or we need to put a 5 cents tax on all plastic bottles that are sold in our state and 5 cents on all plastic bags. This exists in more than a dozen states across the country. All the monies collected must be dedicated to fixing our water infrastructure throughout the state.  A tax on plastic bottles helps us address an environmental issue as well as create a fund for our water infrastructure."