FLEMINGTON – The Cronus-like feeding frenzy of its own offspring assailing the presidential field provided the political backdrop to this sedate gathering of western New Jersey Republicans aligned behind the most sedate of public personages, who nonetheless dutifully shoveled red meat of his own into the atmosphere, albeit at the expense of President Barack Obama – not other Republicans.
U.S. Rep. Leonard Lance (R-7) has a GOP Primary opponent to deal with: persistent Tewksbury businessman David Larsen, who's run three times against the incumbent and thrice lost, his efforts this time arguably slightly muddied by the presence in the contest of two other primary contenders, York Cook and Craig Heard.
"There's no question Leonard's going to win," Hunterdon County Republican Chairman Pat Torpey told PolitickerNJ at the base of the steps of the historic Hunterdon County Courthouse. But it's America, he noted, and he and Lance's allies take the contest seriously, which in part explains the congressman's decision to hold four separate kick off events today all around the district. He started here in his home county, entrenched in a barricade of local brand names designed to choke off any oxygen Larsen could hope to summon on the party's rightward reaches.
Symbolically, movement conservative state Senator Mike Doherty (R-23) stepped forward from party armature that included Hunterdon County Freeholder Matt Holt, Assemblyman John DiMaio (R-23), former Hunterdon Chairman Henry Kuhl, Warren County GOP Chairman Doug Steinhardt, and Clerk Mary Melfi to introduce Lance.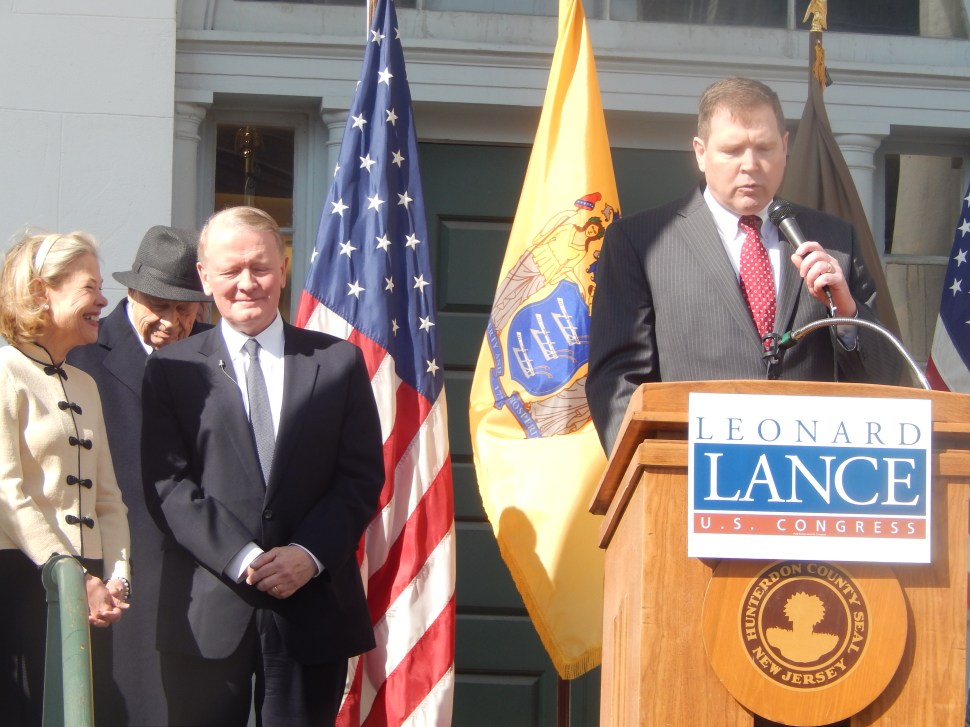 Doherty was the first lawmaker in Trenton to endorse billionaire real estate tycoon Donald Trump for president (he's since been joined by state Senators Joe Pennacchio and Kevin O'Toole and Assemblyman Robert Auth, not to mention Gov. Chris Christie), embracing the role of public platform striding Trump backer while many other Republicans hid under the auspices of Gov. Chris Christie's doomed presidential campaign and now find themselves evacuating the premises whenever reporters try to pin them down on their picks in the current field.
Lance is staying out of it.
After taking a Scarface-like oratorical chainsaw to Obama's record in his courthouse speech (against the budget deal the president struck with then-Speaker John Boehner, against the "lawless, unconstitutional" overreach of executive power, against the Iran nuclear deal, etc), the congressman reserved the end of his remarks to consider the presidential contest.
"We have to come together as Republicans," he teased. "This should be a Republican year. The Democrats had the presidency for two terms."
Was he actually prepared to name a candidate?
"I am committed to supporting the Republican nominee," Lance declared, arguing that the winner should put the person he defeats on the ticket to create, in the congressman's words, "a team of rivals," in the vein of President Abraham Lincoln.
"We must come together and elect a Republican president," he said.
Controversial to others in his own party, including 2012 GOP presidential nominee Mitt Romney, Trump is way ahead in the primary fight, but gives off loose cannon vibes to the establishment, never more evident than when he called for a ban on Muslims entering the United States.
Torpey grinned nefariously as he tried to spin the arms flailing mayhem of last night's Democratic Presidential debate as proof that Democrats are just as cravenly cannibalizing as the GOP.
"It's pretty out of control on both sides of the aisle," he said, mischief glinting from his eyes behind glasses, a set-up for the more digestable Lance. "I wish our presidential candidates would take a lesson from [the mild-mannered] congressman."
But when pressed, Lance refused to repudiate the public style of Trump, in particular, or call into question his tone. "Each person has to be true to him or herself," he told PolitickerNJ.
"I will support the Republican nominee," he added for good measure. "I will be full-throated in my support."
Larsen has already backed Ted Cruz for president, but Doherty's sturdy Trump advocacy gives the congressman a quickly accessible anchor.
In any event, Lance has tacked rightward himself over these last seven seasons, reversing himself hard from that first pro-Obama greenhouse gas initiative he backed when he got to Congress in 2009, in the name of preserving a longtime environmental record – and in the name of smothering Larsen.
"I am a strict Constitutionalist," Lance said.