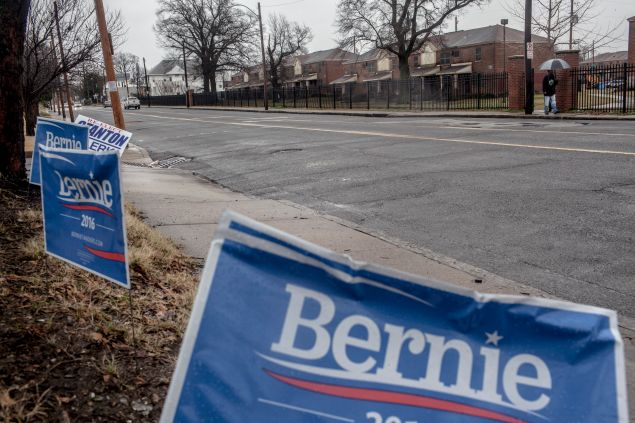 Sen. Bernie Sanders, the Democratic underdog for president, quickly picked up his own home state of Vermont and its 10 delegates—a small victory in what will likely otherwise be a bruising Super Tuesday for the candidate.
Most observers immediately called the state for the self-described democratic socialist shortly after the polls closed, even though only a few precincts had reported. Mr. Sanders, a Brooklyn native, moved to the Green Mountain State in 1968 and ran a series of campaigns that culminated in him getting elected mayor of the city of Burlington in 1981.
He won the state's single congressional seat in 1990, and became its junior senator in 2006.
The small prize tonight betokens both the strengths and struggles of Mr. Sanders' presidential bid: overwhelmingly white and liberal, Vermont could foreshadow victory in less diverse, left-leaning states like Massachusetts and Minnesota tonight.
But even in Vermont, Hillary Clinton dominates Mr. Sanders with the state's superdelegates—the elected officials and party insiders who also go to the Democratic convention along with the regular delegates voters pick at the polls. Gov. Peter Shumlin, former Gov. Howard Dean, Sen. Patrick Leahy and former Gov. Madeleine Kunin are all superdelegates committed to Ms. Clinton.
For superdelegates in Vermont, Mr. Sanders has himself, Congressman Peter Welch and State Democratic Committeeman Rich Cassidy. The other two superdelegates have yet to announce their choice.
"By the end of tonight we are going to win many hundreds of delegates," Mr. Sanders told a thousands-strong crowd of supporters in Essex Junction, Vermont—a statement poll results may or may not prove true.
Ms. Clinton leads Mr. Sanders in superdelegates 656 to 144 nationally.
Ms. Clinton is also expected to sweep the six Southern states, where blacks make up a large percentage of Democratic primary voters. Indeed, most organizations have already placed Georgia and Virginia in her column, giving her 108 delegates for the night.
Updated to include superdelegate counts and comment from Mr. Sanders.