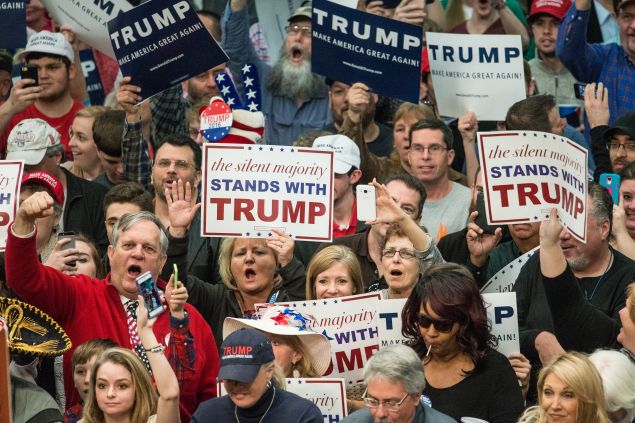 Declaring that "no one in America should ever fear for their safety" at a political rally, Sen. Bernie Sanders condemned tonight the latest outbreak of violence at a Donald Trump campaign event.
Mr. Sanders, a Vermont independent running in the Democratic primary, was reacting to reports and videos showing a white Trump supporter sucker-punching a black protester at a North Carolina rally Wednesday night.
"This ugly incident confirms that the politics of division has no place in our country," Mr. Sanders said in a statement. "Mr. Trump should take responsibility for addressing his supporters' violent actions."
The North Carolina incident was just the latest in a growing number of violent episodes at Trump rallies, which draw thousands of supporters and often become rowdy. Last month, a Secret Service agent choke-slammed a Time Magazine photographer after he left the media pen to photograph a group of protesters. At a Trump press conference on Tuesday night, a Breitbart News reporter was reportedly yanked by the arm by Trump's campaign manager, though Mr. Trump disputes that account.
Mr. Trump's rallies do no resemble the events staged by typical presidential candidates, let alone front-runners. The Republican billionaire often eggs on his fans and denounces protesters, encouraging his supporters to heckle them, along with reporters covering him. None of his Republican rivals, let alone the Democrats, hold campaign rallies marred with the threat of violence.
Mr. Sanders, the underdog against Hillary Clinton, has not been shy about calling out Mr. Trump. He often says he would like to face him in a general election because he believes he would defeat the New York real estate developer.
Disclosure: Donald Trump is the father-in-law of Jared Kushner, the publisher of Observer Media.