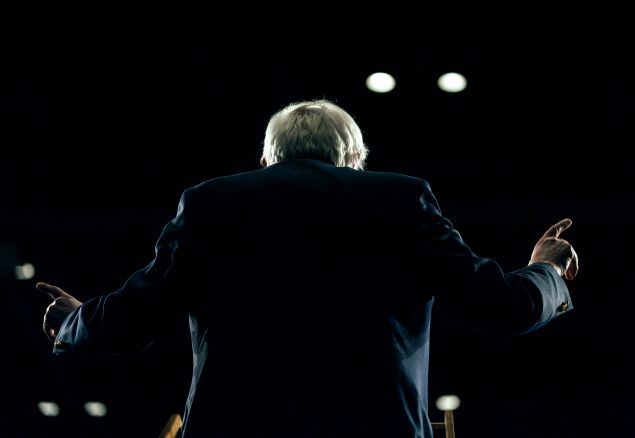 Most observers thought one of Vermont Sen. Bernie Sanders' best chances for a win outside his home state tonight would be Massachusetts—another bastion of white New England liberalism. The self-described democratic socialist, however, lost the Bay State to Hillary Clinton,  but took Minnesota, Colorado and Oklahoma as consolation prizes.
Ms. Clinton, the former secretary of state, bested Mr. Sanders by more than 20,000 votes in Massachusetts. Mr. Sanders salvaged the night somewhat with late wins in Colorado, a diverse state that is more than 20 percent Latino, and in Oklahoma, a right-tilting region that borders Arkansas, where Ms. Clinton won handily tonight and where her husband was born and served as governor for nine years. In Minnesota, Ms. Clinton enjoyed the backing of Gov. Mark Dayton, Sen. Al Franken, Sen. Amy Klobuchar, the mayors of the Twin Cities and a host of other officials—none of which stopped her from losing the state roughly 60-40.
"You win elections through a strong grassroots effort. Thank you, Oklahoma, Colorado, Minnesota and Vermont," Mr. Sanders tweeted after the tallies came in, not acknowledging his 30-plus point losses in six of the other seven states that voted in Democratic primaries and caucuses today.
The handful of uncharacteristic victories, combined with Mr. Sanders' overwhelming win in Vermont, gave him ice for his wounds on what was otherwise a devastating night. Ms. Clinton swept the Deep South and added more than 450 new delegates to her already enormous advantage. Mr. Sanders racked up about 280 delegates in the Super Tuesday contests. Perhaps most importantly, Ms. Clinton won African-American voters, a key Democratic constituency, by huge margins.
The senator's performance in Minnesota, Oklahoma and Colorado indicated he could at least be competitive outside his usual wheelhouse of white college students and their affluent parents. They also gave him some argument for carrying on his candidacy after a crushing loss South Carolina and disappointing results in Nevada in the past two weeks—especially with a string of Midwestern primaries ahead.
Updated to reflect the final delegate counts.