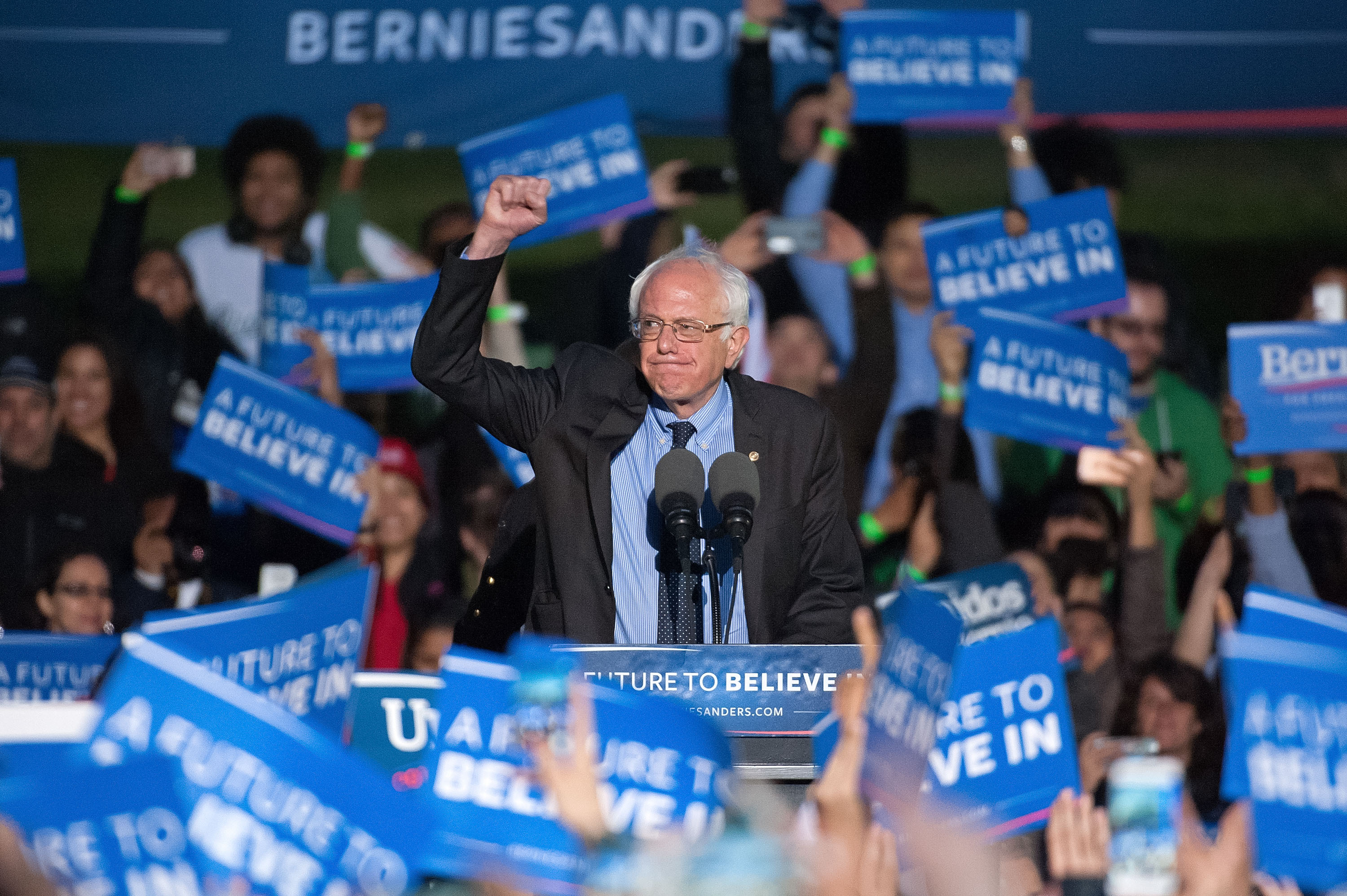 A day after Hillary Clinton was feted by her fans in Harlem, Sen. Bernie Sanders sought to up the ante in his hometown, drawing thousands of delirious supporters to a small park in the Bronx.
Mr. Sanders, speaking at a campaign rally in the Mott Haven section of the Bronx tonight, declared that he would "reinvest" in the poverty-stricken South Bronx and, as always, make this country a place that doesn't just work for the "millionaires and billionaires." He wasted little time gleefully drawing contrasts between himself and the former secretary of state, who has courted Wall Street, set up a super PAC to back her candidacy, and supported the Iraq War and past free-trade deals.
"We've got some very real differences," Mr. Sanders, sounding notably hoarse, declared. "Establishment politics and establishment economics, the same old same old, is not working and this is what this campaign is about."
Irking Clinton supporters everywhere, he returned to a favorite vulnerability: her six-figure speaking fees. "As some of you know, Secretary Clinton has given a lot of speeches on Wall Street behind closed doors and she has received 250,000 bucks a speech," he said. "Now, I kinda think that if you are gonna get paid $250,000 for a speech, it must be a brilliant speech, it must be an earth-shattering speech written in Shakespearean prose."
His Bronx stump speech was typical Bernie, with little flourishes and local wrinkles for a Big Apple crowd. The Brooklyn native noted he grew up in the city and attended its public schools, and spoke specifically about cutting down on high asthma rates in the Bronx and creating more affordable housing.
"If we win in New York, we are going to make it to the White House," he promised as "Bernie" cheers rained down upon him. New York City, and the South Bronx, may not end up as favorable territory to Mr. Sanders, a Vermont independent, on the April 19th Democratic primary. But if the turnout at tonight's rally is any indication, and if a large number of these people are actually registered Democrats, Mr. Sanders is going to be a real threat to Ms. Clinton in New York, the state she represented in the Senate for eight years.
Thousands jammed a baseball field on the other end of St. Mary's Park just to watch Mr. Sanders on a big screen while thick lines snaked around the block to pass through security. The smaller number who could crowd in to actually view the self-described democratic socialist, who spoke from the stage on a blacktop with public housing towers at his back, treated him as the liberal icon he's become. They chanted, waved signs and cheered the political revolution that see as inevitable once Mr. Sanders somehow fells Ms. Clinton, the Democratic front-runner, and rolls to victory in November. (The Sanders campaign claimed 18,500 people attended the rally.)
Ms. Clinton is still the top dog, carrying the endorsements of just about every elected official in New York State, and Mr. Sanders has a mathematically steep hill to climb in the delegate count. But his supporters are no less enthusiastic about him and the money spigot isn't drying up: his campaign has all but promised to outraise Ms. Clinton for the third consecutive month. Unlike the more staid Clinton rallies—even her jazzier trip to Harlem lacked the carnival atmosphere of tonight—the crowd at Mr. Sanders' Bronx debut was younger, more ebullient and plenty hipster-flavored, as if many were on their way to see Bernie-approved bands like Vampire Weekend or TV on the Radio. And it wasn't all white or male; women rivaled men, and minorities turned out in significant force.
Rosario Dawson, a prominent actress and singer, introduced Mr. Sanders by tearing into Ms. Clinton for the way she criticized him today over his apparent failure to properly condemn a recent Donald Trump comment. Wandering off message a bit, she mocked Ms. Clinton for being under FBI investigation over her use of email when she was secretary of state, and brought up how the former first lady once referred to certain criminals as "superpredators." "Shame on you, Hillary," Ms. Dawson said.
Spike Lee, the celebrated filmmaker and one of Mr. Sanders' biggest celebrity surrogates, insisted older voters backing Ms. Clinton have to "get their minds right."
"The old generation, they're on this Clinton thing," Mr. Lee, 59, said dismissively.
Though Ms. Clinton has dominated Mr. Sanders among nonwhites, particularly older African-Americans in the South, the Sanders camp is hoping northern states are more receptive to his unabashed liberal pitch. Mr. Sanders' implicit rejection of at least some of the Obama legacy (on healthcare and government spending, he just doesn't think the president has gone far enough) has rankled blacks loyal to such a historic figure, and he has appeared to play catch-up at times with Ms. Clinton on the racial injustice plank of his campaign platform.
Though she struggles with her own legacy of backing welfare and crime reforms that many on the left say have punished blacks in particular, the former secretary of state likes to frame Mr. Sanders as a "single-issue" candidate, even if he's spoken forcefully on a wide array of fronts, including criminal justice and immigration, since he launched his insurgent campaign nearly a year ago. The South Bronx, one of the poorest areas of the United States, could welcome his populist message, even if he's not well known there. Mr. Sanders has performed better with Latinos than blacks, and the campaign views places like the South Bronx, which is heavily Hispanic, as potentially fertile ground.
The lone Bronx elected official supporting Mr. Sanders, Assemblyman Luis Sepulveda, said at the rally tonight that the Democratic machine had pressured him into endorsing the more moderate Ms. Clinton—and he had to say no, citing the devastation of the Iraq War. Bronx Councilman Ritchie Torres, who is officially neutral in the primary, also attended the rally.
"Bernie is a man of integrity," Mr. Sepulveda said. "Bernie is a man who's gonna lead this revolution."