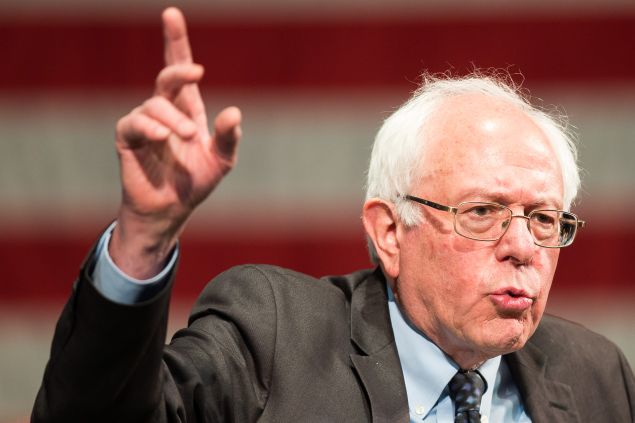 Defying the Democratic establishment and polls that showed him far behind Hillary Clinton, Sen. Bernie Sanders eked out a victory in Michigan tonight, pulling off one of the great upsets of the 2016 political season.
"I am grateful to the people of Michigan for defying the pundits and pollsters and giving us their support," Mr. Sanders said in a statement. "This is a critically important night. We came from 30 points down in Michigan and we're seeing the same kind of come-from-behind momentum all across America."
With 99 percent of precincts reporting, Mr. Sanders led 50 to 48 percent. The Associated Press called the race for Mr. Sanders shortly after 11:30 p.m.
The odds against Mr. Sanders, a Vermont independent, were great. Both of Michigan's senators and a vast majority of their elected officials had endorsed Ms. Clinton. African-Americans overwhelmingly support the former secretary of state, and a sizable chunk of the Democratic electorate in the Wolverine State is black. In a televised debate on Sunday, Mr. Sanders appeared to stumble when he said black people lived in "ghettos," and one questioner from the audience said he had been slow to react to the water crisis in Flint.
But none of that mattered. Mr. Sanders, by his standards anyway, held his own with blacks, losing the demographic 65 to 30 percent, according to exit polls. He dominated among independents and young voters while running up large margins in rural counties and college towns across the state. His relentless attacks on Ms. Clinton's past support for free trade agreements, which many blue collar workers blame for the flight of manufacturers to other countries, appeared to have resonated. Michigan's open primary also favored Mr. Sanders, and voters who believed Ms. Clinton to be a heavy favorite cast ballots in the GOP primary instead.
Michigan's Democratic primary may go down as one of the greatest failures for pollsters in modern presidential history. Ms. Clinton led Mr. Sanders by an average of 21 points, according to RealClearPolitics, and her worst poll still had her beating the Vermont senator by seven points. Pollsters have otherwise been fairly accurate throughout the primary season, and it wasn't immediately clear why so many had missed the mark so badly.
While the win itself may not mean much in the race for delegates—Ms. Clinton holds a commanding lead and swamped Mr. Sanders in Mississippi tonight—Michigan is a high water mark for the Sanders campaign, and likely will lead to another round of robust fundraising. It may also be a harbinger of good things to come for other significant Midwestern states that vote over the next few weeks, including Ohio, Missouri, Illinois and Wisconsin.