With the coals still hot under collectors' feet after blockbuster fairs in Maastricht and Dubai that ended over the weekend, the international art world now gears up for a third big adventure: Art Basel in Hong Kong.
The art fair is still young, with only its 4th edition opening this Thursday at the Hong Kong Convention and Exhibition Centre, but its location in Asia's most important financial center and increasingly a hotbed of art and antiquities auctions, means its well positioned for success.
This year's fair features 239 galleries from 35 countries, and presents modern and contemporary art in a full range of media. Although nearly half of the exhibitors are Asia-based galleries, a full 38 galleries in the 2016 edition of the fair are from New York, and in fact four of those galleries—Gagosian Gallery, Lehmann Maupin, Pace and Galerie Perrotin—already boast impressive gallery spaces in Hong Kong, with another—David Zwirner—supposedly considering an outpost.
While all of the New York galleries are bringing their best work to Art Basel in Hong Kong (they really had to, otherwise they would never have made it past the fair's notoriously tough selection committee) the Observer decided to preview five of them that tackled their booth in rather unique ways.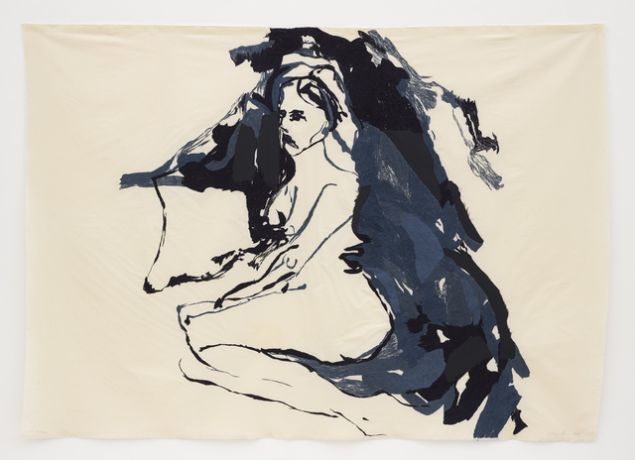 Lehmann Maupin balances its display between East and West, with works by Lee Bul, Do Ho Suh and Liu Wei juxtaposed by pieces from Americans Angel Otero, David Salle and Mickalene Thomas. The focal point of the booth, however, is British art star Tracey Emin, who's having a two-gallery exhibition of new paintings, sculptures, neons and embroideries at the Hong Kong spaces of both Lehmann Maupin and the London-based gallery White Cube, which represents the artist in her hometown. Jointly titled "I Cried Because I Love You," the doubleheader delves deeply into Ms. Emin's love life, a favorite topic of the former YBA (Young British Artist), who's now a more experienced MBE (Member of the Order of the British Empire).
Hauser & Wirth features another art world grande dame, Louise Bourgeois, whose work is at the center of the gallery's thematic presentation, which spotlights the spider, an insect that's viewed as a positive omen in Chinese culture. The gallery is exhibiting several of the artist's famous arachnid works, including the last large spider sculpture to be made in the her Brooklyn studio, Spider Couple, 2003, as well as paintings and sculptures of these eight-legged creatures from Modernist master Alexander Calder and a suite of black-and-white, web-like drawings by sculptor David Smith.
Sean Kelly Gallery is showing large-scale drawings of monumental archeological structures alongside a playful interpretation of the iconic Russian Embassy in Havana in Lego bricks by the Cuban collective Los Carpinteros and photo-based works by Marina Abramović that document the famous walk she made on the Great Wall of China in 1988 with Ulay, her partner at the time. These historically minded works are joined by a four-channel video installation by the young Chinese contemporary artist Sun Xun, who became known for mixing visualizations of his father's recollections of the Cultural Revolution with scenes from dioramas at the American Museum of Natural History in his surreal 2015 animation The Time Vivarium.
Exhibiting at Art Basel Hong Kong for the first time, PPOW is presenting a two-person booth that features historical paintings and drawings by the late Martin Wong, a self-taught Chinese-American painter and fabled figure of the East Village art scene that died from an AIDS-related illness in 1999, and glass-and-bronze sculptures that evoke elements of traditional Chinese landscape paintings from the Vermont-based Australian artist Timothy Horn, who's a recent addition to the gallery's stable. Two of Mr. Wong's paintings spotlight the celebrated Hong Kong actor Bruce Lee, one of which depicts his Kung Fu character having been cloned into a whole crew of street fighters and the other showing him as Kato, a role the actor played in the 1960s American television show The Green Hornet that made him famous.
David Zwirner, a blue-chip gallery that's participating in an mind-boggling 20 international art fairs this year, is exhibiting work in both the Galleries and Encounters sections of the 2016 fair. Belgian painter Michaël Borremans is a featured artist and will present new paintings of enigmatic hooded figures engaged in ritualistic activities, while German sculptor Isa Genzken offers her whimsical sculptures of mannequins in colorful costumes from her Schauspieler (Actors) series, which were first seen in her critically acclaimed retrospective in 2013 at the Museum of Modern Art in New York City.