Welcome to our TV Fashion column, where TV Ate My Wardrobe's Emma Fraser discusses the trends in television apparel. This week: The Americans' costume designer Katie Irish on Coach, coats, and Kerri Russell. 
The Americans is among many things an intricate look at the inner workings of a marriage, the struggle to protect a family, a spy show and a trip back into the 1980s and the Cold War era. The setting and the revolving display of disguises puts the costume design in focus and at the same time it shouldn't distract from the action on screen. I recently spoke to Americans costume designer Katie Irish about the use of modern and vintage pieces including big all-American brands such as Coach, a new disguise which embraces the decade in a way we haven't seen before and why we will be seeing Elizabeth Jennings wearing lots of coats both in and out of the house this season.
Back in season 2 after Philip had gone out and bought a brand new white Camaro he was on the receiving end of a very specific withering look from Elizabeth; a look that is totally relatable when a spouse spends a lot of money on a fancy new toy, but also points to their ideological stance. Philip's love of the all-American lifestyle beyond their cover tracks back to the pilot episode where he was taken by a pair of cowboy boots, but is it possible Elizabeth feels the same way?
After the Camaro purchase Philip calls Elizabeth out on the fineries of her wardrobe asking her "Don't you enjoy any of this? Sometimes? This house, your clothes, all those beautiful shoes?" When he presses her with "Do you like it?" she deflects rather than giving a straight answer. Fashion plays an important role in how Elizabeth plays some of her covers; dowdiness helps with the ones who are meant to be forgettable such as the dog walker who drops a car on a dude's head but others are meant to be striking. Take 'Michelle' in an episode last season when she dangled her brand new Coach bag in front of her friend Lisa's face as an incentive to spill secrets for fancy goods.
It wasn't until the 1990s that Coach ventured into 'affordable luxury handbags' so in 1983 the sign of decadence was even more potent than it would be now and their first flagship store had only opened two years previous on Madison Avenue. 2016 marks a big anniversary for Coach as they celebrate 75 years and this brand embodies the American Dream; the company grew from a small New York family run business starting with six artisans and twelve bags to what it is now.
What may you be wondering does this have to do with The Americans other than Elizabeth proudly showing off her purse to lure an asset?  For starters Coach is just the kind of thing Philip is talking about when he asks Elizabeth "But don't you ever like it?" This is part of Elizabeth's uniform in blending in and Americans costume designer Katie Irish explains "Coach is a wonderful brand that definitely fits into the aesthetic of the show. To the unsuspecting eye, Elizabeth lives the perfect American life, and she dresses the part. Coach is a classic company with pieces that are beautifully tailored and which look decidedly American."
As with pretty everything on The Americans there are layers and multiple ways to examine things; lies and truths are wrapped up together. The clothes Elizabeth wears on a daily basis at the travel agency and in her home such as silk blouses, soft looking sweaters, plaid shirts and jeans does have an element of personal style constructed or otherwise. And even though Elizabeth would no doubt deny or avoid the question of liking it; I suspect there is part of Elizabeth that has chosen to dress this particular way for reasons that go beyond their deep cover.
[A trench coat] is also a quintessential spy ensemble without looking too much like a spy costume per se. Whenever I wear my trench I definitely feel at my most covert.
From a technical point of view there is another aspect to consider and costume design on a period show that also features stunts and action sequences means it might be impossible to dress characters in clothes exclusively from that time. A total of 8 versions of the same outfit are required (4 for the actor, 4 for the stunt double) and the reason for this is "to allow the director to get multiple chances to shoot the stunt with fresh clothes for each one" says Ms. Irish, adding that "Even the best shoppers in the world would find it nearly impossible to find 8 identical vintage pieces in the correct sizes! We look at a number of modern lines to see who has something that is classic and hasn't much changed since the early 80s or try to find a modern take on an 80s silhouette."
One such item is the trench coat and Elizabeth has two variations of the Coach Wool Icon Trench this season in black (which you will see on tonight's episode "Pastor Tim") and the super classic tan. Coach didn't introduce outerwear until 1992, but as there are restrictions on what is available for stunts and driving scenes Ms. Irish tells us that "the Coach pieces always work seamlessly with the vintage. In addition to having some classic pieces that fit right in, the audience may also recognize that it is Coach which gives a little more depth of understanding about how entrenched in pretending to live the American way Elizabeth is."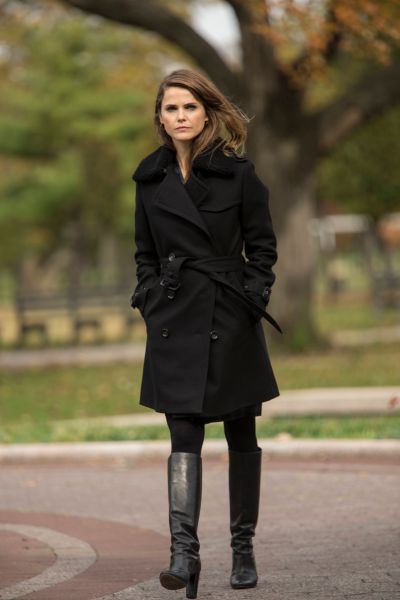 You too can get the Elizabeth Jennings look with the right pair of boots and a trench coat is a timeless piece of outwear whether you are committing espionage or not. It is also a quintessential spy ensemble without looking too much like a spy costume per se. Whenever I wear my trench I definitely feel at my most covert.
This is a style that doesn't necessarily read 1980s in an instant and The Americans has been careful in avoiding 80s clothing clichés particularly in this early part of the decade that still had one foot in the late 1970s. While there is certainly every shade of brown on display (see Philip and Elizabeth's disguises in last week's premiere) Elizabeth will be embracing a much more colorful disguise this season in the form of Patty.
In a recent issue of Entertainment Weekly showrunners Joe Weisberg and Joel Fields teased a few things about Patty. Ms. Irish reveals a little bit more of what we can expect from the fashion-forward character Elizabeth will be portraying:
"Patty is a newly divorced woman getting herself back out there. Since we first meet Patty at a Mary Kay party, she obviously needed to be interested in taking care of herself both financially as well as aesthetically. Knowing all of this, I dressed her as a woman who was conscious of the current trends. Not only does it help root us in 1983, it also serves as a juxtaposition to what Elizabeth typically wears. This always makes the best kind of disguise.
Patty is such a change from Elizabeth, and her closet was such fun to design. Shoulder pads? Check. Bold colors? Check. Big statement jewelry? Check. All of the things that Elizabeth would never wear, I was able to use on Patty. It was a great fun to be able to use some of the bolder and more memorable fashion trends happening."
For everyone who has clamoring for bold 80s trends it looks like your style prayers have been answered.
'The Americans' costume designer Katie Irish: "I don't know how we would have been able to pull this season off if I didn't have the ability to use sweaters and coats"
Stunts are not the only reason why multiple versions of the same outfit are required. Because Keri Russell's real life pregnancy has not been written into the show various tricks have been employed to work around her growing bump. Props or specific angles and CGI have been used at various points, but costume is incredibly important in concealing real world circumstances that differ greatly from where these characters are.
The Americans shoots during fall and winter in New York City which means plenty of reasons for outerwear. For Ms. Irish and the costume design team, this was a blessing in disguise. "I don't know how we would have been able to pull this season off if I didn't have the ability to use sweaters and coats!" Ms. Irish said.
Reasons for Keri Russell to wear a coat in scenes shot in the Jennings home were deployed and Ms. Irish further explains how "It seems like any time she was scripted in the house, she had just entered and had something so important to say that she had forgotten to remove her coat." Elizabeth and her many disguises do have a wide range of coat options, but in order to maintain continuity they looked to modern coats so multiples could be bought in a variety of sizes and used throughout the season. Fittings took place with Russell once a week to see what could be used in the existing closet and to try out new looks; a big shopping year for The Americans costume team (especially if you also factor in Keidrich Sellati's major growth spurt over the hiatus and Henry Jennings needing a whole new wardrobe).
Coats are not the only workaround. "Through trial and error, we began to find that a combination of a knit top with a heavier texture (like a cable knit sweater) with pleated pants really helped us," Ms. Irish said. "If she was wearing this combination, you could still shoot her from straight on until fairly late in the season and not be able to tell." Thankfully as with the weather situation, some of the fashions of the time also made it far easier to adapt to a pregnant lead.
Lines are forever blurred on The Americans and costume is a vital part of the storytelling process; it just so happens this season that covert operations extend beyond the on-screen narrative and concealment isn't just a Jennings talent.
Emma Fraser is the creator of TV Ate My Wardrobe and spends most of her time writing about TV, fashion and costuming; Abbi and Ilana's Broad City style, the wigs on The Americans and Mindy Lahiri's pajamas are just as vital as talking about '90s/'00s teen shows. Emma has a MA in Film and Television and she probably holds Angela Chase responsible for this path. You can find her on Twitter @frazbelina.