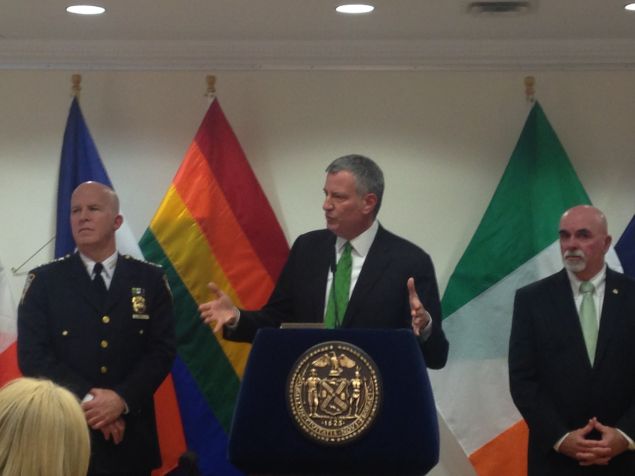 Mayor Bill de Blasio tried to put a positive spin on the 20-plus knife and razor attacks that have wracked New York City since last November—suggesting that people are turning to cutting weapons because the NYPD has been so successful confiscating their guns.
Speaking at an unrelated event in Manhattan, the liberal mayor praised his police force for bringing down the overall violent crime rate and netting numerous illegal firearms, and argued the spike in slashings might be an unintended consequence of those efforts. A Bronx Dunkin' Donuts owner became the latest New Yorker to take a blade to the face yesterday, after a homeless man she had ejected from her business earlier returned seeking revenge.
"Increasingly, they are getting at the supply of guns," Mr. de Blasio said, noting shootings are down, and attributing the success to the Gun Violence Suppression Unit. "I'm not a criminologist, but I can safely say that guns are being taking off the street in an unprecedented way. Some people, unfortunately, are turning to a different weapon."
The mayor asserted that knives, shivs and razors are "less deadly" than guns, but promised to inaugurate a new campaign to get them out of criminal hands as well.
"NYPD today is going very aggressively at weapons, in an amazing way, with much better technology now, better trained," he said. "So this is is a virtuous cycle here. But there's no question: we don't take knives lightly, we don't take razors lightly. But the NYPD is doing a better and better job getting them off the streets."
The solution, he argued is quality of life—or "broken windows"—policing: apprehending those who commit minor violations, and often turn out to also have committed a major violation.
"I get the reports every day: someone's jumping a turnstile. Someone had other, committed some other kind of infraction. And when they are addressed by NYPD, it turns out, they have a weapon," he said.
The mayor, the Manhattan District Attorney Cyrus Vance and Council Speaker Melissa Mark-Viverito have all pushed to turn small offenses like public drinking and urination from arrest-worthy misdemeanors to fine-bearing civil infractions. Ms. Mark-Viverito, in particular, has called on the Metropolitan Transportation Authority to decriminalize turnstile jumping.