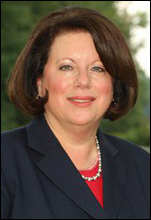 A bill that revises laws concerning domestic violence and firearms cleared Tuesday's Law and Public Safety Committee hearing.
The bill, S805, supplements currently existing law to set a specific procedure in place for firearms to seized by law enforcement if there is probable cause to believe that domestic violence has occurred. The bill was sponsored by Senator Loretta Weinberg (D-37), Senator Nia H. Gill (D-34) and Senator Nilsa Cruz-Perez (D-5). It was co-sponsored by Senators James Beach (D-6), Sandra Cunningham (D-31), Law and Public Safety Committee Chair Linda Greenstein (D-14) and Teresa Ruiz (D-29).
A number of representatives for domestic violence advocacy groups testified at the hearing. Nicole Morella of the New Jersey Coalition to End Domestic Violence was one of those speakers. According to Morella, the most important part of the bill stems from the uniform regulations it will put in place for the seizure of weapons.
"I think it is pertinent to understand that many victims and survivors live under the threat of a firearm," Morella said. "We appreciate that this bill encourages communication with victims throughout the process."
National Rifle Association lobbyist Darren Goens also spoke at the hearing. Unlike Morella, he was opposed to the new legislation.
"We are officially opposed to the bill but I don't want to be opposed to the bill," Goens said. "No one wants to defend domestic abusers. But I am a little mystified. What does this bill do that current state law fails to do?"
According to Goens, S805 fails to put any more protections on domestic violence victims than what already exists under current law. He said that, because police in New Jersey already confiscate weapons, the bill is redundant. Additionally, he said that the bill fails to include protections that will protect those who are wrongly accused.
"The only reason that I am opposing the bill is for the very small subset of individuals who are charged and then later repudiated," Goens said. "If those issues were fixed when the governor vetoed it last year, there would be no reason to oppose the bill."
In November of 2015 Governor Chris Christie vetoed a similar bill, A4218. He claimed that the bill was a "restatement of existing protections" and suggested that it should be easier for victims of domestic violence to obtain their own weapons. If S805 makes it onto the Governor's desk, it is possible that it will face the same fate as its predecessor, especially because Christie has been increasingly tough on imposing new gun-control measures.