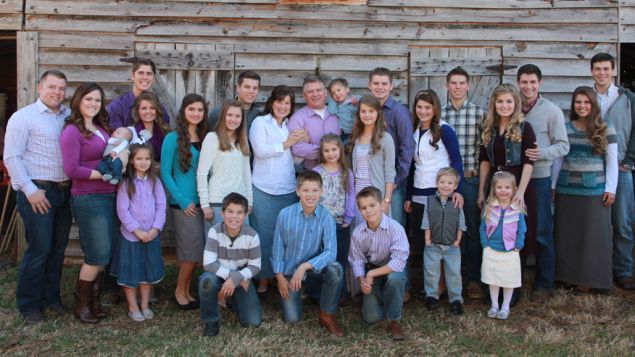 They're on TV and they have 19 kids. Nope, we're not talking about THAT family here.
This is the Bates family, stars of UP TV's Bringing Up Bates.
Headed up by mom and dad, Kelly Jo and Gil, the Bates clan has so many kids that at first it might seem daunting to keep track of them all. There's Zach, Michaella, Erin, Lawson, Nathan, Alyssa, Tori, Trace, Carlin, Josie, Katie, Jackson, Warden, Isaiah, Addallee, Ellie, Callie, Judson, and Jeb. And, a few of these kids have kids of their own. That's a lot of people!
For some reason, there seems to be a certain percentage of the population that is mesmerized by large families, says Bates Executive Producer Matthew Hightower. "I think it's because people are curious to see how it works with all of these people living together. I mean, I only have two kids and that's enough chaos for me, so 19 of them seems ludicrous, but then you see this family together and you just can't stop watching all of these people interacting."
While religion does play a factor in the series. it's not something that's overt, says Timothy Kuryak, Senior Vice-President of Unscripted Programming at UP TV. "It's an important part of who they are but we don't dwell on it. There is praying on the show but not a lot it. We weren't going to not show that aspect. That would be cutting out a very important part of the family's daily life."
To those who might simply write off the series because of the religious part, they're making a mistake, says Hightower. "If people do that I think they're missing out on a bigger message. You don't have to be religious to see the benefits of how this family treats each other and we're a society that can learn a lot from that."
Hightower admits that he was surprised at the somewhat hidden benefit of the family's daily prayer session. "It's interesting to realize that by saying things out loud – what makes them happy, what they're concerned about – it keeps them all on the same page. Because they've voiced it out loud, they know what to focus on and what direction to take. It shows that this is the way they communicate and they have really great communication for such a large family. It's something that wasn't familiar to me and it was really eye-opening when I first started to realize what was happening. I think a lot of families could use that is an example of how to work with each other, no matter what size your family is or what your beliefs system entails."
You can't talk about the Bates family without bringing up that other large family, the one you probably thought we were talking about at the beginning of this piece – the Duggars. It was recently revealed that the Duggar's eldest son, Josh, confessed to molesting young girls, cheating on his wife and having a porn addiction.
When asked to comment about this, Hightower said, "I understand that you have to ask about that because it's something that the public is talking about, I'm just really not sure how to respond except to say, yes, there are similarities between the families, but you really can't compare them to each other just as you can't compare any two other families. They're very different from each other in many, many ways, and I think that's all that needs to be said about this."
With the Bates brood, as with any large family, there seem to be a few common themes that pop up time and time again – weddings and babies. While constantly cycling through these life events might seem repetitive, Hightower says that's not the case here. "Yeah, we have a lot of engagements, weddings, baby announcements and then babies, but, the thing is, every one of these is vastly different depending on who the key players are. Erin's wedding was very different from Michaella's wedding. While they're all in the same family, it's compelling to see how differently each of them approaches what's happening in their life."
As time goes by, Hightower says that the toughest part of the production process just keeps getting more challenging – the scheduling. "When we started the show they all lived in the same house but as the older kids are moving away, like Michaella to Chicago and Alyssa in Florida, it's getting harder and harder to keep up with all of them. But, we don't want to just stop showing what's going on with them because they've moved away. They're still part of this very big continuing story that we're telling."
One of the most important parts of the series isn't a person or a place; it's actually a thing — a red couch. That colorful sofa is where members of the family talk directly to the audience about how they feel about what's going on in their lives, and they usually do it in groups. "What's great is, none of them hold back when they're on that couch," says Hightower. "They can be really funny and give each other a hard time, or they can be serious, but whatever it is, they're always willing to speak their minds. That takes a lot of trust. It's really kind of refreshing to see siblings treat each other like sibling but also with respect."
Kuryak admits that when he first started watching the show he felt overwhelmed by the number of people to keep track of, but he says he quickly learned that it's not hard to identify one Bates from one another because each of them is so very unique. "It seems like a lot of names to remember but I think what's really appealing is that each one of them is truly an individual and you see that as each of them is pursuing their own path – Zach is in law enforcement, Nathan is working to become a pilot, Michaella is an EMT, Lawson is a singer. It's fantastic to watch them go after what they want. Yes, they're a family, but it's also pretty cool to watch this group of really fun young people becoming adults and live out their dreams. I think that aspect of the series appeals to a lot of our viewers."
Viewers can look no further than the show's opening montage to understand this, says Kuryak. "They're all jumping on a trampoline and they each jump into frame with their name onscreen and what's interesting is that when you watch that you'll see that they each jump into frame a little differently. They weren't directed to do that. It just goes to show that they each have their own personality."
The bottom line, says Kuryak. Is that this is an emotional series; for all the right reasons. "There are a lot of shows where people are self-involved and they're just not nice to others. These people all truly care about each other. You'll laugh with them, and you'll cry with them about things we can all relate to. That's what makes this good TV."
Because the Bates kids range in age from 27 down to four, Hightower says there are a lot of stories to tell and that the series could last for years. "My wife will cringe when I say this," he laughs, "but I don't see this ending anytime soon. As the kids grow and their lives expand there is an endless amount of storylines to interest an audience. The little ones are so adorable; it's just fun to watch them change and grow. And, let's not forget about the second generation as well. Yep, this could go on for a long, long time."
Bringing Up Bates airs Thursdays at 9pm ET on UP TV.