Murder and megalomania have mingled on the Broadway stage before, in iterations both campy (A Gentleman's Guide to Love and Murder) and sinister (Sweeney Todd). This season, the tuneful carnage continues with American Psycho, Duncan Sheik's synth-powered adaptation of Bret Easton Ellis's satirical novel of 1980s capitalism. The musical begins previews March 24 at the Gerald Schoenfeld Theatre.
A London transplant, the production was first developed at the Almeida Theatre under Artistic Director Rupert Goold's supervision, opening in 2013 with Doctor Who actor Matt Smith in the lead role. Mr. Goold, who directed the Almeida's Olivier-winning production of King Charles III, remains at the helm for American Psycho's Broadway premiere.
While the New York production features a new cast and updates to the book (penned by Glee's Roberto Aguirre-Sacasa) and score, Mr. Goold said that it will also be more technically dazzling, the U.S. version including turntables inspired by cassette tape decks.
"I think we do Shakespeare and certain other things really well. When it comes to musical theatre there's a different energy in America," said Mr. Goold at a recent  press event. "[The Almeida] is really intimate. It's a sort of 300-seat theater, so it's much more spectacular here visually."
Meanwhile, Mr. Sheik―whose score for Spring Awakening (with poet Steven Sater) earned him both a Tony and a Grammy―based American Psycho's sound on his own experiences with New York's electronic scene in the '80s. He and his college classmates habitually hit up "debauched" locales like Nell's and Mars.
"I was driving down from Brown University every weekend with my louche friends and we would be going out to all these clubs and listening to this music," he said. "I was kind of a bedroom electronic music maker at that time too, and I had racks of synthesizers and drum machines in my dorm room. Even though I went on to make more organic-sounding records, it was just a great way for me to pull the synthesizers and the drum machines out of the closet and start messing around with some newer technology."
Although Mr. Sheik crafted the score with tools such as Ableton, a music software program developed for DJs in Berlin, skeptics may be assuaged by the show's four-man band, a quartet playing electronic drums and "atmospheric" guitar. In addition to original tunes, American Psycho will also honor its source material with acapella renditions of '80s classics such as Phil Collins' "In the Air Tonight," New Order's "True Faith," and Tears for Fears' "Everybody Wants to Rule the World." As Mr. Sheik noted, the novel's protagonist Patrick Bateman is "an armchair music critic with very questionable taste in music."
Benjamin Walker will tackle the part of Bateman, the homicidal investment banker famously portrayed by Christian Bale in the 2000 movie adaptation. No stranger to grisly roles, Mr. Walker portrayed our nation's seventh president in the equally edgy rock musical Bloody Bloody Andrew Jackson. He also appeared onscreen as Honest Abe in the fantasy horror yarn Abraham Lincoln: Vampire Hunter (2012).
"Jackson was a man of his time, whereas Bateman is more an alien existing on another planet," Mr. Walker said. "He's trying to relate and trying to be understood and trying to understand, whereas Jackson is bullying his way into a certain way of life."
To tap into Bateman's persona, he looked more to the humor of Mr. Easton Ellis's novel than to Mr. Bale's "distant and isolating" performance, which he said, "serves itself for that kind of horror-comedy. … Because [the show] uses direct address and music, you go on the ride with [Bateman] a little better."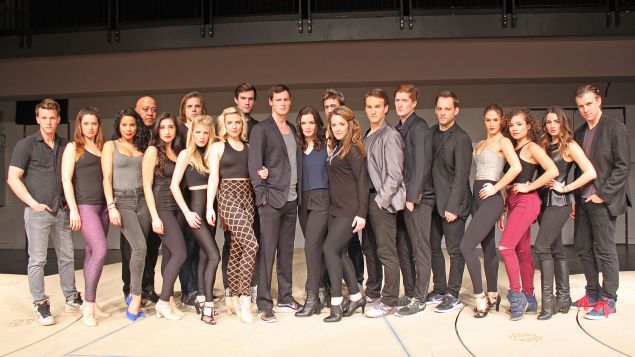 Other notable names from stage and screen round out the cast: Next to Normal alums Alice Ripley and Jennifer Damiano, Heléne Yorke (Showtime's Masters of Sex, Bullets Over Broadway), and Drew Moerlein (WE tv's South of Hell).
Although the set and costumes are still being designed, Ms. Ripley, who balances three roles―Mrs. Bateman, a Russian dry cleaner, and real estate agent named Mrs. Wolfe―described how her various outfits helped her create the characters.
"[A costume] frees you or it limits you in certain ways," she said. "Mrs. Bateman wears a more conservative skirt while the real estate lady wears the short. That makes me think that Mrs. Wolfe is younger and more perky."
Mr. Sheik's score, cheeky and trance-like, paired with Lynne Page's punchy, mechanical choreography hints at the musical's dynamism and dark humor. The song "Cards,"  for example, is used to amplify the pompous playoff between Bateman and his colleagues over who has the best business card.
Still in the rehearsal process, American Psycho remains a work in flux.
"You only get one shot, chance, with Broadway, so here's ours," Mr. Goold said.