Hamilton may be the talk of the town, but there are plenty of other shows opening on the Great White Way this spring that are worth your time and attention. Broadway favorites such as Audra McDonald are taking on new roles, while movie stars like Saoirse Ronan are stepping on the stage for the first time. Here are the plays and musicals we're looking forward to:
Eclipsed
Opens March 6, John Golden Theatre
This drama written by Danai Gurira (Michonne on The Walking Dead) moves uptown after a sold-out run at the Public Theater. Set during the Liberian Civil War, the play examines the bond between the captive wives of a rebel army officer, which is tested when a new girl (played by Oscar winner Lupita Nyong'o, in her Broadway debut) comes into camp. Feminist bonus: the cast, director (Liesl Tommy) and playwright are all women.
Blackbird
Opens March 10, Belasco Theatre
Jeff Daniels trades The Newsroom for the break room in this drama by David Harrower, in which he plays Ray, a man who was imprisoned for sexually assaulting a 12 year old girl named Una. Now he's got a new job and has managed to put his life back together—that is, until Una, all grown up (and played by Michelle Williams, taking on a play after faltering in Cabaret) shows up at his workplace and wants to talk. Joe Mantello directs.
She Loves Me
Opens March 17, Studio 54
A revival of Jerry Bock and Sheldon Harnick's Fiddler on the Roof is one of the big hits of the season—will one of the duo's lesser-known shows perform just as well? Roundabout Theatre Company is betting on it by staging this musical chestnut about two perfume clerks who butt heads at work while falling for each other as anonymous pen pals. Scott Ellis directs a cast that includes Zachary Levi (who made a winning Broadway debut in First Date), Tony winner Laura Benanti (AKA Supergirl's mom) and Tony winner Jane Krakowski (on break from Unbreakable Kimmy Schmidt).
The Crucible
Opens March 31, Walter Kerr Theatre
Arthur Miller's classic Communist allegory set during the Salem Witch Trials returns to Broadway in a stripped down revival from Ivo van Hove, the in-demand director who helmed A View From the Bridge and David Bowie's Lazarus earlier this season. In her Broadway debut, Oscar nominee Saoirse Ronan plays Abigail Williams, the cunning villager whose ravings about witchcraft set the plot in motion. Tony winners Sophie Okonedo and Jim Norton co-star.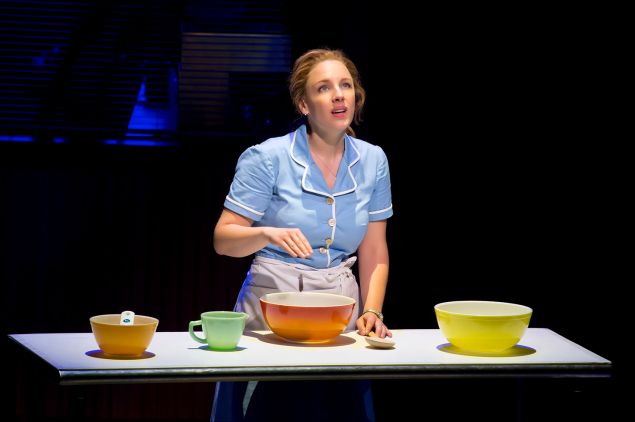 Waitress
Opens April 24, Brooks Atkinson Theatre
Grammy-nominated singer-songwriter Sara Bareilles makes her debut as a Broadway composer with this musical adaptation of Adrienne Shelly's film. Jessie Mueller, in familiar musical territory after winning a Tony as Carole King, plays Jenna, a small town pie maker stuck in a loveless marriage who is trying to find personal and professional happiness. And like Eclipsed, this show is a triumph for women—it's the first Broadway musical ever in which the main creative team (Ms. Bareilles, book writer Jessie Nelson, director Diane Paulus and choreographer Lorin Latarro) is entirely made up of women.
Fully Committed
Opens April 25, Lyceum Theatre
It's a busy night at one of New York City's hottest restaurants, as Sam the concierge deals with peeved patrons, chagrined chefs and miffed managers. The catch? All of these characters (over 40 in all) are played by one man, Modern Family star Jesse Tyler Ferguson. A smash Off Broadway and regionally, Becky Mode's satire of foodie culture comes to Broadway in a newly updated production directed by Jason Moore.
Long Day's Journey Into Night
Opens April 27, American Airlines Theatre
Jonathan Kent directs a new Roundabout Theatre Company revival of Eugene O'Neill's classic semi-autobiographical drama, which focuses on one summer day in the life of the Tyrone family: obsessive father James (Tony nominee Gabriel Byrne), drug-addicted mother Mary (two-time Oscar winner Jessica Lange), cynical alcoholic Jamie (Oscar nominee Michael Shannon) and poetic socialist Edmund (Tony winner John Gallagher Jr).
Shuffle Along or The Making of the Musical Sensation of 1921 and All That Followed
Opens April 28, Music Box Theatre
This show's title may be unwieldy, but its star power is unrivaled. Six-time Tony winner Audra McDonald joins Brian Stokes Mitchell and Billy Porter to tell the story of Shuffle Along, one of the first Broadway hits written and performed by African Americans (including ragtime legend Eubie Blake). The success of this jazzy musical during the Harlem Renaissance helped open the door to black performers on Broadway. Tony winner George C. Wolfe (who has also updated Shuffle Along's original book) directs, with choreography from Tony-winning tap dancer Savion Glover.