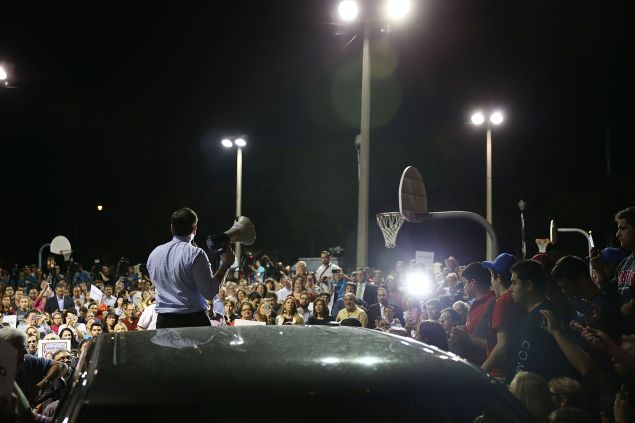 MIAMI—The metaphors were too ripe at Marco Rubio's homecoming.
The PA system spit static, and the electro hop kept cutting out. A man with frazzled hair stood on the flat-bed truck before Mr. Rubio arrived, telling the crowd assembled on the two children's basketball courts that he "didn't think" the Florida senator "would win at this point." When Mr. Rubio pulled up in his dreadnought Marcomobile around 9:15 tonight, the intruder long hustled away by security, he realized quickly his microphone did not work.
He gamely spoke through a bullhorn, his voice garbled.
"I can't wait, in November, to go into downtown Miami … and thank the people of the United States for electing me the 45th president of the United States," Mr. Rubio told the crowd assembled at the West Miami Recreation Center. "I can't wait until January when I place my left hand on the bible and my right hand in the air and take the oath of office to become the 45th president."
You almost wanted to believe him.
The brief rally in West Miami, capping a final day of frenetic campaigning along the I-95 corridor in Florida, was supposed to be a victory lap. Mr. Rubio, suave and telegenic, was such a political talent that Bill Clinton hoped to derail him when he first ran for Senate in 2010, fearing he could pose a major threat to his wife's presidential ambitions. As recently as a month ago, Mr. Rubio was standing on a stage in South Carolina, likening himself to Ronald Reagan, the state's star elected officials at his side. He had come in second to Donald Trump, and he was starting to feel like the second coming of the comeback kid.
Mr. Rubio now trails Mr. Trump, the billionaire real estate developer, in Florida by an average of 19 points. It would qualify as a major upset if Mr. Rubio won his home turf tomorrow. If he loses, his political career may be over.
Even if Mr. Rubio wins Florida's winner-take-all Republican primary, his long-held dream of becoming the next president of the United States is unlikely to be realized. He is far behind Donald Trump and Sen. Ted Cruz of Texas in the delegate count. He has cratered in numerous important states.
Still, his final campaign appearance in his old neighborhood had the trappings of another, more upbeat, reality. Hundreds crowded onto the courts where Mr. Rubio, standing on a flat-bed truck, said he played basketball as a child. He warmly recalled knocking on doors for his first race, a successful bid for a seat as City Commissioner for West Miami when he was all of 26. His name was chanted throughout the night and he signed campaign posters like the political rock star he once was. Aspirational rather than vituperative, he never mentioned Mr. Trump's name, delivering his stump speech in English and Spanish.
What went wrong for Mr. Rubio? The common theories revolve around how pre-programmed he often was, illustrated painfully by his debate flop in New Hampshire, and his ill-fated decision to get down in the mud to hurl ad hominem schoolyard insults at Mr. Trump, a juvenile act that only works for the celebrity billionaire himself.
More plausible was Mr. Rubio's failure to craft the sort of aggressive, get-out-the-vote operation that has allowed Mr. Cruz to pick off pockets of supporters in just about any state, even where the territory would seem hostile. Mr. Rubio built a TV-first campaign, an untenable proposition once Mr. Trump stormed into the race and stole all of the media oxygen.
Mr. Rubio also never found a natural base. He voted and spoke as an arch-conservative, but could only win among the cosmopolitan Republicans living in otherwise Democratic areas. He was a lot of Republicans' second choice for president, but rarely their first. He couldn't connect with the most furious elements of the electorate. The Republican establishment, as frail and useless as it's ever been, coalesced around him, and had nothing to show for their efforts.
And then there was Florida. For all the talk of Mr. Cruz's alienating tenure in the Senate, he took care of his backyard. The governor of his state, Greg Abbott, endorsed him, along with the lieutenant governor and Rick Perry, the former governor and presidential candidate. Mr. Trump thrashed Mr. Cruz in the South, but he fell to the senator in the Lone Star State. Mr. Rubio could not secure the endorsements of his Republican governor and attorney general, who has her own unseemly history with Mr. Trump.
Jeb Bush, the former Florida governor, did not endorse Mr. Rubio after dropping out of the presidential race. Mr. Bush was something of a mentor to the upstart, but Mr. Rubio, always in a hurry, left a bad taste in the former governor's mouth. Mr. Rubio sought his endorsement and walked away empty-handed.
"No matter where I go or where I'll be, I'll always be the son of this community," Mr. Rubio said tonight. "I'll always carry with me the hopes and dreams of generations who have made possible the dreams of mine."
The community is on the verge of telling him to go home.
Disclosure: Donald Trump is the father-in-law of Jared Kushner, the publisher of Observer Media.