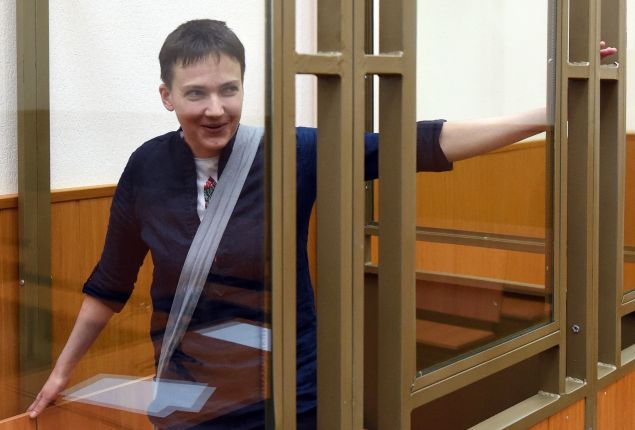 Russian courts have found Ukrainian national Nadiya Savchenko guilty of killing of two Russian journalists—a trial the West and Ukraine consider a complete political sham.
With the prospect of Ms. Savchenko spending the rest of her life behind bars, U.S. President Barack Obama is now personally involved in petitioning to reverse such a destiny. On March 14, Mr. Obama called Vladimir Putin, asking his Russian counterpart to immediately release the former Ukrainian pilot. Ms. Savchenko has been imprisoned in Russia since the alleged crime took place, during a period of heavy fighting with pro-Russian insurgents in eastern Ukraine in July 2014. The last seconds of the Russian journalists' lives were caught on video by the very victims themselves.
Russia insists Ms. Savchenko played a critical role in that fatal assault—acting as a spotter for the Ukrainian Aidar Batillion, a volunteer military detachment of Ukraine's Ministry of Defense. According to Russian authorities, Ms. Savchenko directed the shooters from her cell phone, providing descriptions of the targets to the Ukrainian artillery.
Ms. Savchenko was captured by rebels and, according to the Ukrainian government, illegally transferred from Ukrainian territory to Russia, where she was jailed. Russian officials insist she crossed the border on her own, with a group of refugees, and was arrested several days later.
Ms. Savchenko is a celebrity in Ukraine—a symbol of resilience and national pride in a country destroyed by 25 years of economic mismanagement, three failed revolutions and a war. While in Russian jail, she was elected into Ukrainian Rada and, through the Ukrainian vote, was appointed to the Parliamentary Assembly of the Council of Europe.
If she will ever be able to take office remains to be seen. Russian prosecutors have sentenced Ms. Savchenko to a 23-year jail term.
On March 9, not showing any signs of intimidation while giving her defiant final statement to a tense courtroom, Ms. Savchenko jumped onto the bench inside the cage for defendants. Flipping her middle finger to the judge, she promised to go on a hunger strike if she was not returned to Ukraine.
Ms. Savchenko has gone on hunger strikes before, the longest lasting six days.
Ukrainian politicians have knocked on seemingly every door possible in an effort to secure Ms. Savchenko's release. Angela Merkel, Hillary Clinton and a number of the world's political heavy-weights have been asked to join the cause.
Does Mr. Obama have what it takes to convince Mr. Putin to release the Ukrainian national?
All other appeals have fallen on deaf ears.
The country has made it clear that no amount of pressure would prevent the sentencing of their celebrity prisoner: Russia won't shed a tear if Ms. Savchenko goes the whole nine yards and starves herself to death in jail.
When British Minister David Lidington expressed "extreme concern" over reports that Ms. Savchenko refused liquids as well as food in protest to her illegal detention, the Russian Embassy in London responded swiftly. "That's her choice. The Russian journalists, whose murder she has been accused of, don't have any choice now."
This statement was, in fact, a repetition of the words by a British politician of years ago. With regards to the notorious hunger strike of Bobby Sands in 1981, Humphrey Atkins—the British Secretary of State for Northern Ireland—said, "If Mr. Sands persisted in his wish to commit suicide, that was his choice. The Government would not force medical treatment upon him."
'Natalia Vodianova is 3 centimeters taller than Savchenko and her bodyweight is lower… yet Euro-parliamentarians and American congressmen do not bother to hurry to save the Russian model!'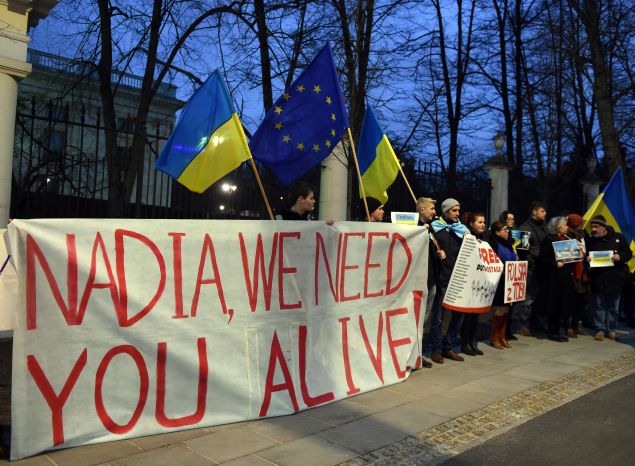 Shortly after the Russian Embassy's statement, the major Russian tabloid Komsomolskaya Pravda published a lengthy article devoted to the manner the Iron Lady managed hunger strikes in British prisons during her tenure as Prime Minister. "Margaret Thatcher: Those on Hunger Strikes Take Their Own Lives Themselves" was the title.
Reminding readers of the mass hunger strike of Irish activists in 1981, the story follows the Irish Republican Army's former commanding officer, Bobby Sands, and his followers. While on strike, Mr. Sands was elected into the British Parliament, just as Ms. Savchenko has been elected to Ukrainian Rada.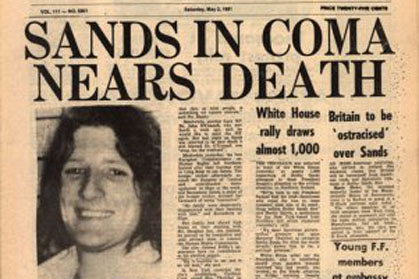 Bobby Sands died on his 66th day of his strike, and Ms. Thatcher didn't negotiate even as nine more deaths followed. "Mr. Sands was a convicted criminal," she said to the people of England. "He chose to take his own life. It was a choice that his organization did not allow to many of its victims."
Before that, the article remembers, Irish nationalist Terence James MacSwiney died of a hunger strike after 74 days in British prison.
More recent was the case of Barry Horne, a British animal rights activist arrested for planting incendiary devices in stores that sold fur coats. He died on the 68th day of his hunger strike and under Tony Blair's government.
As Germany has also appealed for the release Ms. Savchenko, the article includes the story of Holger Meins—a member of the Red Army Faction terrorist organization—who died in German prison on 58th day of his hunger strike.
"Why did we force-feed Andrei Sakharov in the Soviet Union at the time?" laments the journalist, mockingly—implying such a mistake could be avoided in the case of Ms. Savchenko.
The collective appeal by the parliamentarians to prevent the hunger strike of Ms. Savchenko has been met with open disdain. Andrei Dobrov of REN-TV said it all:
"Let's look at Ms. Savchenko, who is 173 centimeters tall at 35 years old, and after her hunger strike in prison weighs is 53 kilograms. And let's take the Russian model Natalia Vodianova, who is not in prison and lives nothing but a glamorous life. She is of similar age—34 years old—she is taller, at 176 centimeters, and her weight is 52 kilograms. She is 3 centimeters taller than Savchenko and her bodyweight is lower… yet Euro-parliamentarians and American congressmen do not bother to hurry to save the Russian model!"
Calls to release Ms. Savchenko on the grounds that her imprisonment has caused damage to Russia's reputation have also been flatly denied. In their appeal, EU diplomats wrote that "Ms. Savchenko's continued detention only hurts the image of the Russian Federation abroad and its relations with other European countries. At the same time, her release would be a welcome impetus towards the full implementation of the Minsk agreements—a step toward resolving the ongoing conflict in eastern Ukraine."
In response, Russian State Duma deputy Vasily Likhachev blamed the West for "egoistic goals" and "anti-Russian and Russo-phobic positions" in Ms. Savchenko's case. "The idea that Russia could strengthen her image and could gain political advantages by releasing Savchenko, or could gain the recognition of other European states—this idea does not hold water," he said.
Since Ms. Savchenko was elected into the EU and Ukrainian parliaments only after she was put into jail for her alleged crimes, Russian courts do not recognize her immunity on the grounds of being a parliamentarian.
All appeals to release Ms. Savchenko on the grounds of her deteriorating health conditions have also been rejected. Russian Foreign Minister Sergei Lavrov personally assured that, "with regards to her health—which has been worrying Ukrainian and Western politicians and journalists unstoppably—this does not raise concerns. Ms. Savchenko feels fine and does physical exercises regularly," he said.
Requests for visits by Ukrainian doctors have been declined.
Mr. Obama's appeal to Mr. Putin was preceded by a press release on March 7, by U.S. State Secretary John Kerry, who wrote that "in the 20 months since she was captured in eastern Ukraine and taken to Russia, Ms. Savchenko has reportedly endured interrogations, solitary confinement, and forced 'psychiatric evaluations.' Her trial and continuing imprisonment demonstrate disregard for international standards, as well as for Russia's commitments under the Minsk agreements. The United States once again calls on Russia to immediately release Ms. Savchenko and return her to Ukraine."
This plea gave Sergei Lavrov, Mr. Kerry's counterpart in Moscow, a good laugh. "No, this could not have been written by John Kerry!" Mr. Lavrov's subordinate, Maria Zakharova, exclaimed on her Facebook page. With caustic sarcasm, the Director of the Information and Press Department of Russia's Ministry of the Foreign Affairs, explained why:
Because John Kerry should know the Minsk agreement does not have these two words "Nadiya Savchenko" in it. Because John Kerry should know that the call on Russia to release the Ukrainian pilot is nothing but direct pressure on Russian court. Because John Kerry should recall that "Washington for many years had no plans to 'immediately release' the Russian victims of the American pseudo-justice system (Mr. Bout, Mr. Yaroshenko and others) and even provided them with medical treatment always only after the interference by the Russia's Foreign Department." Because John Kerry should realize that this statement looks ridiculous against the background of emerging new information on the CIA's secret prisons and the fate of Guantanamo prisoners held outside of the US judicial system and Constitution. Because John Kerry should think hard about why his Department never demonstrated any interest in investigating the deaths of two Russian journalists—complete indifference to the search for the killers of the media representatives is a clear sign that Washington uses human rights agenda exclusively for political purposes. Because John Kerry should have suspected that the US is a leader on the point of kidnapping foreign citizens. And, finally, John Kerry should definitely decide for himself if the extraterritorial application of the law is legitimate or not.
Not many arguments are left for Mr. Obama to successfully intervene on behalf of Ms. Savchenko. Unless, maybe—as was hinted by Maria Zakharova's post—he is ready to offer Mr. Putin something the Russian President really wants: a prisoner exchange. Two Russians—Viktor Bout and Konstantin Yaroshenko—currently in U.S. prisons for drug and weapon trafficking face another two decades behind bars. They might be the perfect match for Nadiya Savchenko, hinted Russia's Foreign Minister's spokeswoman.
All signs point to the Russian public buying this Cold War-style prisoner exchange.