Acclaimed writer and cartoonist Ted Rall, who was let go from the Los Angeles Times last summer, has announced that he is suing his former client with the help of Shegerian & Associates, a prominent Santa Monica-based employment law firm.
According to a press release, Mr. Rall, previously a finalist for the Pulitzer Prize, will seek unspecified damages for "defamation, blacklisting, wrongful termination and breach of contract" from the Times. He regularly contributed both articles and cartoons to the paper until the publication ended its relationship with him last summer.
"The Times made a mistake. Newspapers make mistakes every day. They issue retractions. In my case, they not only made a huge mistake, they refused to admit it, and doubled down. I don't understand why they're violating so many basic journalistic principles," Mr. Rall told the Observer in a statement.
In its press release, Shegerian & Associates' founder Carney Shegerian described the case as a "distinct violation of the labor code and an example of egregious wrongful termination coupled with public defamation."
The dispute between Mr. Rall and the newspaper stems from a blog post he wrote to accompany a cartoon in May 2015. In the post, he described an altercation that allegedly occurred on Oct. 3, 2001 when Willie Durr, a Los Angeles Police Department motorcycle officer, ticketed Mr. Rall for jaywalking. According to Mr. Rall, Mr. Durr "threw me up against the wall, slapped on the cuffs, roughed me up and wrote me a ticket" as passersby protested the treatment. Finally, Mr. Rall wrote that another motorcycle officer approached and ordered Mr. Durr to release Mr. Rall, which he did, "but not before he threw my driver's license into the sewer."
After the article was released, the LAPD contacted the Times and disputed Mr. Rall's allegations, eventually providing a recording made by Mr. Durr without Mr. Rall's knowledge. The six minute audio is unclear and static-filled.
Subsequent interviews with Mr. Rall by Times investigative reporter Paul Pringle and meetings between editors resulted in his firing as a contributing writer and artist for the paper. In addition, editorial page editor Nick Goldberg ran an editor's note, stating that Mr. Rall's writing would no longer appear in the Times.
Mr. Rall has alleged that the Times clearly broke with its own policies when it went about severing those ties. The paper did not allow him to speak with their editorial board or his usual editor.
"The specific facts and circumstances surrounding this case may be unique, but what Mr. Rall has endured at the hands of the Times is actually a classic example of a large corporation not following its own rules, let alone the labor code—and subsequently taking steps to defame its former employee," said Mr. Shegerian in the firm's press release.
The newspaper's spokesperson, Hillary Manning, responded by email to the Observer: "The allegations that Mr. Rall has made against the Los Angeles Times are unfounded…The Times will vigorously defend itself against Mr. Rall's claims."
Ms. Manning directed further inquiries to a lengthy summary of the Times investigation published by the paper in August of last year.
Both Mr. Rall and the newspaper have hired outside audio experts to review the disputed LAPD audio. While all agreed that some sections are unclear, the experts, Mr. Rall and Times staff arrived at different conclusions about the material. The recording does not include clear sounds of an altercation, although voices can be heard seemingly in the distance, potentially supporting Mr. Rall's claim that passersby observed the scene and that some commented.
A whistling sound is audible at several points, and Mr. Rall said that Mr. Durr was whistling or humming at many points during the arrest, which he took to be part of a sarcastic, disrespectful attitude on the officer's part. At one point, laughter with a distinctly sardonic tone is audible.
In Mr. Rall's analysis of the recording, which he had cleaned and enhanced by Post Haste Digital, a woman can be heard to ask "why'd you handcuff him?" in the background. The paper has disputed that the woman's remark is audible.
In the Times' investigation, reporters noted that no noise consistent with handcuffs or a drivers' license being thrown into the gutter was audible. Mr. Rall countered in a later blog post that "paper, even laminated paper, doesn't make a heavy sound when it lands. Not here on Earth."
Toward the end of the recording, Mr. Rall asks Mr. Durr for a recommendation of a local restaurant. Mr. Durr said he was new in the area, and could not offer any tips. Mr. Pringle, the Times editor who interviewed Mr. Rall about the incident, asked the cartoonist why he made such a request. Mr. Rall said he had been "traumatized" by the incident and added his behavior was similar to "rape victims calling their rapist back, and—you know, like, days later —and wanting to get back together."
Mr. Rall first filed a complaint against Mr. Durr soon after the 2001 incident occurred. In his original complaint, Mr. Rall said that the officer's behavior "was by far the rudest and most unprofessional I have ever encountered" in any police officer. He also describes Mr. Durr as "belligerent and hostile—totally without cause or provocation" and alleges that "he threw my drivers' license… into the gutter! [italics in original]." Mr. Rall later compared the encounter unfavorably to one he had with Taliban soldiers in Kashmir.
The letter also alleged that Mr. Durr made "up charges out of thin air merely to increase city revenue." However, no mention of handcuffs or force was made in the letter, aside from the mention of Mr. Durr's throwing of the license. (At other times, Mr. Rall has claimed Mr. Durr threw his entire wallet.) When Mr. Pringle asked Mr. Rall about the discrepancy, Mr. Rall emphasized a lack of desire to create a major issue at the time and said in retrospect he was surprised he even filed a report, according to the Times.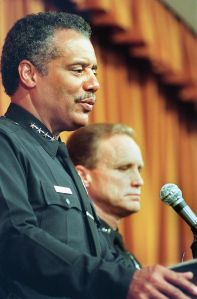 Mr. Rall has claimed that the police department did not initially contact him regarding his complaint, a charge the LAPD has vigorously denied. The department told the Times' investigation that Sgt. Russell Kilby, now retired but at that time Mr. Durr's supervisor, left numerous voicemail messages for Mr. Rall, who did not respond. Mr. Rall said he never received the messages, and, in a post for the website A New Domain, he questioned the veracity of the LAPD call logs that show calls from Sgt. Kilby with seemingly randomly varied dates between 2001 and 2002.
The Times also cited Mr. Rall's previous positions on police—expressed in his nationally syndicated cartoons and articles, in which he has said that "cops lie," "it's a miracle anyone still respects the law" and "I admit it: I don't like cops," while also describing again the 2001 incident—as evidence for potential inconsistencies in his story, as past reporting used slightly different terminology at different times. Mr. Rall, who has used both the phrase "gutter" and "sewer" to refer into the location in which Mr. Durr allegedly threw his wallet or license, said he uses the phrases interchangeably.
On May 29, 2002, then-Chief of Police Bernard Parks declared Mr. Rall's accusations against Mr. Durr to be "UNFOUNDED" in a letter to Mr. Rall.
Mr. Rall's suit will likely take a long time to resolve, but none of the parties have shown signs of backing down. The Times and LAPD are sticking to its story— but then, so is Ted Rall.