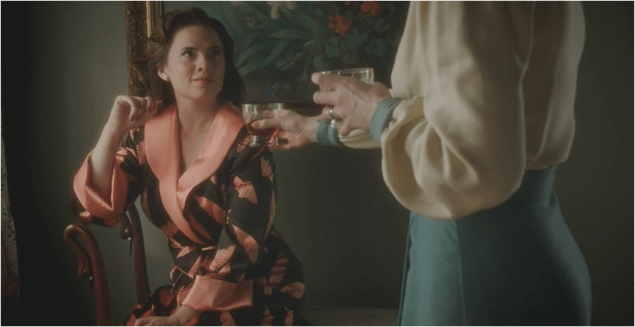 Welcome to our TV Fashion column, where TV Ate My Wardrobe's Emma Fraser discusses the trends in television apparel. This week: The sexuality and showmanship of bathrobes on TV. 
A bathrobe can be far more than just the garment you grab when you rise in the morning or get out of the shower. For me, I've never really been one for robes, which are usually short-lived and soon enough take up permanent residence on the back of the bathroom door. But now, thanks to several TV shows and movies, it looks like I need to step up my dressing gown game.
Period pieces tend to use bathrobes as an alluring and often decadent garment signifying status. If you can lounge around in your intimates then you probably have some kind of wealth or, at least, enough leisure time to do so. Lifetime's forthcoming Agatha Christie adaptation of And Then There Were None (airing on this Sunday, March 13 and Monday, March 14) takes bathrobes in a different direction. Aidan Turner's (Poldark) polka dot number reinforces his masculinity and cool guy exterior. He doesn't waste time getting dressed into day clothes when the shit hits the fan. This is not a guy that is lacking in the confidence department.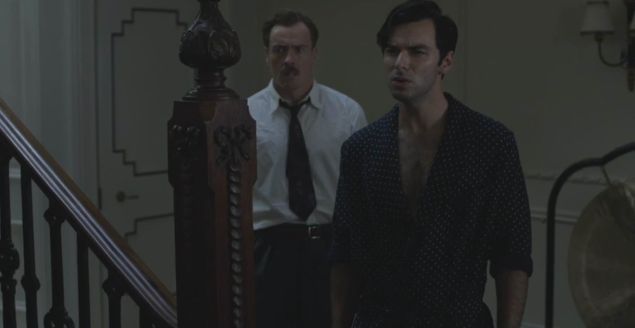 The menacing mystery of And Then There Were None and the reason why these strangers have been gathered together on an isolated location is not a secret I will spill here, but costume designer Lindsay Pugh uses a moment like this to reveal vulnerability and to steam things up. A bathrobe can be much more than just a bathrobe; it acts as either a barrier or an incredibly intimate piece depending on what is worn underneath, how comfortable the wearer is, and what is going on in the scene.
In Carol, the bathrobe is used as a sign of the growing closeness between Carol and Therese. Prior to this Carol's furs, leather gloves and tasteful ensembles have determined Carol's wealthy status, but on their road trip her style loosens up. The red plaid robe is Carol's comfy wear. It is still dripping with so much class as she pairs it with silk pajamas, but there is something far more homely about this ensemble. While in the shower Carol asks Therese for her robe and this is an illuminating experience for Therese as she can't look away from Carol's bare skin.
Not all plaid robes are this seductive and they are not always a sign that something sexy is going to happen. Take Don Draper in the season 7 episode of Mad Men "A Day's Work" in which we see him post-Megan split lazing in front of the television and eating Ritz crackers straight from the box with a half-full bottle of whiskey by his feet. If this was a present day scene the TV would be asking if he wanted to continue watching Netflix. The crackers might still be the same and the outfit is timeless.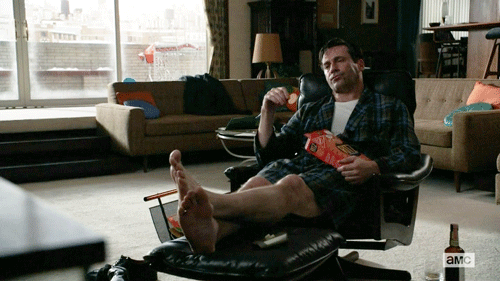 It doesn't have to be that way and we can all aspire to be better than Don Draper especially when he is at peak "feeling sorry for himself." Take Peggy Carter. Even when she believes she has lost someone her recuperation wardrobe is on point. In  silk dressing gowns she looks far from rock bottom as she drinks whiskey; for all of Don's wallowing, Peggy is nothing like this when it comes to confronting her sadness.
Fancy robes are not confined to period pieces. AMC's current spy thriller The Night Manager has delivered on this front. Bathrobes perform an extra function when the climate is a warm one, acting as a sun cover-up over a bikini. Elizabeth Debicki's Jed is incredibly comfortable in her skin; the patterned gown is left open and her white bikini is on display. This is the same woman who is mortified that Tom Hiddleston's Pine has seen her crying naked; it was the tears, not the nudity, she warns him about telling anyone about.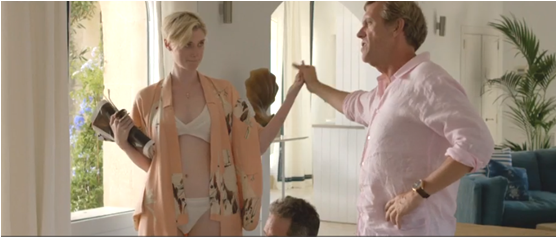 Hugh Laurie's super villain Richard Roper falls into the flamboyant clothing category. His own choice of robe is bold, because if you're going to be a rich bad guy then you better be able to enjoy a sunshine soaked breakfast while wearing something fabulous.  Roper is another character who has no qualms about wearing certain colors or styles as a way to assert dominance; he is king of this compound and he can wear pink if he damn well pleases.
Another fine example of not giving a shit about your image comes from The Good Wife's Jason Crouse. Last Sunday, Jeffery Dean Morgan wore Alicia's flimsy pink robe with such confidence that an attempt at snark from the pizza delivery guy was met with a sincere thanks from Jason. Dude, he's the one who has been having a weekend of sex, junk food and watching Roar, I don't think you're terrible attempt at shaming him is going to work.
The levels of showing off vary when it comes to robes, but what is worn underneath plays just as vital role.This can be nothing, or undies or maybe even a twin pajama set. A gown can be pulled in tight by the wearer, but it can also be undone in an instant. You can leave it all hanging out or reveal little. Clothes we only wear in private spaces can create incredibly intimate moments and a bathrobe straddles the sleep/underwear line. It can be innocent or sexually charged and it is a fun garment to use as a way to tell an audience a whole lot about a character.
There is also a current trend of pajamas as day wear; a recent spread  in The Edit is dedicated to this look. This isn't an entirely new concept and I've definitely worn things from the sleepwear section as part of a going out outfit; sometimes a vest top is too pretty to keep confined to the bedroom. Dressing gowns as part of look might be harder to pull off, but there are certainly dresses and coats that are dressing gown adjacent. Some are micro mini in length and could be a summer cardigan alternative without looking like you stepped out for milk in your PJs.
Emma Fraser is the creator of TV Ate My Wardrobe and spends most of her time writing about TV, fashion and costuming; Abbi and Ilana's Broad City style, the wigs on The Americans and Mindy Lahiri's pajamas are just as vital as talking about '90s/'00s teen shows. Emma has a MA in Film and Television and she probably holds Angela Chase responsible for this path. You can find her on Twitter @frazbelina.