The debate between selecting a regular manicure or a gel polish at the salon is a tough one. Living chip-free for 14 days is a literal beauty dream, but commitment-phobes despise wearing the same color for an extended period of time. Plus, harmful UV rays and serious nail damage are just two of many negative side effects from that long lasting mani.
In response, a number of polish brands have poured plenty of research into developing formulas that claim to emulate the effects of gel, minus the frightening consequences. Chanel is one of the brands that has jumped on that bandwagon, but with a rather serious approach: They have completely replaced their cult-favorite Le Vernis polish range with a totally new formula. But don't worry, everyone's favorite color, Vamp, is still in the lineup.
Available in 16 different colorways, this five-free formula is also enriched with Bioceramics and Ceramides, which promise to strengthen and improve nails. However, Chanel's secret weapon is Le Gel Coat Longwear Top Coat, which promises to make a single manicure last for up to seven days. Similarly to the gel process, this finishing product is activated by light. But don't worry, it uses naturally occurring light, not artificial UV rays.
Chanel celebrity manicurist Gina Viviano elaborated: "It has the presence of an oligomer activated by natural light, Le Gel Coat works together with Longwear Nail Color to ensure long lasting results with unbeatable shine."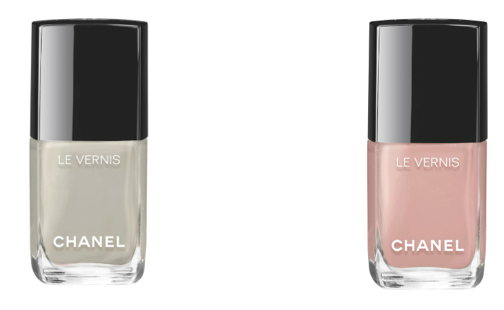 I tried out the new version of Le Vernis, albeit without the magical-sounding top coat, and was still impressed with each $28 bottle. Manicures tend to start chipping off my nails within the first five hours of application, but this was not the case with Le Vernis. I did start to notice chipping on day three of my manicure, but it was nothing extreme and I was able to keep the polish on for over five days, which a personal record.
My two favorite hues were Monochrome and Organdi; they both felt quintessentially Chanel in their own cool, but slightly unexpected ways. The dove grey Monochrome is a good pedicure color for the transitional months between winter and spring and the pink nude of Organdi is delicate enough for fingertips, without being boring. However, Ms. Viviano prefers colors on the other end of the spectrum. "I really love dark shades," she told us, mentioning that she has already brushed on the navy Marinière, the deep red Rouge Noir and the brick red Mythique.
For the best results, we'd recommend following Ms. Viviano's expert advice on nailing the perfect Chanel mani. "Start with a clean, dry nail, I like to use warm soapy water and a nail brush. Dry hands with lint free towel and check for any lingering fuzz leftover from nail polish removal. Apply La Base Protective and Smoothing Base coat, follow with two even coats of Le Vernis Longwear Nail Colour, and a final coat of Le Gel Top Coat. Let your nails set for a long as you can without submerging in water. This formula dries incredibly fast so resisting the urge to get on with your day will be nearly impossible."
Et voilà, chipped nails are a thing of the past!