If you live in L.A.'s Larchmont Village area and a guy knocks on your door asking if he can plant produce on your lawn, just say yes. But maybe ask for a prime reservation at his restaurant when you're working out the terms of your arrangement.
Chef Kevin Meehan's new Kali, on Melrose Avenue near Paramount (PARA) Pictures, isn't just a farm-to-table restaurant. It's neighborhood-to-table, house-to-table. Mr. Meehan lives in Culver City where he gardens at his own home and also picks wild nasturtium for his restaurant while strolling around with his family. He recently noticed a tree with huge bush lemons at a house around the corner from Kali, so he knocked on the door and secured permission to take some samples. He's now looking for other nearby homes he might be able to use as a neighborhood garden.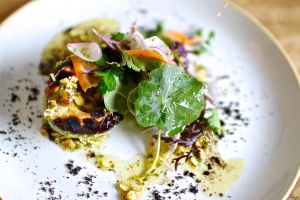 Mr. Meehan, a fine-dining veteran who cooked at L'Orangerie and Patina and first launched Kali as an underground supper club, is running a hyper-local, hyper-L.A., hyper-creative restaurant sans white tablecloths. His menu changes often, and he does things like serve a wheat-berry "risotto" topped with a crisp made out of San Joaquin cheese from Fiscalini, black garlic powder and flour. He chars avocado for a dazzling salad with shaved vegetables. He puts both cavatelli and arugula cavatelli on a plate with homemade ricotta and fried arugula. He sous vides and then grills soy-and-alfafa-fed Flannery Beef tenderloin. It's a smoky, silky, sensational bite enhanced by a jam made with 30-day-fermented garlic.
Whether your order a la carte or opt for a tasting menu, you'll likely want co-owner and wine director Drew Langley (the former wine director at Providence) to take you through both Napa Valley and the Central Coast with his deeply personal list. If the choices seem somewhat unfamiliar, ask for help. There's a story behind every wine, and the prices (many bottles under $60, some for half that) are gentle enough to reward your sense of adventure.
For dessert, there's toasted meringue gelato, made with Straus Family Creamery dairy and topped with grated candied yolk. It's a sweet-savory masterpiece, an exclamation point to a night of delightful surprises. If you let Mr. Meehan garden on your property, the least he can do is give you a taste of this in return.