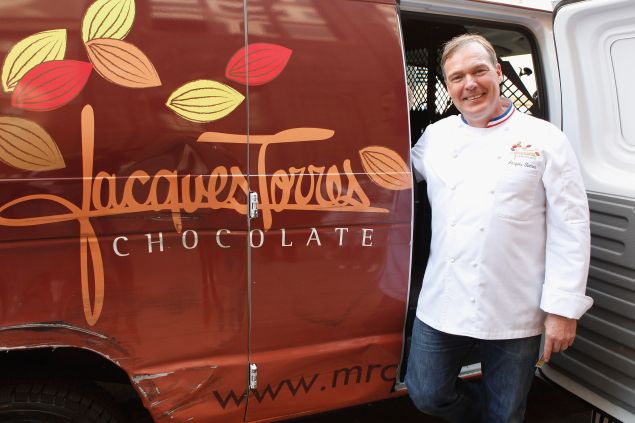 Mr. Chocolate has left Hell's Kitchen.
That is, chocolatier Jacques Torres has sold his two-bedroom, one-bathroom condo at 300 West 53rd Street.
The Algerian-born Mr. Torres grew up in France, eventually going to work for renowned Le Cirque in the city. By 2000, he left Le Cirque to open up the first of his chocolate stores, of which there are currently seven—plus a specialty ice cream shop. In a match made in chocolate heaven, Mr. Torres married fellow chocolatier Hasty Khoei in 2007.
We did sort of expect that Mr. Torres would adorn his home with, well, something that signaled that a man whose career centers around chocolate lived there—or at least a few strategically places candy bars left atop a counter. Sadly, the listing photos for the condo show it entirely unfurnished, and we're a bit surprised by the lack of gadgets within the kitchen. Where does the magical creation of chocolate bon bons, truffles, and caramel treats happen?!
Apparently, not here.
"We renovated everything except the bathroom," Nest Seekers broker Dennis Ding told the Observer. "We put in brand-new floors, air conditioning, and redid the kitchen—the kitchen's not the big," he acknowledged, "we opened up half a closet and put the fridge there!" We're still thrown off by the lack of baked goods.
"They were attracted to its high floor and that we already renovated it," Mr. Ding said of the buyers, Stan and Claire Altman, who paid $1.27 million for the space, which also has a sunken living room, east and north exposures, and one bedroom with a "glimpse" into Central Park. And okay, fine, maybe Mr. Torres just prefers to make everyone's chocolate dreams come true from within his many chocolate shops.
The chocolatier actually apparently spends a large amount of his time living on a 39-foot motor yacht that he keeps docked at Liberty Landing, in Jersey City—he told New York Magazine in 2012 that he spends "about 95 percent" there, with "unobstructed views of Manhattan skyline. That does sound preferable to the aforementioned "glimpse" of Central Park!
"He bought another apartment, high on the Upper East Side, and it's huge! 2,500 square feet. He didn't have a reason to keep this apartment," Mr. Ding said. "It has a huge terrace, open space, and a view!"
Mr. Torres and Ms. Khoei recently welcomed a new baby into their family, so the extra space will come in handy. "He's such a great person," Mr. Ding exclaimed. "They're so happy! A new apartment, and a new baby!"