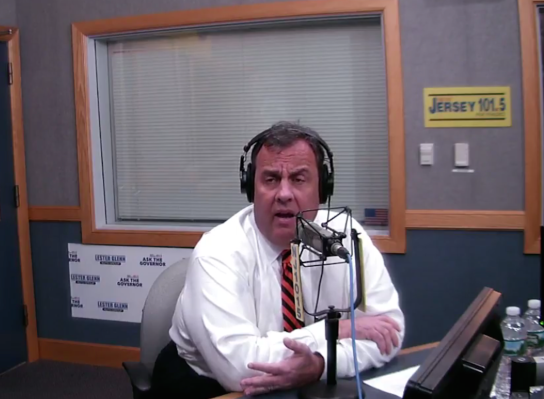 Governor Chris Christie appeared on New Jersey 101.5 Wednesday for his Ask the Governor program, where he laid into Assembly Speaker Vince Prieto (D-32) for his refusal to post an Assembly version of a bill to let the state take over Atlantic City. The takeover legislation would allow the state to alter or break union contracts with city workers, a step that Prieto has called too far-reaching before the city has the chance to hit new benchmarks.
Christie called that move a calculated attempt to damage Senate President Steve Sweeney (D-3), who is mounting a gubernatorial campaign against Jersey City Mayor Steve Fulop. Chrisite characterized Prieto's resistance to the takeover and his alliance with Atlantic City Mayor Don Guardian as an attempt to detract from Sweeney's labor support.
"From the moment he started running for mayor of Jersey City, he's been running for governor," Christie said of Fulop. "And now he's holding the strings of the Assembly Speaker. When you see Vinnie Prieto's mouth move, you know that Steve Fulop's talking.
"This is what happens when a politician backs himself into a corner doesn't now know what to do," Christie continued. "His boss used to be Nick Sacco. Now Nick Sacco isn't his boss any more, now his boss is Steve Fulop, because he's the boss of everybody I think but Brian Stack and Sandy Cunningham in Hudson County now."
Guardian, Sweeney and Christie stood side by side when they announced the takeover in January, a fact that the governor returned to during the segment.
"What happened was the Speaker went down there and caused trouble. The Speaker went down there to a weak mayor and he caused trouble. And he did it to cause trouble for the Senate President, to try to hurt him politically trying to run for governor."
Prieto responded to the accusation in a statement.
"Any claim that I promised the governor and Senate president to post an Atlantic City takeover bill for a vote is a lie," the Speaker wrote. "In fact, when I told the governor I would show the bill to my caucus, the Senate president wasn't involved.
"Gov. Christie is absurdly delusional. He also seems to have a very unhealthy obsession with Mayor Fulop, who has played no role."
Christie pointed to the $6,700 per resident that Atlantic City spends compared to $2,800 in Newark, and brought up the possibility of privatizing more city services. The takeover legislation already requires that Atlantic City "monetize" its water department, a step that could lead to a sale to the privately held New Jersey American Water or a merger with surrounding Atlantic County's water authority.
"The guys who clean the park get pensions. The guys who collect garbage get pensions, none of that is privatized," he said. "If I could execute the authority that's in the bill I wouldn't need the bill."
At one point, Christie rattled off the same checklist of cash-strapped municipalities that takeover opponents have turned to when arguing against the precedent it would set. Christie said that a succession of bankruptcies would be detrimental for the state, adding that he will not allow Atlantic City to declare bankruptcy if they file.
"If you don't think a bankruptcy would have a ripple effect on Newark, Union City, Paterson, Trenton, Camden, then you're not talking to the right people."
Fulop Spokeswoman Jennifer Morrill responded in a statement.
"The Governor is a little confused once again, which is becoming more and more frequent unfortunately," Morrill said. Furthermore, the Governor's strange obsession with Mayor Fulop seems to be clouding his judgment anytime he's near a microphone. Nevertheless, the reality is that Mayor Fulop hasn't been involved in the Atlantic City takeover bill, nor has he even read the governor's proposal. This is vintage Christie just trying to create a distraction from his failures."