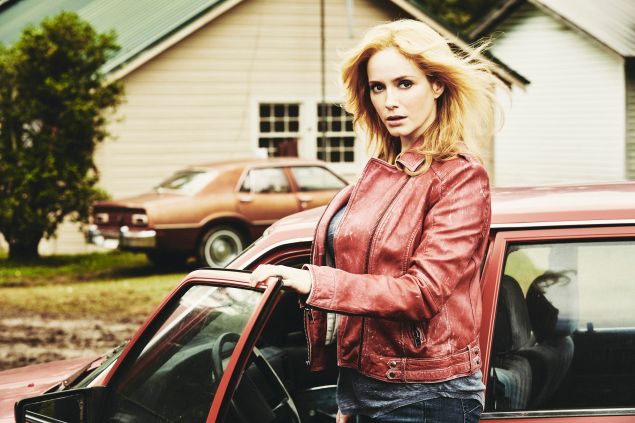 Christina Hendricks is going back in time again, not the whiskey-scented ad offices of AMC's Mad Men, but the humid Louisiana swamps of the 1980s in Sundance Channel's Hap and Leonard. Based on a series of novels by Joe Lansdale, the six-part miniseries catches up with ex-convict Hap Collins (The Following's James Purefoy) and his gay Vietnam-vet best friend Leonard Pine (The Wire's Michael K. Williams), just as their blue-collar everyday is thrown into turmoil by the arrival of Hap's ex-wife, Trudy (Ms. Henricks).
Trudy is far more Drive's Blanche than she is Mad Men's Joan, with maybe a dash of Another Period's Chair. All the same, Ms. Hendrick's presence completes an incredibly likeable, charming at-odds trio with Mr. Purefoy and Mr. Williams, a group whose chemistry is worth Hap and Leonard's price of admission alone.
We caught up with Ms. Hendricks at August's TCA Press Tour to discuss Hap and Leonard, the label "femme fatale," and her life after the improbable hit that was Mad Men.
What brought you to Hap and Leonard?
Well, Mad Men had just ended and I dove right into Another Period thinking it would be a nice way to keep me distracted and then I'd take a nice, long break. But AMC came to me with this project, and my manager said "Please don't kill me, I know you're not ready but I think you'll love this." I was surprised at how drawn into it I was. I had to play Trudy, and I didn't want to let her go. The next thing you know I was in Louisiana.
What specifically attracted you to Trudy?
When I read something I have to be able to imagine myself in it, and what I can contribute, and who I can turn her into. And as I read Trudy was just jumping off the page for me. I loved this environment, it was so different from anything I'd done. I felt the story so viscerally just from reading it. Then I watched a film that Jim Nichol had done which was another Joe Lansdale project called Cold in July. It was similar tone and writer, and I saw what Jim could do with it and thought "Okay, this is going to be really cool."
It's interesting to me how many issues this 1980s period piece tackles–homosexuality, race relations, post-traumatic stress–and how relevant they still are today. Was the cast mindful of that?
I think so. It is funny that it addresses these things in the South, in the 80s. I think that's what gives it this quirky, unusual tone, and why all the characters are so unexpected. Trudy might be described as a "femme fatale," she could be this stereotypical part in a story. But then you very quickly realize she's working at Family Burger, and she's a hippie, and she's so much more than the things you'd put under the title of femme fatale. These characters become something very different than what you think you're going to get.
I did feel like initially we're not supposed to trust her–Leonard certainly doesn't like her–but you play her so genuine. 
Oh, absolutely. I mean Trudy and Leonard have a long history together, they've known each other for over 20 years. He has his own reasons for not liking her, and I think it's mostly about protecting his friend. Just like we all do when it's like "Oh your ex-girlfriend just showed up, And you know what she does to you." He's definitely got that protection of his best friend going on. But I think when Trudy comes in she does have good intentions. Ultimately she's trying to become a better person.
"What happened with 'Mad Men' is a once in a decade situation. It just doesn't happen."
You've done Mad Men, Another Period, now Hap and Leonard–is there something specific that draws you to series set in the past? 
I think I'm just attracted to great material. Mad Men really opened up the doors for period pieces. I think there's a whole hell of a lot more of them than there used to be. There's a lot more scripts I'm reading that happen to be period pieces. But as an actor, you generally are attracted to projects that take you into a whole new world and create a universe and a character that you're not used to. A period piece does that immediately, and automatically.
I don't think anyone knew how big Mad Men would be when it started, but it ended its run as this huge phenomenon. Does that stay on the back of your mind now whenever you start a new project?
Oh, yeah! Certainly what happened with Mad Men is a once in a decade situation. It just doesn't happen. I can't, as an actor, attach myself to a project that I think is going to have longevity, or notoriety, or awards. It's too much of a wild card. You have to do what you're passionate about and do what you love. I was on quite a few thing before Mad Men where I thought I was on the next West Wing, and it just didn't happen. So, you really just have to do it because you love it.