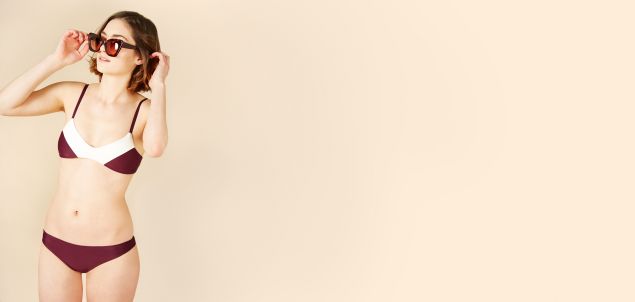 To be frank, the experience of swimsuit shopping is anything but pleasant. With today's trendy yet revealing cuts, fitting rooms equipped with unflattering lights and dealing with overeager sales associates, it could knock even the most toned person down a few self-confidence levels.
These are the complaints that Matthias Metternich heard over and over from friends, leading him to wonder why the swim industry had never considered a totally different shopping experience. So he decided to make a change, introducing Cocodune, the first at-home try-on company for swimwear.
Customers can choose up to four styles, which will be directly shipped to their door, free of cost or commitment. They can try on each style in the comfort of their own home and are given five days to decide whether they want to keep the triangle bikini and return the cut-out one-piece, or vice versa.
All of which sounds great, but raises one major question: How sanitary is this try-on process? Very hygenic, Mr. Metternich assured the Observer. He also pointed out that Cocodune is the only brand that guarantees the sanitation of each swimsuit.
He explained: "We developed a proprietary high-pressure spot cleaning process used on every suit that is returned to us after a home try-on. Because we see every product after a try-on, we we have the ability to check color integrity and cleanliness before we decide if a swimsuit can be recirculated. Any suit that doesn't meet our high cleanliness and fabric integrity standards is recycled."
"Improving the experience is only one part of our mission," said Mr. Metternich, who has previously refined services and experiences for brands such as Alexander McQueen, Mulberry and Topshop . "In order for our customers to want to keep the suits they're trying on, my partner and head designer Ashli Parker knew we needed to create the best possible quality and cuts, designed and crafted to achieve the closest possible fit against the skin."
This checklist lead Cocodune directly to the creation of their cornerstone: a luxury Italian fabric. Woven from extra-light Lycra, the specialized fabric offers shaping properties and won't be ruined by sunscreen, salt and chlorine. Plus, the proprietary knit won't stretch out or fade like your other suits do.
Cocodune's suits, which are designed and manufactured in Los Angeles, are also completely recyclable. "You can literally throw your suit in the recycling bin when it's time to get rid of it. We are committed to being uncompromising on offering sustainable products; we promise not to cut corners to make the process easier or cheaper," said Mr. Metternich.
Offering four tops and four bottoms, in addition to three one-pieces, all offered in seven colorways, the designs from Cocodune err on the simpler side of things. The classic triangle bikini and string tie bottoms are represented, but a dramatically low cut one-piece and a monokini are among the edgier styles, as are the high-waisted bottom and a a halter with a high neckline. These might not be the most cutting edge suits on the market but as the countdown to summer begins, it's worth it to try out a Cocodune suit, from the comfort of your home no less.